Akron Bio
How a Leading Ancillary Manufacturer Digitized and Automated Security Operations
Ray Dempz, Senior IT Manager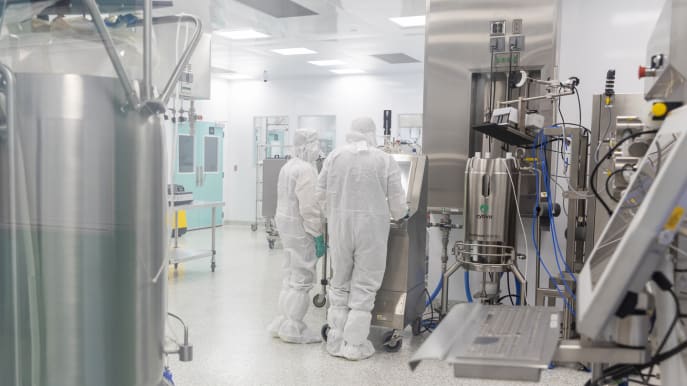 15 min

investigations

125,000 sq.ft.

new facility

360º view

into critical areas
Since 2006, Akron Bio has been a leading manufacturer of critical building blocks used in life-saving cell and gene therapies. Headquartered in Boca Raton, Florida, the organization recently expanded its operations to a new 125,000 square foot facility in Sarasota, Florida.
Ray Dempz, Senior IT Manager, oversees building security and technology for both locations, which includes video security, access control, and visitor management. By partnering with Visionary Systems AV, Dempz upgraded the legacy and disjointed infrastructure with Verkada's modern and integrated solution.
The Challenge 
Analog security infrastructure and manual check-in process
No remote access to manage cameras, doors, employees, and visitors

Long investigation times with disjointed, on-premise systems
Dempz inherited an analog camera system, along with on-premise access control technology that was only accessible from one computer. "The old solution wasn't scalable, and the technology was going stale over time." With visitor management limited to paper logbooks, there was no easy way to automate document signing, take photos of guests, or ensure completion of required fields.
"We used to have 7-10 visitors a week, and now we're pushing 50. We had to replace our pen-and-paper visitor logbooks with a more scalable, digital solution – Verkada Guest came at exactly the right time."
Verkada's Results
Digitizing security operations to enhance efficiency and privacy

Integrating visitor management with cameras and access control to increase security

Role-based access levels and touchless BLE unlock

Fully immersive, 360º view into critical areas with ePTZ cameras
Safety and quality are non-negotiable in the biomanufacturing industry; Akron Bio upholds high standards as an ISO 13485-certified company that operates in line with cGMPs (Current Good Manufacturing Practices) and international standards. With Verkada, he has digitized guest management and strengthened physical security across the organization.
Digitizing security operations to enhance efficiency and privacy
"Verkada Guest amps up the organizational ability of our front desk by ten-fold. We can send personalized invites to guests, be alerted when they arrive, and even unlock doors for them from a mobile device."
By replacing the traditional logbook with Verkada's integrated visitor management software, Dempz can ensure that every visitor who enters the building is authenticated and accounted for. Being in the healthcare industry, privacy is a concern that Verkada Guest helps uphold with custom check-in flows and security/COVID health screens.
Integrating visitor management with video and access control to increase security
"We've automated the guest checkin process and added security measures such as signing an NDA, taking a photo, and restricting access through Verkada access control. If an incident happens, we're able to quickly retrace their steps with integrated video security and see where they've been."
Rather than jumping between siloed security systems, Dempz can manage visitors, access control, and video security on one cloud-based software platform. From Command 's intuitive interface, he can remotely manage credentials, create badges, and designate staff to hand them out onsite. "Everyone who enters the building checks in through Verkada Guest and has their picture taken, from contractors to our regular UPS and FedEx delivery." With natively integrated cameras, he can search for an individual based on their photo and retrieve corresponding video footage in seconds.
"My first investigation with Verkada - and every investigation since - has taken less than an hour; in most cases, 15 minutes."
Fully immersive, 360º view into critical areas with ePTZ cameras
"The CF81-E is a gamechanger. You have the conventional 360º view, but are also able to jump into the environment and pan around - even during playback. It truly feels like I'm in the room. "
Equipped with 12MP image sensors, the CF81-E can be flexibly deployed to provide high-quality coverage in low-ceiling environments. Dempz can operate the CF81-E in three viewing modes that include 180° Panoramic, four-way split, and immersive 360º digital Pan-Tilt-Zoom (ePTZ). In ePTZ mode, Dempz toggle between a 360º fisheye view and ePTZ, where he can click into frame and investigate the incident as a virtual bystander. 
Touchless role-based access with BLE unlock
Paired with Verkada access control, the Verkada guest management system provides the right level of access to the right people at the right time. Dempz is able to set custom permissions for visitors and employees, as well as use video analytics to analyze traffic patterns and improve workflow efficiencies
"The whole integrated nature of Verkada is amazing, the 'wow' factor is how it's so seamless. Our employees love the Verkada Pass app with Bluetooth because it makes touchless entry possible with gloves and PPE on. They can conveniently walk up to a door and unlock it because the badge reader can immediately sense that they're there."
Dempz has access groups set up for different user roles - from manufacturing and warehousing to product development and quality assurance. Employees are able to unlock doors via Bluetooth with the Verkada Pass app a frictionless and touchless experience. 
Having a cloud-based system also means that Dempz doesn't need to worry about whether an employee's badge will work if they visit another site. He is able to customize user permissions remotely at any time, from one centralized platform. "It takes seconds to be able to grant or revoke access to buildings, and with SCIM integrations we can make this automatic."
Looking Ahead: An Evolving Software Stack and Product Portfolio
"We quickly realized that any other solution we bought was going to be frozen in time. What we have now with Verkada will be different five years from now; it's going to change, and it's going to be better."
Dempz has peace of mind knowing his investment in Verkada will retain its value over time. The system is always evolving with automatic updates containing the latest software and firmware enhancements. For next steps, he is looking to provide customers with a virtual tour of the facilities' manufacturing operations by leveraging the CF81-E's ePTZ mode. He is also exploring API hooks for badge, door, and camera statuses.
"It's been a slow burn; we're transitioning from walk to run, and constantly unveiling new capabilities as we peel the onion back. My expectations are high given what I've seen already."
---
Experience the benefits of Verkada's cloud-managed solution firsthand - visit verkada.com/try .