BNE Real Estate Group
How a National Real Estate Group Protects Construction and Developments with Verkada
Aytan Gabai, EVP of Construction, and Peter Milman, AVP of Construction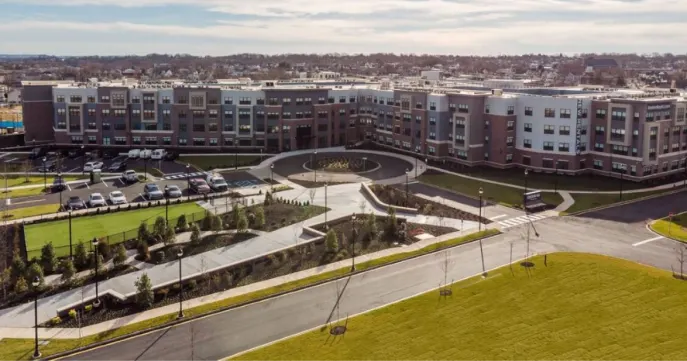 3x optical zoom

for detailed license plate captures

night-and-day

monitoring with IR illuminators

Up to 4K and 5MP

image resolutions
BNE Real Estate Group is an award-winning national organization with over 60 years of experience in the development, investment, ownership and management of distinguished real estate assets. From coast to coast, its vast portfolio includes more than 1 million square feet of commercial spaces and mixed-use developments, along with tens of thousands of low and high-rise apartments, luxury townhouses and single-family homes.
Aytan Gabai (Executive Vice President of Construction) and Peter Milman (Assistant Vice President of Construction) oversee the construction and development of BNE's multi-family residential communities. To meet high building standards, financial goals and project milestones, Aytan and Peter adopt a multi-disciplinary approach to physical security planning with Verkada.
The Challenge
"Verkada came highly recommended by our low-voltage subcontractor. It bypassed all the headaches we were having with the NVRs, DVRs, bulky mainframes and networks that required constant updates and maintenance." - Aytan
The need for a license plate recognition (LPR) solution was heightened after an electric charging station was vandalized by an unknown vehicle, whose license plate number was unclear due to the poor footage quality. This was the last straw for Aytan and Peter, who were already in the process of replacing their legacy digital video recorder (DVR) camera system with Verkada's modern, hybrid cloud cameras.
Why Verkada? 
"After one of our electric vehicle chargers was vandalized, we installed Verkada's LPR solution for parking lot security. The performance, functionality and clarity have been amazing. Even when vehicles are captured at an angle, the bullet cameras accurately detect their license plate numbers." - Peter
From clubhouse entrances to construction zones, Aytan and Peter have empowered team members to centrally monitor and secure any site from a web browser, mobile app or viewing station. All Verkada devices are seamlessly integrated behind an intuitive, cloud-based software platform – making it simple to scale across BNE properties.
To accurately capture license plates for vehicles moving at up to 80mph across three lanes, Verkada's license plate recognition (LPR) technology is powered by Ambarella CV22 and CV25 chipsets in the CB52-TE and CB62-TE bullet camera, with an optional context camera to further expedite investigations.
Accelerate response times with high-accuracy, low-bandwidth LPR
Leveraging the bullet cameras, Aytan and Peter capture crisp video evidence with 5MP and 4K sensor resolutions and 3x optical zoom, while IR Illuminators support low-light performance for after-hours security.
"We have a complete record of every vehicle that enters and leaves the property. It's easy to filter through license plates, pull up any corresponding footage, share that with police, and even set an alert if they're seen onsite again." - Peter
To simplify investigations, Aytan and Peter have the ability to review historical footage, conduct motion searches and create archives. It takes seconds to save and share footage via SMS, email or a direct link, while real-time alerts allow them to react quickly to known threats. Once a License Plate of Interest is detected, they receive a notification via email or SMS with an image and a link to review associated footage. 
Centralized, single-pane view to gather vehicle intelligence 
By installing an optional context camera, Aytan and Peter can easily switch between LPR and context camera views while reviewing events. They no longer need to spend time manually searching through footage and matching license plates with vehicles in-frame. Rather, they can simply click on any license plate number and watch the footage autoplay in the same user interface. 
"The context camera makes gathering vehicle intelligence much faster. License plate numbers are automatically paired with the corresponding vehicle footage – we can see everything we need with one click in a single view." - Peter
Edge-based on-device processing reduces bandwidth to under 200 kbps at rest, while ensuring that data (video, images, license plate information) is encrypted both at rest and in transit.
Maximize net operating income with an evolving product suite
"The property managers we work with love Verkada installations, they keep asking for more and more coverage. We now include Verkada in our design plans and the early stages of budgetary evaluation." - Aytan
Aytan and Peter can easily grow their Verkada fleet across any number of properties, with full cost transparency, unlimited user seats and a 10-year hardware warranty. They have also been able to maximize the net operating income of properties in several ways with Verkada:
Removed costly infrastructure: They have eliminated the need for digital video recorders (DVRs) or on-premise servers.

Simplified installation: They have reduced the time and cost needed for installation with zero-configuration, plug-and-play devices.

Streamlined operations: They have empowered end-users with an intuitive software interface – no onboarding or training required.

Automated maintenance: They have removed the need for manual upgrades by enabling over-the-air software and firmware updates that maintain security and unlock new features.
Built on an evolving software stack, the Verkada system automatically updates with new capabilities that drive value across different areas of the business. Additionally, the new bullet cameras' upgraded System on Chip (SOC) provides the team with enhanced analytics – including Occupancy Trends – so Aytan and Peter can gather insights around the busiest times of day and optimize operations accordingly. 
Looking Ahead
With Verkada, Aytan and Peter have taken a modern approach to physical security and operations. In line with BNE's commitment to quality, value and forward-thinking technology, they have incorporated Verkada into the early design phase of project planning. 
For next steps, they are evaluating Verkada Mailroom as a package room solution to increase security while reducing management overhead. They are also looking into Verkada's remote deployment options (including Cradlepoint and Gridless Sentry) to support monitoring on job sites with no existing infrastructure.
---
Attend a webinar to learn more about Verkada's hybrid cloud video security solution, or visit our A&E page to see how Verkada works alongside developers and contractors on new construction builds.