Camping World
How Camping World Integrated Hundreds of Stores on a Single Physical Security Platform
Jamin Horton, Director of IT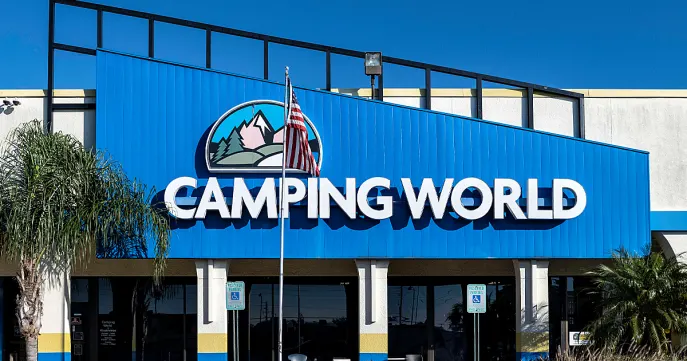 217

Stores

3,734

Cameras

24/7

Video Monitoring and Technical Support
Background
Growth is the name of the game for Camping World, whose mission is to consistently enhance the recreational vehicle (RV) experience by making ownership fun, comfortable, safe and carefree. Founded in 1966, the outdoor and camping retailer has expanded to 48 states and more than 200 stores over the past decade. Each location holds a massive amount of inventory – including RVs, camping supplies, watersports gear and boating equipment. 
Protecting these assets is a core responsibility for Jamin Horton, Camping World's Director of IT, who manages the physical security of all store locations.
The Challenges
Camping World's rapid expansion left the company with an inefficient and reactive approach to physical security. Challenged with providing a better approach, Jamin faced three critical pain points:
1. Limited remote access and visibility into security events
With most Camping World locations previously relying on network video recorder (NVR) systems, accessing camera footage remotely required complex configurations. As a result, General Managers (GMs) and store managers could not easily view or track security events from a mobile device while offsite, either in real-time or retroactively.
Jamin was equally limited in providing support to individual stores during or after an incident. There was no easy way for Camping World's corporate headquarters to quickly access all the streams remotely from every camera at each of their 200+ locations in a centralized way.
Offline cameras and failing servers were also a common pain point with previous NVR systems. Often, General Managers didn't become aware that a camera wasn't operating until after they tried to retrieve the footage.
"Our cameras were often offline. And even when they were online, accessing them remotely was extremely challenging. Both for us at HQ and for store managers in the field."
2. Disparate systems that didn't communicate with each other
Camping World leveraged separate vendors for cameras, access control and alarm. Despite assurances by the vendors that these systems could work together, they simply did not.
Bridging these systems together was time-consuming, unnecessarily complicated and led to a disjointed user experience. The equipment forced employees to spend significant time resolving even small issues that often involved multiple vendors. This made Jamin's job of meeting Camping World's growing security needs infinitely more challenging.
"We added third-party access control and alarm services to our previous cloud system, but it was a patchwork setup and not capable of meeting our long-term needs."
3. Operational inefficiencies that impacted the bottom line
From end-of-life software to hardware replacements, the ongoing cost of the legacy systems added up quickly. On top of installation fees, many of the existing security devices required constant maintenance – resulting in expensive service visits and upgrades. In some cases, GMs and store managers would take matters into their own hands and purchase equipment without consulting Jamin. This equipment often performed poorly, was insecure and not enterprise level, leading to more complications.
Expenses added up quickly. You need to account for hidden costs like equipment maintenance and upgrades. We also had a problem with Shadow IT. Stores would buy prosumer cameras and install them on our network without consulting our IT team, which made securing our stores unnecessarily complex."
Why Verkada?
Already well-versed in the benefits of hybrid cloud infrastructure, Jamin quickly saw the value of Verkada. The centralized, easy-to-manage platform was a perfect match for Camping World's expanding security and operational needs.
"There is a multitude of advantages to Verkada: the 10-year warranty, the clean user interface and its ease of use. Once I saw the demo, I was sold."
Verkada enables Jamin to scale a standardized approach to physical security across any number of sites, manage all the security systems from a single pane of glass and ultimately lower the total cost of ownership by addressing operational inefficiencies.
The Results
Increased awareness, faster responses

Single pane of glass for ease of enterprise management

Reductions in operational inefficiencies and cost of ownership
1. Increased awareness, faster responses
Secure remote access and monitoring
If a situation arises, Jamin and his team can monitor the event in real-time from any web-based platform or mobile device. After-hours, they can detect and take action immediately with Verkada Alarms' combination of cloud-managed intrusion detection and 24/7 integrated professional video monitoring.
"Verkada Alarm is a game-changer. Not only do we have an alarm system with a notification process linked to the call center, we're able to scare intruders without being physically on site."
Catching crimes in action
Security incidents often happen without warning, but Jamin's team now has a real-time response plan that goes into effect the moment an incident is detected.
By adding Professional Video Monitoring, Jamin has turned each stores' cameras into monitored alarm systems. In the Command dashboard, he selected cameras overlooking critical areas, and then determined when and how agents should respond to an incident.
Their emergency response capabilities were put to the test one evening when an intruder gained entry to one of Camping World's locations. After the suspect triggered the alarm response, a video monitoring agent was notified and reviewed the event through Verkada's integrated Cameras. Once they confirmed that the threat was real, the agent initiated a pre-configured response flow and dispatched local authorities, catching the criminal in action.
"We have virtual guards that help protect our sites 24/7. We recently had an incident where the cameras detected two intruders and alerted professional monitoring. The agent video verified the threat and dispatched police, who arrested the intruders before any damage could be done."
Giving managers control and visibility over their stores
Jamin is only one person, so he needs to depend on GMs and store managers to secure their respective retail locations. Once they gained access to Verkada Command, they intuitively learned how to navigate the platform. Just like that, their concept of what was possible in the world of physical security completely changed.
"We've given our managers access to the Verkada platform, so they play an active role in securing their locations. They can see what's going on in their store at any given time – whether they're onsite or at home."
2. Single pane of glass for ease of enterprise management
Centralizing security management
Leveraging Command, the Verkada web-based platform, Jamin controls security operations across Camping World from a single pane of glass, eliminating the complexities that came with their previous NVR systems.
Jamin's IT team noticed the difference immediately.
"Verkada's simplicity is like night-and-day compared to traditional systems. We eliminated the need for multiple vendors and have one solution that does it all."
Simplifying security protocols with Verkada Access Control
Jamin was immediately struck by how straightforward it is to manage user credentials with Verkada Access Control – especially user provisioning with Single Sign-On (SSO) and SCIM integrations. Within the platform, he can quickly create and modify access groups and assign employees to their corresponding groups.
Once they're added to the system, employees can use the Verkada Pass mobile app to remotely unlock authorized doors without needing a physical badge. If an administrator needs to offboard a user, access is revoked in just a few clicks.
"Verkada makes onboarding simple. Employees get put in the right group and instantly have access to everything they need. Our corporate offices love the Bluetooth unlock capabilities, not having to carry physical badges or worry about losing their card – they use their phone as a digital keycard."
3. Reductions in operational inefficiencies and costs of ownership
"Set it and forget it" installation
A simple installation process was necessary to maintain consistency and reduce costs across each store's security systems. Equipped with a 10-year warranty, Verkada was a long-term solution that Jamin could "set and forget" while avoiding the high and frequent installation fees associated with recurring vendor turnover.
"Installs are such a breeze. It's just a matter of mounting, plugging in, pulling up the app, checking the camera angles, and we're done. Once we mount them, we forget them."
Constantly evolving and improving security system
Verkada's software-first approach mitigates the concern of falling behind the latest security innovations. With a recurring schedule of automatic software and firmware updates, Camping World can enjoy the latest cutting-edge technology without ever having to pay additional fees.
"Not only does Verkada meet all our critical requirements, we are always receiving new feature capabilities through automatic updates. Best of all, I don't have to pay to take advantage of the latest features and functionalities."
Jamin no longer has to account for additional line items and now has the best of both worlds: stronger retail security and a lower cost of ownership.
Stopping Shadow IT teams
Because their previous system didn't meet the needs of many of their stores, many GMs resored to installing their own security systems. However, this created a "Shadow IT" issue – the use of services, devices and applications without explicit consent from an IT department. Not only did some of this equipment present operational and security risks for  Camping World, it was also was inefficient from a cost perspective. By standardizing physical security to an all-in-one, user-friendly platform, Jamin ended the need for individual stores to purchase and manage their own equipment. He has effectively eliminated Shadow IT — something that GMs happily welcomed.
"Our managers appreciate having an enterprise security system that they don't have to maintain themselves. Verkada provides all the features and functionalities they could ever hope for."
Looking Ahead
With just over half of Camping World's stores already outfitted with cameras (and more on the way), Jamin has successfully standardized the retailer's physical security strategy. However, his work isn't done yet.
Because of the time saved by implementing Verkada, Jamin and his teams now have the bandwidth to invest in and establish additional cost-preventative measures.
"We identified regions of interest in our equipment rooms. We now know if someone is in there moving around cables – which could potentially cause an outage, force us to change our operating schedule or spend $500 to investigate what happened."
As they become more comfortable with the Verkada system, Camping World is already considering other use cases and ways to drive value across the organization.
"Our investment was worth the ability to pull a license plate from a suspicious vehicle, catch intruders, protect our inventory and quickly manage digital evidence. Once you explain the potential of the technology and its cost-savings to senior leadership, Verkada starts to resonate deeply. We're excited for what's to come."
---
Interested in learning more? Request a free trial or a live demo.