Cerrowire
How a Manufacturing Company Streamlined Communications and Operations Across Four Plant Locations
Jeff Bishop, Network Analyst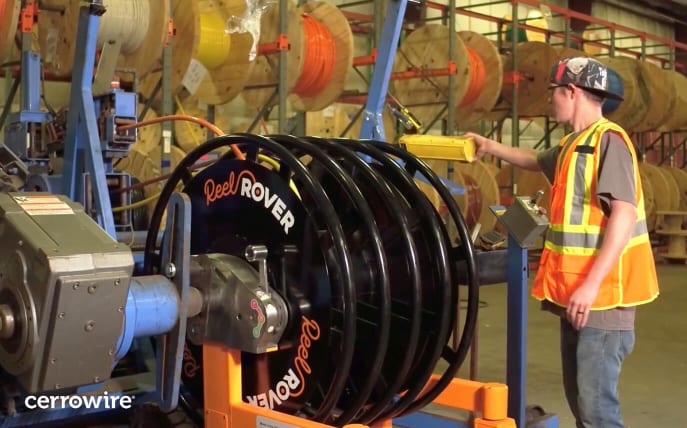 Headquartered in Hartselle, Alabama, Cerrowire is a top manufacturing company that supplies building wires and cables throughout North America. They cater to a variety of customers, ranging from home improvement stores to electrical contractors and DIY enthusiasts. To efficiently meet the needs of both retailers and consumers in this niche market, Jeff Bishop, Network Analyst, is constantly finding ways to improve operations and enhance productivity across their plants in Alabama, Georgia, Indiana, and Utah.
As part of his mission, Bishop sought to replace their disparate DVR systems with a single solution that could provide more visibility and control over day-to-day operations. This brought him to Verkada, which offered the scalability, remote accessibility, and simplicity he needed to support safety initiatives, streamline communications, and simplify footage retrieval.
Challenge: Lack of Reliable Coverage
"Protective safety is number one for us, if someone has a close call we need to be able to go back and review the camera footage to deter it from happening again. With our old system, we lacked the coverage necessary to do so."
Having a mix of DVR systems sourced from different vendors posed a challenge when it came to scaling coverage for preventative maintenance. Bishop's top priority is ensuring a safe work environment for employees by taking proactive measures against close calls. To support this, he needs a comprehensive view of key sites to catch and correct potential safety hazards in real-time. Unfortunately, the DVR systems lacked the scalability, visibility, and functionality he needed to effectively support this process.
Solution: Limitlessly Scalable Surveillance
"Verkada has been easy to scale and all major sites are covered. It's been a helpful resource for preventative maintenance and employee safety, we can reliably review footage of any area and quickly assess to correct an issue."
Bishop has gained a more comprehensive view of worksites by scaling Verkada's cameras, which he can deploy limitlessly without being bound by the number of ports available on a DVR. In case an employee experiences a close call, he's able to swiftly playback footage of the exact place and time it occurred and immediately take steps to fix the issue. With broader and more reliable coverage, Bishop has used the Verkada system multiple times in the past year to proactively improve safety compliance and employee training.
Challenge: No Remote Accessibility
"Remote team members and vendors didn't have a direct view of inventory levels. They'd call and ask how much product is left, then someone onsite would check and let them know."
Bishop struggled with streamlining communications with key stakeholders, given their limited visibility into inventory levels and shipping timelines. In order to know if a product needs restocking, remote team members and vendors had to first call and ask someone on-location. For example, Cerrowire's Georgia facility produces wire for its headquarters in Alabama, but team members in Georgia were lacking a clear view of inventory levels at any point in time. With no direct visibility, the Georgia team had to regularly phone in and check with the Alabama team to determine how much product was left and when to ship out more.
Solution: Remote Access to Live Feeds
"Verkada has helped us streamline inventory management. Our vendors and site managers have access to specific cameras, so they can sign into Command and view live feeds. If stock is low, they know right away and ship it out, they no longer need to call in and ask."
Through Verkada's web-based Command software, Bishop sets site- and role-based permissions that allow vendors and remote team members to access specific cameras overlooking their product. From there, they can directly monitor inventory levels and know exactly when to ship out more. Cameras continually adjust image parameters like shutter speed and sharpness, ensuring optimal clarity and maximum visibility for Bishop and his team. "We marked the ground with a piece of tape that becomes visible when inventory is at minimum levels," says Bishop, "When our vendors see the tape, they know it's time to order more." Bishop has effectively streamlined communications by empowering stakeholders with just the right amount of visibility into stock and shipping timelines.
Challenge: Inefficient Footage Retrieval Process
"Pulling and sharing footage with the old DVR systems was a long, painful process. It was not easy to use and we wasted too much time walking to the site, gathering passwords, staring at the screen, and offloading it to a USB stick."
The DVR system was also difficult to use and access, leading to a lengthy and inefficient process for reviewing and sharing footage. Team members had to first walk to the shipping department, figure out which password to use to log in, play the footage on a small 13-inch monitor, then finally offload the video to a USB stick. Even sharing a short clip required a full backup, which Bishop and his team found especially time-consuming, "To get around it, sometimes we would just take a video of the footage using our phone while it played on the monitor." Bishop knew he needed a more straightforward way to access and save videos of just the key moments.
Solution: Simple Web-Based Software
"Once we got Verkada, video management got so much simpler and we've saved hours of time because of how easy it is. [From Command], we select the video clip, archive it, and share it with whoever. It's so much faster and more convenient because we can do this from anywhere on any device."
With Verkada, Bishop has streamlined the footage retrieval process to just a few steps. From Command, team members view, trim, and share video without ever leaving their station. "It's as easy as hitting a website," says Bishop, "Then anyone I give access to can view it." With a faster and simpler footage retrieval process, team members can now devote more energy to high-level tasks that move the business forward.
Final Takeaways
"If you want a security system that does everything and is easy to manage, scale, and use, Verkada is the way to go."
Since deploying Verkada, Bishop has seen a distinct improvement in operations efficiency for his team and stakeholders. It's now faster and easier to act on employee safety concerns, streamline inventory management, and share footage. In terms of next steps, Bishop plans to set up motion notifications to alert team members of important events like deliveries.
If you'd like to learn more about how Verkada's hybrid surveillance solution can improve student and faculty safety across campuses, request a free trial camera today.