El Centro Regional Medical Center
How a Busy Medical Center Scaled Video Security Across 9 Facilities to Deliver Quality Patient Care
Darryl Mark, Information Services Manager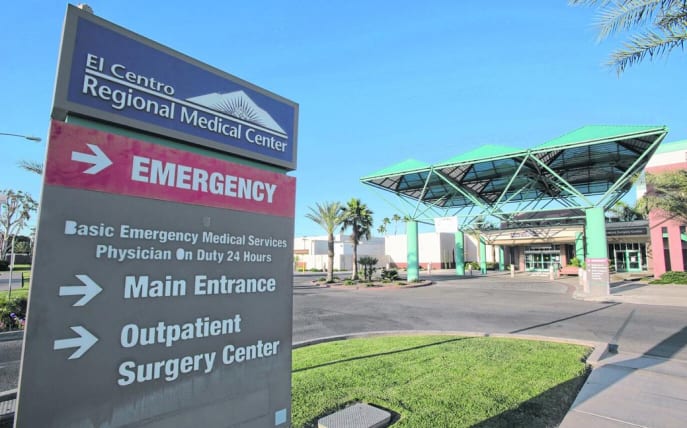 El Centro Regional Medical Center (ECRMC) is an acute-care medical center that has provided healthcare services to the Imperial Valley since 1956. In addition to their 165-bed hospital, ECRMC owns and operates nine facilities and outpatient clinics in El Centro and Calexico. It is home to one of the busiest emergency departments in the state of California and treats 10,000+ patients every year.
When Darryl Mark, Information Services Manager, joined ECRMC, his mission was to ensure that the technology in place would allow all hospital operations to run as seamlessly as possible. As part of that initiative, he sought out cloud-based video security solutions to improve physical safety across all clinic locations.
Challenge: Limited Visibility Across Sites
"Many of our facilities didn't have cameras. The best thing—or rather, only thing—we could do there was to have security personnel onsite to monitor the buildings"
Due to the lack of visibility across sites, faculty had to rely on security personnel to deter threats and ensure the safety of patients and healthcare professionals. "It wasn't a scalable way to monitor building security, but that's the way it had been for so long. The team would come in, badge in, then start their day; all we could do from an accountability standpoint was to check that people were on patrol that day."
Solution: Simple Installs & Scalable Coverage
"With Verkada, we've been able to install nearly 200 cameras across parking lots, hospital entrances, emergency rooms, and other critical areas. Every step to getting the system up and running has been really easy."
From deployment to system management, Darryl and his team have quickly recognized the benefits of a camera system built with hybrid cloud architecture. By centralizing video security to a cloud-based platform, footage across all sites can be accessed on a single screen from any browser or device. "The benefits of adding more cameras were never in question; we just needed to find a way to do (the deployment) without impacting the services we provide for our patients. Verkada's plug-and-play cameras removed a lot of the infrastructural overhead I was anticipating with a project of this size."
Challenge: Unreliable CCTV Technology
"We've had emergency situations unravel onsite that required immediate action from our team as well as local authorities. In those events, there wasn't a reliable system in place that could help us act in real-time without putting staff, or other patients, in danger."
In the event that a camera system was in place, it relied on legacy DVR technology that could only capture low-res footage, providing law enforcement with little to no insights. With dated equipment that provided poor visibility, it was impossible for staff to effectively monitor high-traffic areas to ensure that patients were receiving quality, and timely care at ECRMC.
Solution: State-of-the-Art System & Features
"The People Analytics filters make it possible for my team to find the footage we're looking for in seconds. We once pinpointed footage of a particular individual just by filtering for clothing attributes; this functionality has unlocked a new level of efficiency."
In addition to advanced search filters, Verkada's cloud-based platform captures thumbnails of events that allow users to view footage as a timelapse. Rather than having to watch footage end-to-end, Darryl and his team simply scan over a scene to identify when an incident occurs. "Once we find the exact moment that something happens, we can playback that footage in HD. It no longer feels like we're looking for a needle in a haystack when trying to find footage—Verkada's platform takes the guesswork, and gruntwork, out of addressing a situation with security footage."
Challenge: Complicated Network Configurations
"From manually assigning dedicated IP addresses (because nothing we used was in DHCP), to configuring the system to bring it online... installing anything connected to our network was a huge security overhaul."
All legacy systems (at ECRMC) connected to the network required a series of time-consuming steps to protect network security. When installing new IoT devices, each was statically assigned its own IP address; this required Darryl to manually log onto each device, assign it a particular address, then verify that an accurate address was distributed. Other systems required Darryl and team to institute deep infrastructural changes, which were tedious and often costly.
Solution: Ready-to-Use Security Solution
"This is the most hands-off upgrade I've ever done. By default, (Verkada's) system takes care of security tasks that would've taken me a considerable amount of time to complete."
Darryl and team quickly brought the system online without the need to download additional software or perform any technical configurations. By replacing his existing DVR with a PoE switch, then plugging Ethernet cables into cameras, the cameras are brought online instantly. "The same sets of security protocols are accounted for—the DHCP server dynamically assigns an IP address to each camera automatically. It's one less thing for me to have to worry about."
Challenge: Limited Connectivity & Bandwidth Resources
"When thinking about adopting a cloud-based camera system, I had two main concerns: frequent camera downtime because of poor connectivity and the impact it'll have on the network."
As Darryl and his team planned out how their infrastructure could absorb devices that typically required significant amounts of bandwidth, he was unsure of how network speed would be impacted. As he searched for video surveillance solutions, he was conscious of finding a system that would be bandwidth friendly and could operate with limited cellular reception.
Solution: 20kbps Cloud-based Cameras
"We haven't noticed any change in network speed with (Verkada) cameras installed. Even when I'm using LTE, which is terrible in the valley, I don't experience delays."
With a unique hybrid cloud approach, all footage is stored on the camera itself instead of streaming constant footage to the cloud. If not actively viewed, bandwidth usage per camera is no more than 20kbps. This hybrid infrastructure has allowed Darryl to scale over 100 cameras on the same network at only 2Mbps, which is comparable to the bandwidth consumption of one traditional cloud camera. By utilizing onboard storage built into each camera, Darryl is able to improve security without affecting other business operations.
What's Next?
For a medical campus located in such a key area, video surveillance has been the answer to empowering hospital staff with the preventative tools, visibility, and the knowledge they need. Besides utilizing Verkada's machine learning software features like People Analytics, Darryl has been thrilled with how scalable and easy it is to set up and manage. "I think it's great in its simplicity, everything is easy." Next on the agenda, Darryl plans to deploy 100 cameras in the main hospital to continue improving the safety of patients and staff.