JOE & THE JUICE
How JOE & THE JUICE scales global security operations with Verkada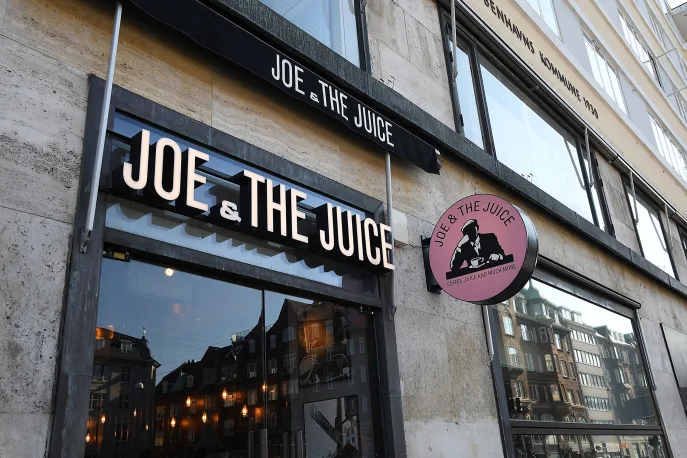 300+

stores

16

countries

One

centralized VMS platform
Founded in central Copenhagen in 2002, JOE & THE JUICE is a popular juice bar and coffee shop chain with over 300 locations in North America, Europe, Asia, and Australia. The company is known for using fresh high-quality ingredients and has strong IT processes to expand its global presence. To date, JOE & THE JUICE has opened more than 300 stores in 16 countries – with no sign of slowing down.
The Challenge
During its initial expansion in 2015, prosumer-grade cameras were deployed to some locations for both staff and customer safety and security. However, JOE & THE JUICE soon found that the products were not fit for enterprise use; low-image resolution cameras were easy to tamper with and difficult to access across multiple locations.
Why Verkada: Global Security on One Integrated Platform
"Verkada is reliable, simple to use, and easy to set up. We manage store security from one unified platform."
In Verkada, JOE & THE JUICE has a smart, simple, and scalable solution that can meet the needs of an enterprise organization. From New York to Los Angeles, the growing chain can manage security across all locations from one centralized dashboard.
The Solution: Verkada's Mini Dome Series
Verkada's Mini Dome series is deployed across JOE & THE JUICE stores for liability protection and peace of mind, with up to 4K video resolution and hybrid cloud reliability. The team can leverage powerful edge-based analytics to maintain staff and customer safety and security, effective loss prevention, stay compliant, and optimize business operations.
Seamless Design
"Our store interior is thoughtfully designed, and the Mini Dome is perfect to both act as a deterrent and provide security in a discrete way."
JOE & THE JUICE stores have an iconic interior design, and the Mini Dome pairs perfectly with the aesthetic to act as a subtle deterrent and discreetly enhance security. Verkada cameras have received global recognition (including the iF and Red Dot Design Awards) for their durability and industrial design. They maintain the stores' distinct aesthetic, while providing powerful security and analytics.
Actionable Video Insights
Using People Analytics and advanced search functions, it takes seconds for HR staff to investigate and mitigate liability risks. With the high image resolution, administrators can check what's occurring at cash deposits at the end of the day and verify employees' time of arrival. Footage is saved to cloud-based servers for safekeeping, and is timestamped to ensure compliance.
With camera models offering up to 4K image resolution, JOE & THE JUICE provides his team with clear, sharp footage in variable light conditions. New capabilities are released over-the-air, with features such as Occupancy Trends providing actionable insight into the busiest times of day to optimize staffing. 
Ease of Use
An intuitive software platform was a key consideration for JOE & THE JUICE, with the primary users being the HR team and a non-technical staff members. 
There has been no training or onboarding required with Verkada. The Command dashboard is designed with end-user experience at top-of-mind, accessible from any web-based browser or smartphone through the mobile app. 
Scalability
"Setup takes minutes, and cameras are reliable. All it takes is a PoE cable, and we don't need to worry about housing bulky hardware."
With Verkada, JOE & THE JUICE has enterprise-grade security that is simple to install and effortless maintain. Each store has limited space and resources, so it was important for the organization to eliminate the need for dedicated NVRs, DVR, and servers. 
Plug-and-play Verkada cameras require no configurations; installers simply plug in a Power over Ethernet (PoE) cable and scan a QR code to bring cameras online in minutes. With options of up to 365 days of onboard retention and unlimited cloud archiving, the JOE & THE JUICE team has reliable hybrid cloud coverage that scales easily across sites.
Looking Ahead: Global Expansion
"Verkada's been an incredibly positive change for the company, and we are very happy with it. We're looking forward to building the relationship with Verkada."
---
To learn more about Verkada's global platform of physical security solutions, attend an upcoming webinar or request a free trial.