Liverpool Heart and Chest Hospital
How an NHS Foundation Trust Enhanced Hospital Security
Brian Cowan, Security Manager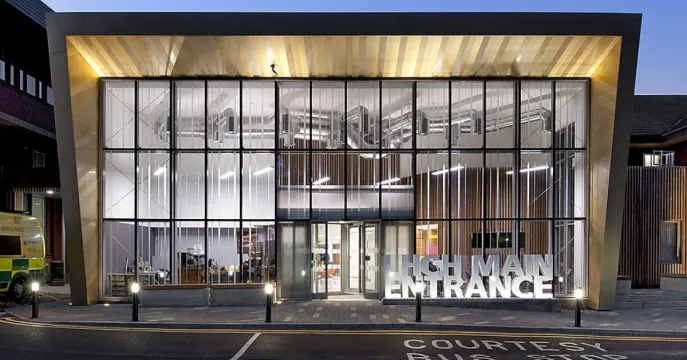 Liverpool Heart and Chest Hospital (LHCH) is an NHS foundation trust that delivers high-quality clinical services to 2.8 million patients and family members. Their reputation for strong performance is underpinned by a culture of research and innovation, delivered in modern estate and facilitated by technology. For 9 out of the last 12 years, LHCH has been recognised by patients in the National Inpatient Survey as the best hospital in the country for overall patient experience.  
As the Security Manager, Brian Cowan is responsible for implementing comprehensive security strategies to keep staff and visitors safe. He was also in charge of maintaining the organisation's physical security infrastructure - including its legacy CCTV network.
The Challenge
Disparate Coax and IP Systems

Costly repairs and patches

Maintaining DVRs and UPS units
The legacy system comprised of historic coaxial and IP-based systems which were complicated, unreliable, and costly. It needed a constant flow of engineers to patch up faults and camera failures, as well as a dedicated room filled with DVRs, a complex cabling network, and a multitude of UPS units. According to Cowan:
"Even the room itself required a dedicated air conditioning unit to control the temperature, due to the vast amount of power units and the heat they produced."
Why Verkada: A Hybrid Cloud Solution
"The Verkada system immediately proved to be a revelation in terms of the simplicity, ease of deployment, and quality of the technology."
At the height of the pandemic in 2020, Cowan began deploying Verkada video security to streamline maintenance and simplify management to one cloud-managed platform. The first installation provided reassurance in areas central to patient safety and security, and the project was such a success that LHCH installed Verkada across the entire facility.
Simple to install, manage and use
"There were minimal installation costs, and no requirements for ongoing maintenance."
With Verkada, LHCH have modernised their physical security technology to be on par with an innovative, technology-forward institution of its caliber. Only a single PoE cable is needed to power the cameras and bring them online, making them simple and fast to deploy. Hybrid cloud cameras offer up to 365 days of onboard storage and edge-based processing to deliver real-time AI-based video insights. 
Fast Incident Response from a Centralized Platform
"The day-to-day features allow staff to deal with issues of health, safety, and security almost instantly."
Camera feeds are easily accessible from a single cloud-managed software platform, Command. Cowan and designated staff can view, archive, and share footage quickly and easily through a live link (via SMS or email) from any web browser or mobile device.
Scales Effortlessly with No Hidden Costs
"Verkada scaled effortlessly, and gave us immediate insight and coverage across our sites."
Verkada's straightforward pricing model consists of two line items: the software license and cameras. With an industry-leading 10-year warranty along with automatic software and firmware updates, Cowan has eliminated the cost of patching security vulnerabilities and maintaining external hardware. Unlimited cloud archiving, user seats, and UK-based support are included as part of his licensing agreement, ensuring that Cowan can quickly get the help he needs when he needs it. 
Protects Patients While Upholding Privacy
Alongside the physical security of patients, Verkada's solution prioritizes the protection of sensitive patient data, making it an ideal solution for healthcare organizations like LHCH. Administrators have control over who has access to specific cameras across locations, ensuring proper levels of clearance are in place for viewing and maintaining footage. All Protected Health Information is encrypted end-to-end by default, establishing the security of storage and transmission. Verkada's Face Blur feature also ensures that videos that are shared externally uphold privacy requirements and do not display individual identities.
Final Takeaways
"The security team within LHCH remains focused on protecting all users and our facilities 24/7. LHCH is one of a few NHS Trusts in the UK  to be assessed as 'outstanding' by the Care Quality Commission twice; with the help and support of Verkada we have a physical security solution that is consistent with our 'Outstanding' rating."