Megan's Organic Market
How a Cannabis Collective Upholds Retail Security and Industry Requirements with Verkada
Sarah Wells, General Manager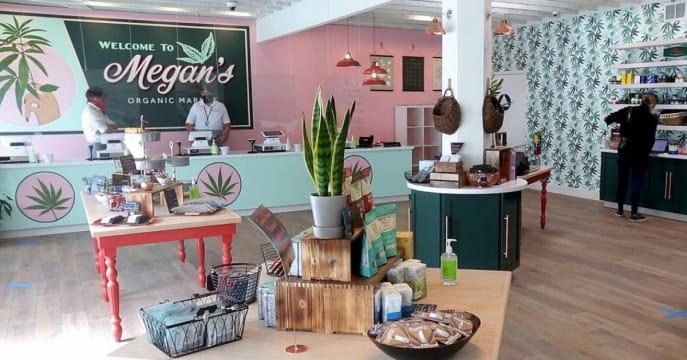 Megan's Organic Market (MOM) is a 100% women-owned company whose mission is to redefine society's relationship with cannabis through responsible stewardship. Founded in 2013 in response to the lack of verifiable, organic medicine available to medical cannabis patients, MOM's delivery service worked hard to improve the health of residents and quickly became one of the most respected Prop. 215 cannabis collectives in California. Today, MOM Inc. has grown to include California retail storefronts, including the first cannabis dispensary store in the City of San Luis Obispo (SLO), cannabis cultivation operations, and a cannabis product brands division.
Sarah Wells is the General Manager of MOM's flagship SLO shop. The storefront is currently undergoing certification by the CA Green Business Network with a goal to achieve net-zero energy usage through on-site solar panels, LED lighting, electric HVAC units, and electric vehicle charging stations.
MOM's commitment to forward-thinking technology extends to their approach to physical security — and was the driving factor in the deployment of Verkada's hybrid cloud solution.
The Challenge
"For our retail storefront, we must provide the police department with a live video feed, and have a camera angled at every corner of our sales floor. We accept debit and cash only because it's not federally legal to take credit, so we also need clear coverage over areas where money is counted to trace high cash flow."
Being in a highly regulated industry, cannabis organizations must meet different requirements depending on city, county, state, and federal-level agencies. The main criteria around video security — regardless of geography — has to do with the placement, amount, and coverage of cameras. Sarah and her team sought a video security solution that could:
Record reliably and continuously to local and cloud-based storage

Provide a live camera feed to the police department for real-time monitoring

Oversee cash flow and identify vehicles/people of interest with high image resolution
Why Verkada?
"Verkada makes it easy to investigate and resolve any incident — it takes seconds to find high-quality footage by applying filters for time, motion, people, and vehicles. Videos we archive are automatically timestamped and can be conveniently shared as a link, email, or text message."
Sarah utilizes Verkada for loss prevention and liability protection, but also to streamline operations, enhance security, and reduce incident resolution time. With Verkada, she has a system that provides:
Hybrid cloud cameras with onboard and unlimited cloud-based storage

Secure remote access to monitor and share videos via any mobile or web-based browser

Clarity and digital zoom with high image resolution and up to 360º coverage

Evolving feature sets with Heatmaps, Person of Interest Alerts, and Vehicle Analytics
"We currently have multiple indoor and outdoor Verkada cameras covering critical areas of our store. The police department has live camera access, and we have a video grid in a limited access area for monitoring during business hours. Verkada's camera quality and advanced functionalities also make it possible to identify and track missing inventory— even small handheld products— as well as their retail value and the individuals responsible."
Hybrid Cloud Storage
"Some counties may require footage be kept for up to a year, which Verkada is able to meet. We also have the ability to back up local footage, and save it indefinitely to cloud-based storage."
Video footage is saved onboard the camera itself (with options for up to 365 days of storage) and to unlimited cloud-based servers. With no single point of failure between local and cloud storage, the footage is safely retained even in the event of a network outage. Unlimited cloud storage is included as part of the Command software license, which is one of two line items in Verkada's pricing model; the other is camera hardware, which comes with an industry-leading 10-year warranty.
Secure Remote Access to Live Monitoring
Sarah works closely with local law enforcement to assist in ongoing investigations. From the Command cloud software platform, Sarah can view and manage cameras through any mobile or web-based browser. This enables her to quickly retrieve and share video evidence to expedite incident resolution.
"The ability to go back and archive months of footage has been incredibly helpful, and I can find and share footage directly from a phone or computer."
Verkada Command is also available as a top-rated mobile app for iOS and Android, through which Sarah can access all store cameras in a single view and her entire cloud-based footage history. After users are provisioned with role-based permissions, the platform is "intuitive and user-friendly" so no training is necessary for onboarding.
High Image Clarity and Digital Zoom
In the event of a potential shoplifting incident, Sarah has every angle of the store covered by Verkada cameras capable of recording at high image resolution (up to 5MP - 12MP) as well as digital and/or optical zoom. The inclusion of Ambarella chipsets also provides Sarah with the latest benefits in computer vision technology while ensuring that Verkada's line of security cameras meets NDAA compliance requirements.
Faster Investigations with Advanced Analytics
"We are able to track potential shoplifters and the pathway they take, then set alerts to be notified in real-time of repeat offenders. Digital evidence management is also simple with Verkada — archived footage is automatically timestamped to ensure usability in court."
Verkada leverages powerful edge-based processing to identify important events and subjects within frame, so Sarah can quickly highlight areas of interest and find incident footage in seconds. Verkada's technology is always evolving, with the latest features and enhancements added automatically via over-the-air updates at no additional cost.
What's Next: Optimizing Spaces with Heatmap Insights
"We plan on using Heatmaps to see where people gravitate, and ensure a natural flow in our guest's shopping experience. The quality of the solution and service is 100 percent the reason that we are proud to and will continue to work with Verkada."
Plotted against store floor plans, People Heatmaps provide a visual of where activity tends to flow and concentrate throughout the day. Armed with these insights, Sarah can adjust operational planning and strategize product placement.
---
To try Verkada at your organization, request a free trial camera or attend our weekly webinar.