Second Chance
How a Non-Profit Uses Hybrid Cloud Technology for Proactive Asset Protection
Peter LaMacchia, Director of Asset Protection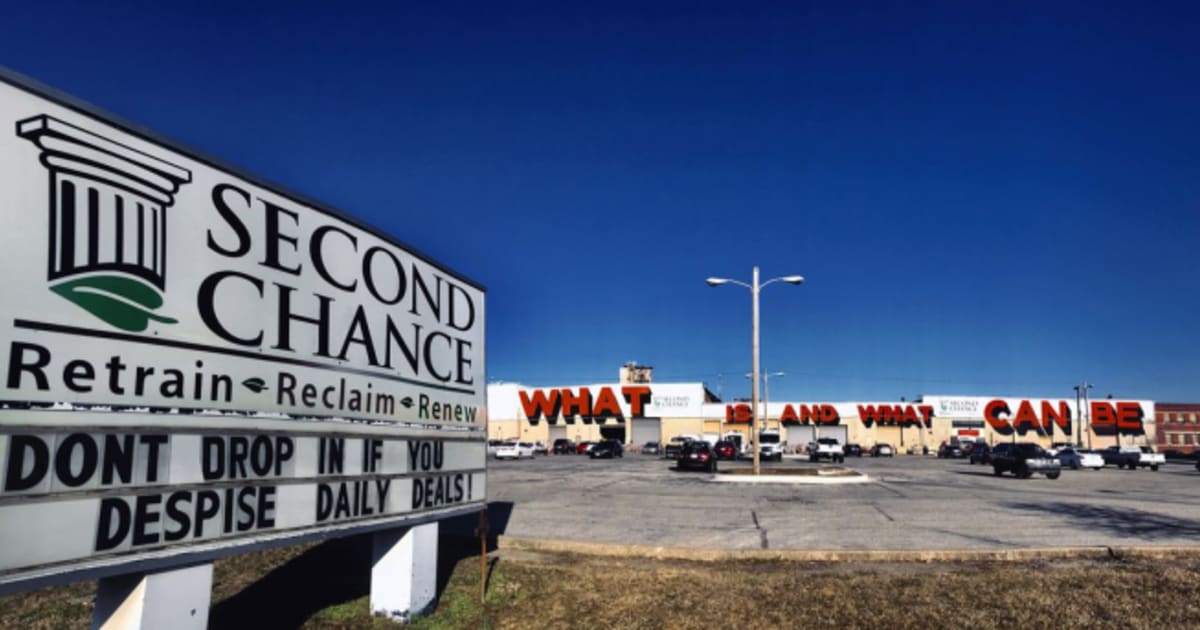 250,000

square foot warehouse

50 - 90%

time savings

150+

employees
Second Chance is a non-profit based in Baltimore, Maryland that deconstructs old homes, collects usable materials, and uses the revenue generated to provide workforce development for underserved communities. Since 2001, the corporation has grown from four to over 150 employees, works on 250 homes a year from Maine to Florida, and picks up more than 1,000 donations from remodeling projects. All reclaimed and donated items, which range from building materials to indoor furnishings, are on display in their 250,000 square foot downtown retail facility.
Peter LaMacchia, Director of Asset Protection, oversees physical security and safety across the organization. As part of his responsibilities, he reviews video security footage to aid with risk mitigation, incident response, and employee training. "I believe in the mission here and help where I can, meaning anything and everything that has to be done."
The Challenge
"Working with analog and CCTV cameras is frustrating because they are limited in what they can do and have extensive wiring requirements, anywhere from 300 to 400 feet. Sometimes the hardware fails, the video disappears, and we're left with a blank slate."
The legacy NVR and DVR system had steep deployment and maintenance requirements, which included approximately 12,000 total feet of wiring and servicing for frequent camera failures. Retrieving incident footage meant manually watching through hours of video, sometimes to discover that the camera or recorder had gone offline and the incident wasn't recorded. "Replacing the hardware was more costly than it was worth. Frustratingly, we had a couple of cases where the warranty expired by just a few days."
Why Verkada?
"The quality of the product and service is what sets Verkada apart for me. I see the attention to detail in every part of the process, from technical support to the design of the packaging. When my first camera came, opening up the box felt like a piece of Christmas."
With an industry-leading 10-year hardware warranty, Verkada is a long-term solution that LaMacchia can scale with the organization. Built with reliable hybrid cloud infrastructure, video footage is stored both onboard the camera and to cloud-based servers hosted on AWS. If technical support issues do arise, he is able to immediately resolve them through Command Live Chat under five minutes in the majority of cases. Software enhancements are released automatically via over-the-air (OTA) updates, ensuring that his technology investment is future-proofed.
Remote Management and COVID-19 Response via Mobile
"We're very cognizant of COVID, so we use heatmaps to identify hot spots and the mobile app to remotely monitor for social distancing. The system is even able to identify individuals when they have masks on."
Knowing which areas are prone to crowding throughout the day allows LaMacchia to plan schedules and supervise accordingly. With People Heatmaps, he can quickly see where people have historically gathered across the facility during any selected time range. He has a high-level view of real-time activity with Motion Plotting, which provides a live heatmap of movement detected across their uploaded floor plan. Through the Verkada mobile app, he has centralized access to all cameras across sites to enable faster, easier remote monitoring. To prevent overcrowding, Crowd Notifications proactively alert him when certain areas reach capacity.
Over 50% Time Savings with Intuitive Search & Share
"I spend half the time I used to on incident resolution, with Verkada everything I need is just a click away. Instead of watching video footage and downloading it onto a memory stick, I can apply a search filter and share the video through a link."
LaMacchia estimates at least 50% time savings for footage retrieval with the Verkada system. On the legacy systems, it would take him approximately an hour to locate the time of a particular incident, download the video footage onto a memory stick, and upload it onto his computer. "Our previous system required a lot of steps that just weren't beneficial." With Verkada, he quickly identifies key incidents by applying advanced search filters for people, vehicles, or motion in a particular area. Once he finds the footage he needs, he saves it to unlimited cloud-based archiving and shares it via SMS, email, MP4, or a direct link. "Verkada makes video security simple. It's easy to find what I need, whether it's footage, updates, or support."
Quality of Customer Experience and US-based Technical Support
"Most technical support issues are solved within three to five minutes. I've saved 90% of the time I waste waiting for a phone call back from other companies."
With Verkada, LaMacchia has unlimited access to US-based technical support which is included at no additional cost. He uses readily available Support page resources such as the Video Security Docs, which provide quick start guides and installation manuals. For additional questions, he connects directly to a support agent via Command's Live Chat, email, or phone. On average, 98% of Live Chat support questions are answered and resolved within the first five minutes. "I sent back one of the cameras, and a new one was delivered within a couple of days. There were no questions, 'That's what you need, that's what I'll get you.'"
Low-Bandwidth and Easy Deployment
"With Verkada, I utilize 1/100 of the bandwidth I did with the previous systems. Installing cameras was easy, I used the mobile app to monitor the setup so we can address any issues in real-time."
Each Verkada camera has a bandwidth footprint of approximately 20 kbps—1/100th the amount that each legacy camera consumed—which has significantly reduced network strain. Thumbnail images uploaded in a "steady state" to form a historical timeline view, so LaMacchia is able to search through footage without retrieving hours of historical video. While deploying Verkada, he used the Command app to view video feeds in real-time and ensure that cameras were positioned correctly. Adding cameras was as easy as scanning a QR code on the camera or box, enabling quicker registration and setup.
Next Steps: Employee Training & Positive Reinforcement
"We're starting to use Verkada as a training tool, where we show our employees video examples and give them a pat on the back for their good work. The cameras have been a great tool for not just security, but catching these positive events as well!"
With the efficiency of the Verkada system, LaMacchia now has more time to focus on high-level tasks to streamline operations. He is finding new ways to utilize Verkada as an employee training tool, and showcase positive examples to foster an encouraging workplace environment. "The cameras have been a great investment and useful tool for us in many ways, we hope to get more in the future."
To try Verkada at your organization, request a free trial camera or attend our weekly webinar.