Back to Main
5 Things to Look for in a Commercial Alarm Monitoring System
According to a research report by ASIS, the majority of commercial establishments increase their security only after being burglarized. To prevent these incidents from happening, every commercial business and organization must proactively prepare for the possibility that they could be targeted. Otherwise, waiting reactively for disaster to strike puts both people and property at risk.
To support this, a survey of burglars by the University of North Carolina found that 60% of them wouldn't target sites with alarms, while a 2017 Co-op revealed that cameras were their biggest deterrent. Therefore, commercial alarm system that seamlessly integrates with door access control and video surveillance is a critical tool for loss prevention and liability protection. But when evaluating vendors, there are certain aspects that make Verkada's Alarms system a more scalable, powerful, and effective solution compared to alternatives on the market.
In this blog, we examine the top five challenges of commercial alarm systems and how Verkada solves them.
1. Instant Video Verification to Eliminate False Alarms
The Challenge of False Alarms
With most traditional alarm systems, passive monitoring services will dispatch emergency services for any alarm event, which ultimately leads to false police discharges and associated fees. Meanwhile, active monitoring solutions commonly use disparate hardware components that do not speak to one another, leading to gaps in coverage and false police calls. According to Regan Bartley, owner of the family-owned 42-site Smoker Friendly retail chain:
"We received about 20 false alarms a month; each police call cost us a minimum of $500 and scaled exponentially."
How Verkada Alarms Solves It
With video verification enabled, Verkada provides professional active monitoring to confirm there is a real threat on-site before the customer is ever contacted. No complex configurations are required for video verification, users can simply enable it through Command and choose nearby cameras. Bartley explains:
"If an alarm is triggered, I receive a text or email alert with a link to the video footage. I can immediately see into the store, determine what the cause is, and decide whether it warrants a police response. In case I don't answer their call, Verkada's 24/7 professional monitoring service will verify the triggered event via video security and call the police if needed."
Verkada employs best-in-class monitoring agents across three fully redundant, UL-listed, TMA Five Diamond Certified central stations. In the event that an alarm is tripped, the agents can video verify the legitimacy of a threat, communicate to points of contact via SMS or phone call, and dispatch emergency services if there is a need.
"There have been zero false police calls since switching to Verkada, saving us over $150,000 annually across all stores."
2. Native Integration with a Physical Security Ecosystem
The Challenge of Disjointed Technology
When starting out, many organizations deploy solutions piece by piece, which over time leads to an ad-hoc disjointed security ecosystem. These disparate systems cannot scale with growing business requirements, and instead create operational inefficiencies that drive up total costs and/or maintenance needs.
How Verkada Alarms Solves It
At Verkada, we develop, build, own, and support all of our hardware and software. This enables organizations to centralize and manage all physical security devices from one cloud-based software platform. Video security, access control, and sensor events are seamlessly integrated into alarms, and all products speak to each other effortlessly.
Each Verkada device acts as a standalone alarm sensor, eliminating the need to install alarm panels and separate glassbreak, doorstop, or motion sensors. No third-party setup is required, as professional monitoring is natively integrated into the cloud-based Command software platform.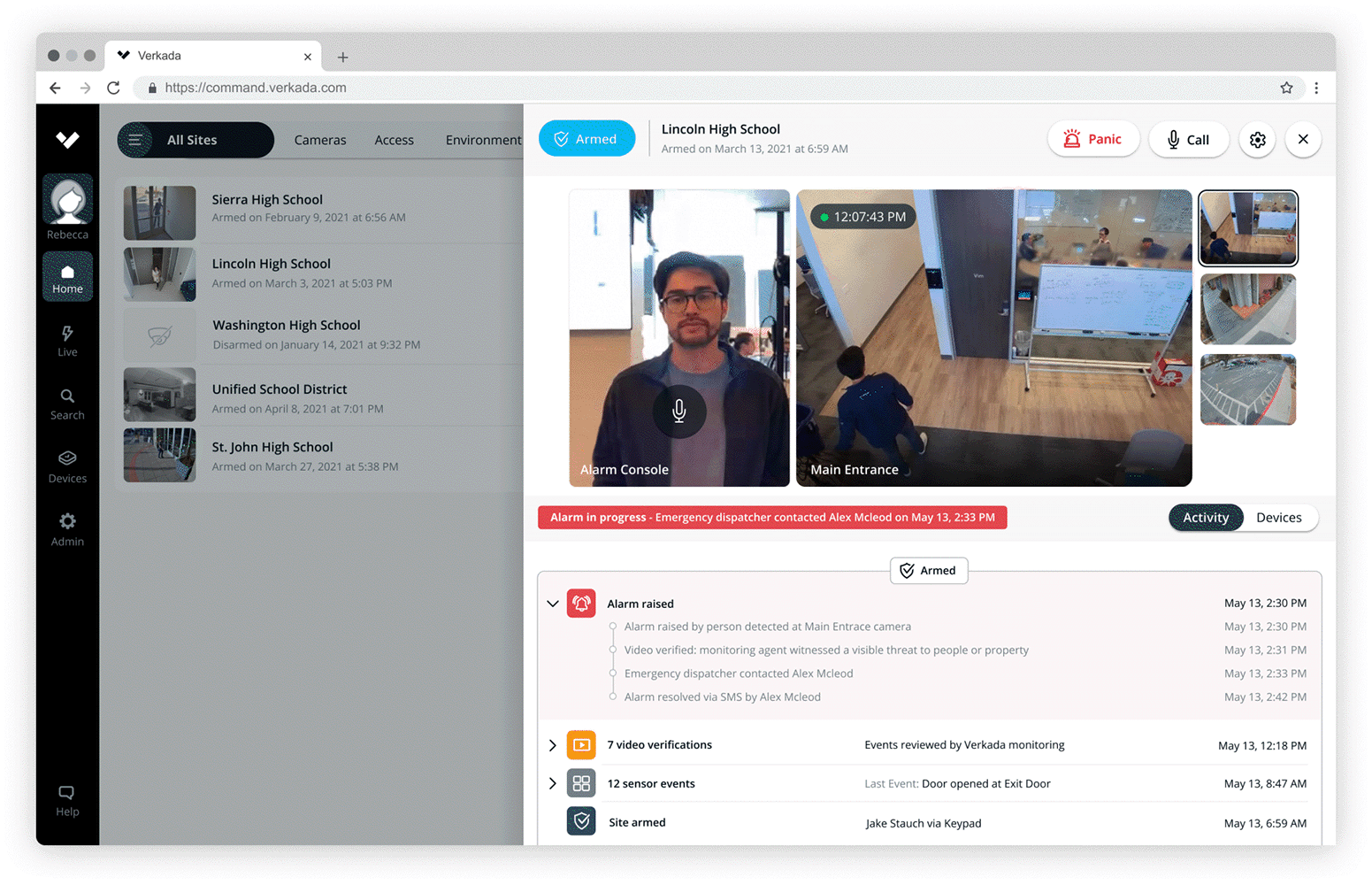 Video-, access-, and sensor-based events can be managed and viewed directly from the centralized Command platform.
3. Easily Configurable and User-Friendly Software Platform
The Challenge of Servicing Alarms
Many alarm companies will issue a service fee for any change made to the backend. According to Bartley:
"Our monitoring company would charge an $85/hour service fee for any little change, whether it was onboarding and offboarding employees, or changing the code to arm and disarm alarms."
How Verkada Alarms Solves It
The end customer can simply set up and make changes to their contact list, monitoring rules, and workflows in the Command platform at any time, from anywhere in the world. No expertise is required, given how intuitive and easy to navigate Command is. From setting alarm triggers to specifying response workflows, sites can be easily configured in seconds. According to Bartley:
"I can easily control and make changes to the system without third-party involvement, which saves us about $500 in monthly service fees per store. Verkada's pricing model is straightforward, we only pay for the hardware and the software license which includes unlimited user seats, cloud archiving, and technical support."
From Command, administrators can change alarm settings and response workflows in seconds.
4. Upfront, Straightforward Pricing Model
The Challenge of Hidden Costs
In addition to service fees and false police calls, there are additional expenses on the hardware and software front. Hardware warranties often depend on the equipment selected, and most security cameras will include a highly limited manufacturer warranty. One popular alarm company lists its starting price at $180/month for a single camera system, and upfront expenses range from $180-$10,000 depending on whether hardware is leased or purchased straightaway. Firmware and software updates must also be factored into TCO, as overhead and software license upgrade fees can be a considerable expense.
How Verkada Alarms Solves It
With an industry leading 10-year warranty, Verkada devices are future-proofed to stand the test of time. All firmware and software updates are deployed automatically, with no additional cost or action required. Pricing is straightforward with just the hardware, software, and professional monitoring license, which include unlimited contacts, alarms, video verification events, and US-based technical support. Because any Verkada device can be used as an alarm sensor, there is no need to purchase additional panels, servers, NVRs, or DVRs; thus, eliminating the cost of additional hardware management and maintenance.
5. Transparent Data Ownership, Privacy, and Protection
The Challenge of Data Being Shared Without Your Knowledge
As technology for alarm and video monitoring evolves, data ownership and privacy are also becoming an increasingly valid concern. Alarmingly, many companies will sell their customers' personal information to third parties for profit. On the data protection side, alarm systems also rely on wireless signals that transmit video data to the cloud and do not take sufficient steps to keep those signals secure. In addition to securing data in-transit, protecting data at-rest is also a consideration. How companies handle the footage, the steps they take to protect user privacy, and their encryption practices should also be part of any vendor evaluation.
How Verkada Alarms Solves It
In our pledge on privacy, we outline a transparent privacy policy in which customer information is not shared with third parties for any reason without their knowledge or consent. Specifically, Verkada will:
Be clear with individuals when collecting personal information via the site;

Incorporate privacy-by-design principles into our development of the Products;

Use industry-standard best practices and data security tools to keep customer data safe and protect the Products from unauthorized access; and

Provide customers and administrators with information to help them understand how their use of the Products may include the processing of personal information.
By ensuring that customers retain full control over their data, Verkada provides data trust over any information that is captured. According to Michael Zummack, Director of Facilities and IT at Sun West School Division:
"With Verkada, we know our data belongs to us. We have clarity and control over what happens to the information collected, it won't be transferred or sold to any third-party organizations or business partners. We have rights over what is shared with and without our knowledge. Rather than uncertainty, I have full transparency and oversight."
Any data that Zummack obtains through Verkada belongs to their school district. This control that he and all Verkada customers have over data ownership helps guarantee privacy protection and information integrity.
In Conclusion
While every organization has different budgets and criteria for a commercial alarm monitoring system, there are certain features that contribute to lower cost of ownership, ease of use, and straightforward management. With Verkada, organizations can bolster and simplify security across their sites, while improving scalability and significantly decreasing total cost of ownership.
---
To learn more about Verkada's cloud managed Alarms solution and integrated security system, attend an upcoming webinar or request a live demo.