A large portion of the workforce was set to return to work in January — nearly 77% of them, in fact. But the Omicron COVID-19 variant has proven to be a formidable foe. Its surge has resulted in delayed return dates for companies like Google and Ford, and have made schools cancel classes.
Whether you've already returned to the office or are hoping to welcome workers in the near future, Verkada's physical security platform has a number of features to help keep employees safe, both physically and psychologically.
We'll explain how to leverage 3 Verkada products - Cameras, Guest and Environmental Sensors - to better manage the wellbeing of people in your building.
Cameras: Enforce safety protocols and slow the spread
While Verkada cameras help focus attention on critical events, they are also a useful resource to ensure the COVID guidance you've set for your organization is followed.
Regulate density by setting Crowd Events and Notifications for specific rooms. When cameras detect a number of people in-frame that exceeds your preset threshold, you'll get an email or SMS message.
Identify high-traffic areas with People Heatmaps. By overlaying motion on top of floor plans, you can more easily see high-traffic areas (e.g. hallways, lobbies, kitchens) and and address them with extra signage.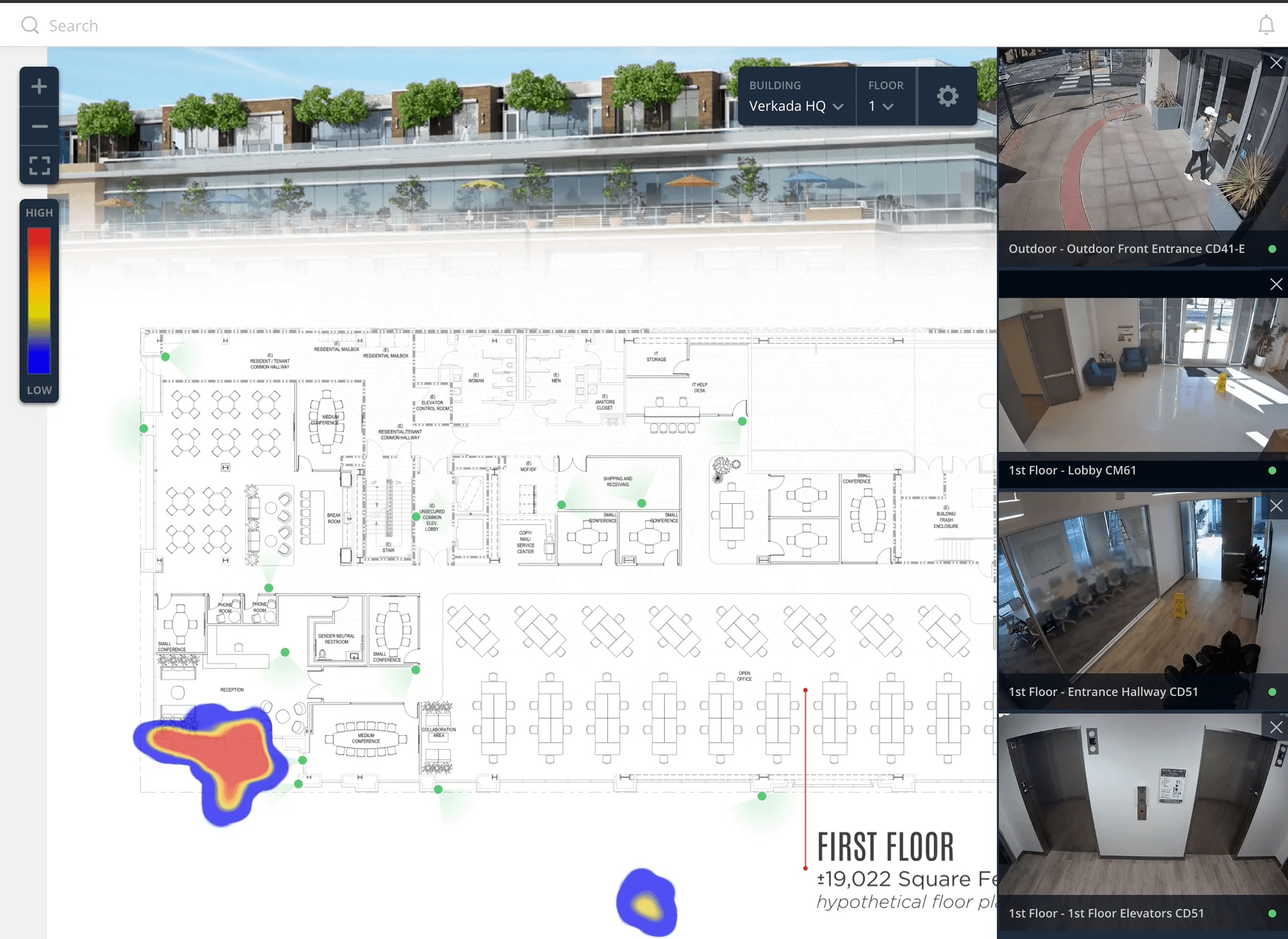 Enforce COVID protocols by validating mask-wearing. The Search page is a simple way for site administrators to see whether or not employees comply with set guidelines, such as social distancing and wearing masks.

Streamline contract tracing with People Analytics. In the event that an individual falls ill, Verkada's 'People Search' feature can quickly pull up footage of that affected individual across all cameras, making it easy to manage contact tracing.
Guest: Manage wellness checks of visitors and employees
To truly manage physical security, enterprises need a single solution to manage the security of visitors, employees and contractors. That's why we released Verkada Guest — our newest product that incorporates visitor management into your physical security architecture — all within a single pane of glass.
Reduce illness with touchless check-in. Encourage germ–free sign-in via QR code from a mobile device, and remotely unlock doors by integrating with access control.

Require health screens for visitors and employees before entering the building. Build your own check-in flows or select from a pre-built list of guest types and documents, such as Covid Questionnaire and Health Document. If any question is answered incorrectly during sign-in, you can deny entry of the visitor and notify the appropriate person via email or SMS.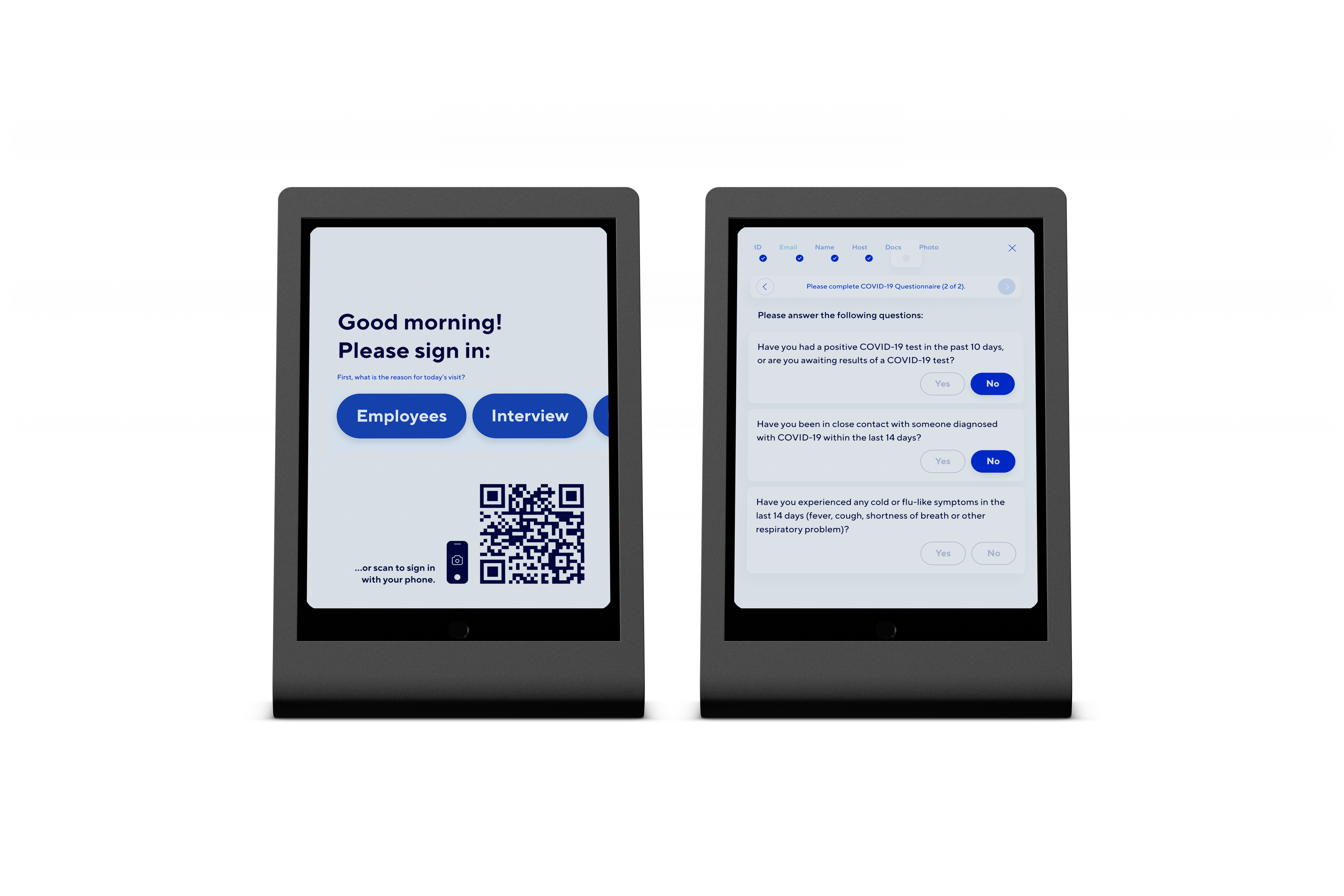 Sensors: Assess air quality to reduce indoor transmission
As many reports have shown, air quality has a direct impact on workers' health. Properly monitoring indoor air quality allows organizations to make better decisions on how they handle indoor air.
The Verkada's Environmental Sensors are used as a way to inform action on improving indoor air quality, monitoring and maintaining indoor air overtime, and providing a way for orgs to be transparent about the air quality in the spaces.
Monitor air quality to ensure rooms are properly ventilated. Ensure that proper ventilation and cleaning protocols are followed by monitoring AQI and TVOCs with Verkada's sensors, and receive alerts when changes are detected so that you can quickly respond (e.g. better filters, air purifiers in rooms, finding ways to increase ventilation, etc.).
View real-time environmental insights on the web, mobile, or our viewing station. Customize dashboards to show specific sensors relevant to the area they're monitoring. Doing so allows teams to quickly view information that is important to what they need to monitor, filtering out anything else that could be distracting.
If you're interested in learning more about how Verkada promotes a safer return to the office, join our next webinar and live demo, Returning to Work Safely.