Today, we are delighted to launch our first pan-tilt-zoom (PTZ) camera, the CP52-E. This camera gives operators control over the camera's field of view, enabling dynamic monitoring of large areas.  
Verkada is growing rapidly, and our customers are asking us to build systems that can be used in an ever wider range of areas like stadiums, large industrial yards, and other expansive outdoor areas. Our new PTZ is designed with just those use cases in mind.
"We use the CP52-E with People Analytics to know immediately if repeat offenders are onsite. Given the comprehensive range, we can detect them at a distance and monitor their movements with Sentry Mode." - Stuart Miller, Head of Technology and Innovation, Grainger Plc
Dynamic, Targeted Coverage
Equipped with a 5MP image sensor, the CP52-E boasts swift 360-degree pan and 220-degree tilt capabilities. Operators can use this camera to investigate moving subjects and capture comprehensive footage as events unfold, all with remarkably low latency (<500 milliseconds). Additionally, the CP52-E features up to 28x optical zoom to capture fine details of a scene. With an infrared range of 100m/328ft, the CP52-E delivers excellent detail even in low light conditions.
See What You Missed With Sentry Mode
The CP52-E's optional Sentry Mode feature is designed to automatically detect people when they enter its field of view. Once detected, the camera takes charge by autonomously panning, tilting, and adjusting the zoom to capture high-resolution images of the individual. It follows the subject for a duration of 5-15 seconds before zooming out to maintain a contextual view of the overall scene. This seamless operation requires no manual intervention, enabling the system to consistently capture high-quality images of activities in the region of interest, 24/7.
To set up Sentry Mode, you can select a specific field of view for the CP52-E to monitor. Then, define a region of interest and set a schedule for monitoring.
Sentry Mode will become available on all CP52-E cameras at the end of September 2023. 
Example Use Cases 
The CP52-E PTZ camera excels in various outdoor installations, offering a range of compelling use cases:
Enhancing public safety
Strategically position the CP52-E in parking lots, stadiums, parks, or transportation hubs to bolster public safety. Utilize its zoom capabilities to closely monitor individuals and vehicles, investigate suspicious activities, prevent vandalism and illegal behavior, and even keep an eye on wildlife.
Safeguarding valuable assets
Mount the CP52-E on a pole or tower for a comprehensive bird's eye view of expansive areas such as train yards, storage lots, warehouses, utility substations, or loading docks. With its ability to detect unauthorized access to specific areas, you can promptly respond to security breaches and effectively protect valuable goods, equipment, and critical infrastructure.
Mounting and Accessories
The CP52-E uses power over Ethernet (IEEE 802.3bt Type 3 PoE++). Customers can choose to use accessories like a joystick or even an Xbox wireless controller to move the camera in real time. Optional mounting hardware is also available.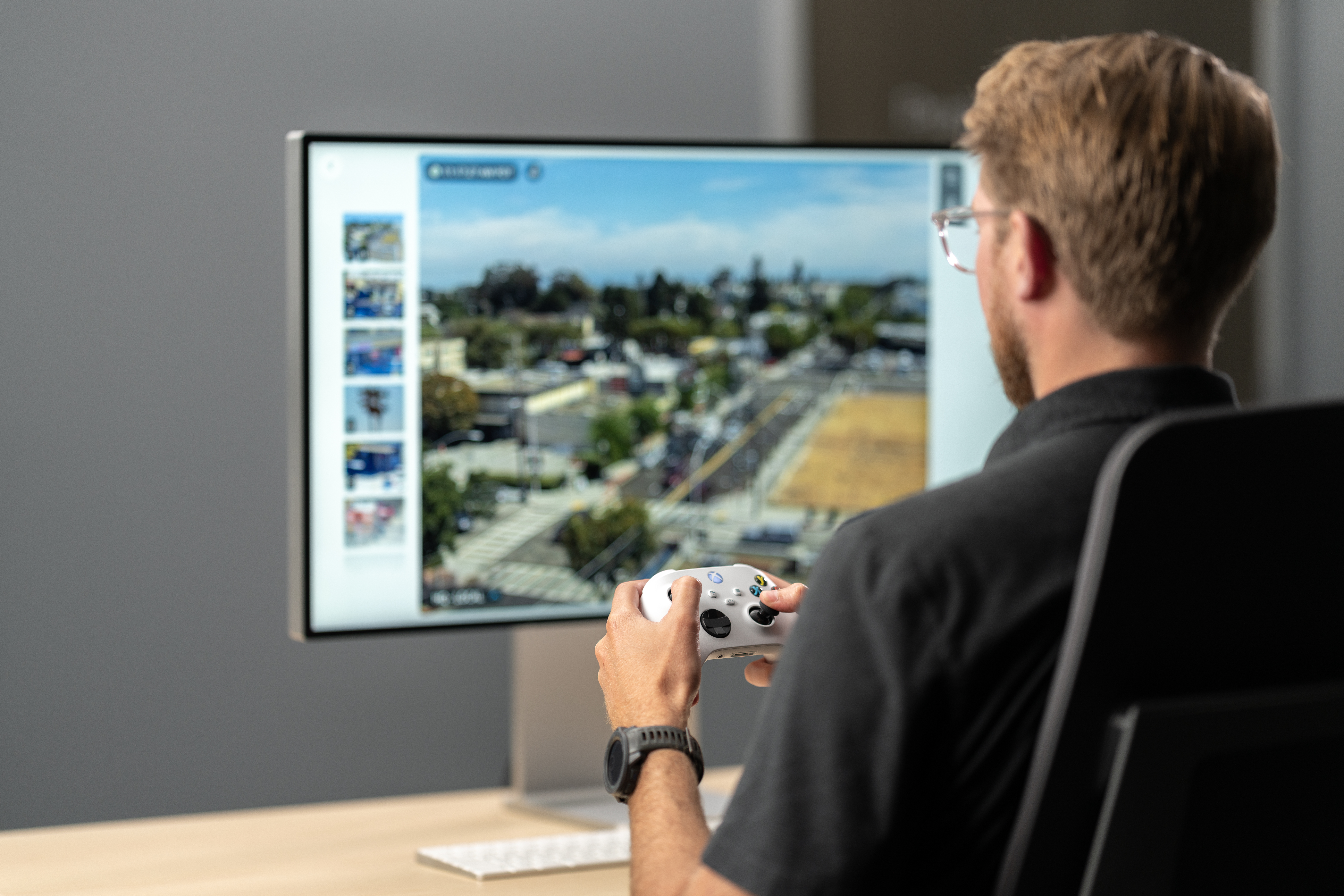 Ready To Learn More? 
Verkada's PTZ is available with 512GB - 3TB of storage, offering 30 to 180 days of retention. Starting at $3,699, the CP52-E will begin shipping on August 15th. For more information, please visit our website and pricing page. For a personalized demo or quote, contact your Verkada sales representative or email [email protected].