Biztec
How Biztec Enhances Efficiency by 10x for Customers
Garrett Bradlyn, Director of Technology, Sales, and Business Development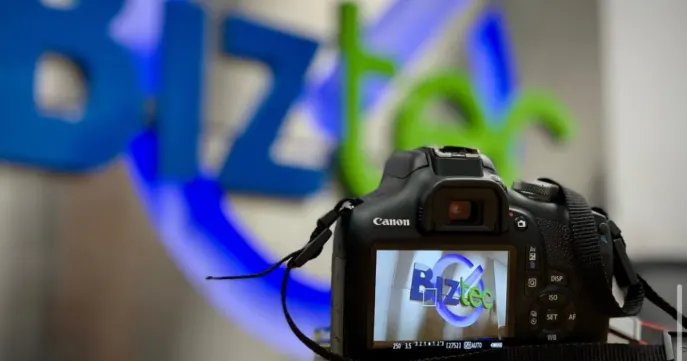 Up to 75%

lower deployment costs

$0

maintenance over 10 years

10x

efficiency
Background
Located in Washington, West Virginia, Biztec is a full-suite IT company founded on the idea that all organizations deserve the same high-quality service and solutions. As such, Biztec provides diverse clients with tailored systems designed to scale and simplify daily operations.
Garrett Bradlyn discovered Verkada in 2018 when he served as the IT Manager at the City of Parkersburg. Struck by the ease of use and flexibility, Garrett continued to deploy Verkada as the go-to security system for clients at Biztec, where he is the Director of Technology, Sales, and Business Development.
The Challenge: Balancing Scalability and Simplicity
When Garrett transitioned into consultancy, he had a small team and limited resources.  To deliver the best experience to clients with the fewest points of friction, he maintained high standards when it came to vendor selection. His hope was to bring the ease of use that consumer security solutions provide, to the levels of scale and protection that enterprises require.
"We are on-call if anything goes wrong, so it's important that the solutions we deploy are easy to support, manage, and use."
Garrett saw the demand for a modern solution capable of advanced analytics, but still simple enough for clients to navigate on a daily basis. With Verkada, he found both.
Why Verkada?
"Verkada is powerful, but approachable. You don't have to have a technical background, it's intuitive so that anyone can use it with no training."
Having worked in the security industry for 13 years, Garrett no longer sells any other manufacturer outside of Verkada. "It's a better solution at a better price for 99% of my customers."
"It's a reliable, long-term solution with around-the-clock support, and you know exactly how much you're paying over the 10-year warranty. No other solution can provide that level of service and quality assurance."
Comprehensive, flexible building coverage
As a long-time partner, Garrett provides Verkada Product Engineers with valued feedback on what customers are looking for in security. He helps test a number of Verkada products – including the newly released multisensor camera, which supports four independent camera systems with a single PoE++ cable. "Requiring less network port density is one of the biggest advantages to scaling the multisensor camera. I only need one port on the network side so it's quick to deploy and scale. PoE capacity can be a budget issue, and high port density switches add complexity and longer lead times with the current supply chain – some switches are on backorder for 12 months or more."
"In certain architectural environments, the single cable is a huge advantage too. We work with a lot of customers that have modern architecture with lots of glass, open-air spaces, and finished drywall. There are not many places to mount cameras. The multisensor helps us provide a solution that covers multiple angles, with minimal damage to those surfaces."
Additionally, with the multisensor Garrett has been able to reduce both maintenance requirements and the cost of deployment by up to 75%. Standard to all Verkada cameras, Biztec's customers also have the ability to share footage through a live link, leverage camera events (like motion detection) as alarm triggers, and integrate video monitoring with any Verkada device to improve visibility across environments.
Integrated workplace and security management
Over the years, Garrett has seen firsthand the growth of Verkada's one camera line into multiple product offerings encompassing access control, environmental sensors, alarms, guest, and most recently – mailroom. Beyond physical security, he leverages Verkada to provide more value to Biztec's clients by digitizing workplace management and operationalizing manual tasks.
The result has been smarter, safer spaces.
"Verkada is the whole building's operating system. You can easily manage everything and everyone in-and-out of facilities, from packages to visitors."
Greater efficiency and reduced costs
With Verkada, Garrett helps both clients and Biztec reduce the cost of overhead while enhancing security operations. "As a government employee, it was easier to get budget and much harder to hire another employee."
The most quantifiable return, however, comes from bridging together disparate systems behind a single pane of glass. "With every part of the building running on Verkada, we can avoid the complexity of managing multiple solutions. We log into one place, and the integration between devices makes investigations fast and seamless. We see at least 10x greater efficiency by centralizing all physical security to one platform."
The Results
"Our customers love and evangelize Verkada – that's unusual in this industry."
After three years, Biztec has over 100 Verkada customers and continues to pursue new opportunities daily. "Our partnership is a two-way street, and successful because we support each other. Verkada has an effective sales team that brings us opportunities, and we do the same in return."
After 4 years of continuous evolution, Garrett also looks forward to providing more value to his customers with Verkada's future portfolio.  "There is a constant line of communication, and we see our feedback being implemented all the time. That's a level of care, innovation, and attention to detail that we also bring to our customers."
"At the end of the day, I want to provide our customers with the best solution for the challenges they face. That's why we choose Verkada."
---
To learn more about partnering and becoming successful with Verkada, visit verkada.com/partners.