Citrix
How Citrix Uses Verkada's Hybrid Cloud Technology to Improve Security Operations
Jason Keen, Global Head of Security Operations, Citrix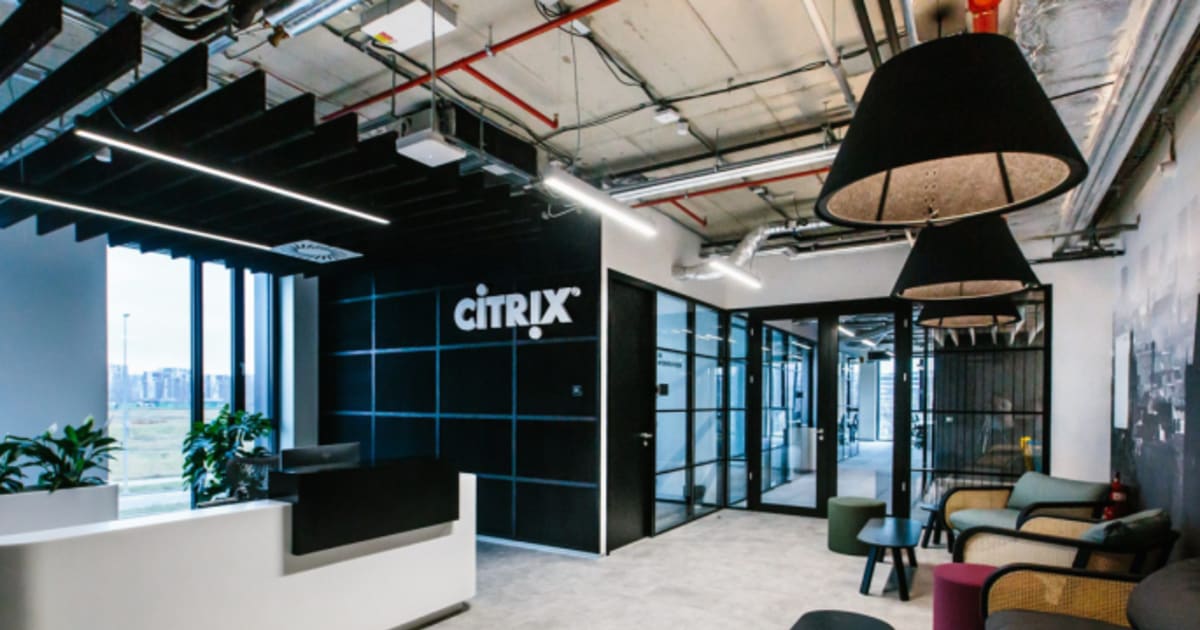 Jason Keen is Global Head of Security Operations at Citrix, a multinational software company that provides server, application and desktop virtualization, networking, software as a service (SaaS), and cloud computing technologies.
Previously, Citrix's CCTV system was a hodge-podge across their global estate, with many of the installations carried out as a one-off, without holistic thought as to how video security would link with other systems, and form part of the overall surveillance package for each site or a global level.
"Little thought was given to how the system would be maintained, how it would be monitored, and then how we would react to it," Keen explains. "We had systems failing in some locations, whilst in others we didn't have any surveillance at all. Monitoring or maintenance too often meant time-consuming site visits. And it's well known that DVRs are a common weak point in corporate networks beloved by hackers. It was clear we needed a solution that would be robust, secure, scalable, and remotely accessible."
Simple from install to operation
At the time, Global Security Risk Services was only two people, so a solution that could be handled by Keen's team right through from install to operation was a must. Citrix carried out a test install at their headquarters in Fort Lauderdale, taking advantage of Verkada's free trial.
"We unboxed the camera, registered it to our account, stuck it to the wall behind the reception, and plugged into a network port. That was it, that was the proof of concept, and after a month and we saw exactly how good it was," says Keen.
The first operational install quickly followed in Sweden, where Citrix occupy the seventh floor of a multi-story, multi-tenanted building with a shared entrance. Keen managed the install remotely:
"I was sitting here in the UK, whilst the facilities manager who lives in Switzerland flew up to Stockholm. I sent her the secure link to the camera feed so that she could see that the camera was pointing in the right direction. A very quick 'up, down, left, right', and then you're connected. That sheer ease of install made me think, 'this is up there with the wheel for deploying a surveillance system.' The fact that I just need to enter in a serial number or scan a QR code to get a camera up and running is invaluable, I mean, it literally takes minutes. You don't need to be an expert in CCTV to deploy Verkada."
Keen, who was previously an Intelligence Operator in the army, later completed a police and scientific development branch CCTV course.
"We looked at lenses, focal lengths, mounting brackets, light sources, so much stuff that with Verkada we don't have to think about. It's taken all that side away, and it just makes the whole thing simple, clean, and so easy to install and maintain. And, if anything did go wrong, there's the peace of mind that the camera will be swapped out immediately under the 10-year warranty."
Reliable technology that stays current
It's just not the easy installation and hassle-free maintenance that attracted Citrix. With Verkada's up-front pricing model, and industry-leading 10-year warranty, they were able to visualise their costs are all the way through.
"Peace of mind financially, is that we don't have to look at cameras or servers failing in three years' time," says Keen. "With Verkada, if a camera goes down now, the first thing we do is check the network; "Yes/no, the switch is down," so we can fix that. Then we speak to the Verkada support team, and if the issue is with the camera, which is rare, then they send us a new one. I mean, what's not to love about that?"
"We don't have to look at servicing it. The software is updated with new features regularly, and all the patching is done for us. And the costs are constant all the way through. It's just so simple to do, and you don't have to write a detailed CCTV plan to do it. You don't need an SOR freeze camera, specify focal lengths, and lens sizes, and light sources, and so on. Verkada's technology does it all for you."
"The biggest problem we've got is running the PoE cable from the switch to the camera, and that's a pretty good biggest problem to have!"
A flexible solution
When Citrix closed an office in Portland, their Verkada cameras were simply unplugged and shipped to Fort Lauderdale, ready then to be reinstalled in that location.
"Because it's plug and play, the ability to move cameras around to suit our changing needs is a real plus, and ensures we get maximum benefit from our investment."
Global visibility
As a global technology company, Citrix is always seeking interoperability between its locations. Previously with its NVR/DVR-based camera system, there was no ability to manage CCTV centrally, and have a single point of contact for surveillance, or security systems. That has changed with the adoption of Verkada's Hybrid Cloud technology.
"I can access any camera, on any device, anywhere, at any time. Even on the phone in my pocket, I can access the Command platform with no loss of quality or features, and everything is encrypted."
"We're now in a position to manage centrally video security right across our global estate. And providing access to people as required in local areas is simple. Command allows me to set access rights at a really granular level with users and groups, with audit logs for both cameras and users. For one-off or ad-hoc access to footage, say perhaps with emergency services, it takes literally moments to share a live link via email or SMS."
Command, a web-based platform that makes it simple
"The more you use Command, the more you love it." Keen enables secure, remote access his sites from any browser or device via Command, Verkada's centralised cloud-based platform.
"I can instantly see in the morning if any cameras are offline, and therefore, what do we need to do to try and rectify that. The platform from a management perspective is exceptionally good. We can manage, maintain, and rectify all within Command, no matter where in the world we might be."
"I'm also a huge fan of the 'what's new' feature, that's really clever. Highlighting new features, so we can then adapt that to our routine and rhythm, and the way we go about our business, and because any patches just get pushed down automatically, any advances in technology are automatically there for us to use, not thought or effort required on our side."
Keen has seen such a change since Citrix deployed Verkada, that he can't see a return to traditional/legacy on-site systems.
"I really can't see NVR or DVR lasting to be honest. Certainly, corporate-wise, I really can't see anybody going for anything else other than this kind of Hybrid Cloud system."
Beyond traditional video security
The powerful analytics and feature-set of Verkada Command are allowing Citrix to think beyond purely detection and prevention with their video security.
"The heatmaps are handy for space planners, with the ability to look at movement of people at peak flow times. The crowd notification feature we've used a few times as people start to come back into the offices post-COVID19 and we implement plans to keep our people safe. Motion detection, we use quite a bit, particularly for example is a door is insecure or goes offline, then the VMD provides that additional trigger to somebody entering the space."
Keen is also a big fan of SMS notifications for interesting moments, for example if a person of interest is seen on site, a camera is tampered with, or certain areas are accessed at night or over weekends.
Planning for the future
In the short-term Citrix have two large projects that Keen and his team need to complete.
"Firstly security at our data centres. So, we've got a number of colocation data centres, with another coming online soon, and we may need to have a fair amount spent on their infrastructure. Security is obviously paramount there, so we're looking at installing at least 30 cameras at each colo."
"There's only about a dozen people have got access to the Verkada Command platform, and so if somebody goes into a colo to do some work on a rack, we would send the image to the team so they can monitor that nothing nefarious happens to the system either by accident or design."
"That's a great bonus for us. It takes the onus away from them to monitor it 24/7, which they're currently doing through a really terrible Genetec system. With colos located around the world that is a really difficult job, and inevitably, things get missed. With Verkada, flagging footage of interest, and investigating, sharing, or storing it is incredibly intuitive and quick."
"I'm really excited for the future with Verkada; it's a real game changer."
If you're interested in trying Verkada's CCTV solution for free, claim your 30-day trial camera today!