Fountain Valley School
How a Top Private School Processes 15600 Packages a Year with 83% Time-Savings
Luana Jarvis, Campus Manager; John Litchenberg, Director of Technology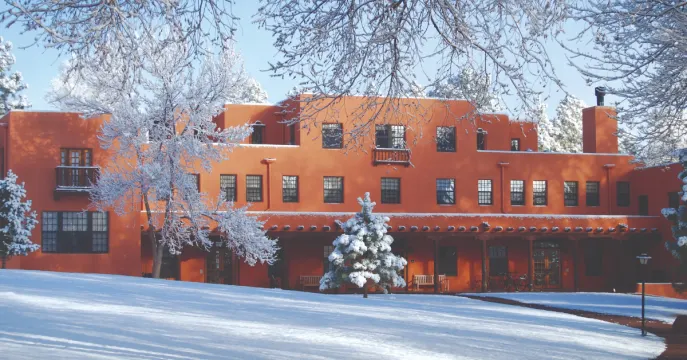 1100

acre campus

15,600

packages/year

83%

time-savings
Background
Set in the scenic Colorado Springs, Fountain Valley School is an independent co-ed college preparatory school that provides day and boarding programs for grades 9th to 12th. Since 1930, the 1100-acre campus has been the home-away-from-home for over 240 students, fostering a close-knit and supportive community with a diverse curriculum in academics, arts, athletics, and the outdoors.
As the Director of Technology, John Litchenberg oversees the procurement, evaluation, configuration, and maintenance of hardware and software. He collaborates with the Campus Manager, Luana Jarvis, on leveraging technology tools and strategies to improve administrative processes – including mailroom management.
The Challenge: 1 Mailroom Manager and 15600 Packages/Year
"The mailroom wasn't my main focus, but it could've been. When I had back-to-back deliveries, I spent several hours a day sorting through packages." - Luana 
 The school receives an average of 300 deliveries per week – and each one goes through Luana for routing. With no delivery management solution in place, Luana would have to write down the name of each recipient, go back to her desktop computer, locate their name on a spreadsheet, and send them a 'package arrival' email through Google Forms.
Because recipients were only notified once through an email – which was easy to overlook or forget – a backlog of packages would often ensue. The struggle was made worse when Luana was out of office, as John points out, "No one else could process the mail, because the Google Form was linked to a specific account that would send the arrival emails."
"We had to get away from spreadsheet management. It's the bane of every IT person's existence when they find out something is being managed by spreadsheets." - John
Verkada's Solution: 83% Time-Savings with Mailroom Automations
"The moment I took the first picture, I knew that life would get much easier. It now takes me 10 minutes to process each delivery, compared to 1 hour for the same amount of mail. I just snap a photo on the app, and Verkada handles the rest – the system matches the name, notifies the recipient, and follows up with reminders." - Luana
With Verkada Mailroom, Luana uses a simple app on a mobile device to scan the shipping label and notify the recipient in one go. In a single click, she can instantly match the package with its rightful owner using optical character recognition (OCR). Mailroom also natively integrates with Verkada cameras to provide immediate visibility into key areas from one cloud-managed dashboard. In addition to Mailroom, John has deployed over 40 Verkada cameras and a live Viewing Station for immediate visibility into critical events.
"Verkada provides an enterprise-level solution to improve safety and operations all at once. I can manage devices and users in the same system, I have granularity on who I give access, and the software is very user-friendly." - John
Seamless Integration on an Intuitive Platform
"Mailroom took two seconds to learn. The app is so intuitive that there was no training needed." - Luana
Designed with an intuitive user interface, Mailroom requires minimal training and no additional hardware. According to John, "Getting started with Mailroom was simple. I bought an iPhone with no cell service and put in our WiFi network. If Luana is out of office, someone else can easily come in and take over so packages don't pile up." Through Verkada's cloud-based Command platform, insights across all Verkada product lines – Video Security, Access Control, Alarms, Guest, and Mailroom – can be centrally managed behind a single pane of glass. 
Automating Delivery Management and Alerts
"Mailroom reduces the likelihood of lost, stolen, and forgotten packages. With the automated reminders, packages are picked up more consistently." - Luana
Once the package is scanned, an arrival alert and follow-up reminders are automatically generated and sent to the recipient through SMS text, email, or Slack. Upon pickup, Luana can quickly identify and locate the package by viewing its photo. "I know where to go and what to look for depending on the color and composition – if it's a soft pack or box. Before Mailroom, I would just have to blindly search and hope to find it." She is also able to verify that certain shipments have arrived by searching through key fields on the Mailroom app.
Enterprise-Level Support and Predictable TCO 
"All maintenance and replacement costs are covered over the next 10 years, and we have 24/7 support which I haven't seen from any other security solution on the market. We pay less over time for enterprise-grade software and more reliable product overall. It's well worth the investment." - John
With Verkada, John has eliminated unpredictable expenses, while gaining a 24/7 dedicated support team and a transparent view of the total cost of ownership. In his evaluation, John found the long-term return on investment over 10 years was well worth the upfront cost, with the system paying for itself through a reduction in the cost of overhead, automatic updates, an inclusive warranty, and most importantly – enhanced school safety.
Strengthening Emergency Response Across an 1100-Acre Campus
"We can provide emergency personnel with a link to access and view all of our Verkada cameras, no matter where they are. The more tools we can give them to respond quickly, the safer our staff and students remain in an emergency." - John
Perimeter security across an 1100-acre campus is no small feat. John leverages Verkada to take a layered yet streamlined approach to maximize safety and the speed of emergency response. He adopts perimeter security tactics that include:
Detection with Real-Time Alerts: Advanced People Analytics and license plate recognition (LPR) technology will notify designated personnel if a Person or Vehicle of Interest is seen on campus. Cameras will also send out an SMS or email alert if unusual activity is detected within designated areas.

Live Monitoring: In addition to remote viewing on the Command mobile app and web browser, John streams up to 300 live feeds on a dedicated VX52 Viewing Station and prioritizes camera feeds with the highest motion activity. In an emergency, John is also able to set up 'safe zones' in which staff and students can monitor ongoing incidents as they occur. 

Instant Visibility and Streamlined Response: John can quickly share an entire site of live video to first responders through a text or email link, providing them with instant visibility into emergencies and eyes on the ground before they enter. 
Looking Ahead
For next steps, John is exploring the possibility of using Verkada Guest to digitize visitor management. With tailored sign-in flows that include security screens, badge printing, and document signing, John sees the potential for Guest to automate manual front-desk processes – just as Mailroom streamlined delivery management. According to John:
"Verkada simplified our daily workflow tremendously. I'd recommend Mailroom and the Verkada system to any of my peers and tell them to take the trial – they'll immediately understand the impact."
---
To see Verkada Mailroom in action, request a live demo or attend an upcoming webinar.