Mike Morse Law Firm
How a Top Law Firm Transforms Workplace Operations with a Modern Technology Blueprint
John Georgatos, Chief Information Officer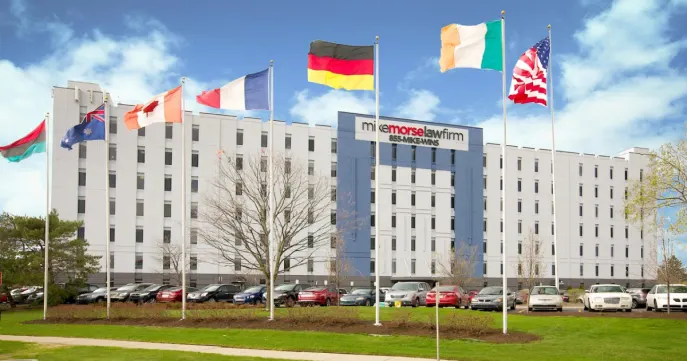 200+

employees

Less than 90 days

to achieve a digital transformation

10-year

product warranty
The Mike Morse Law Firm is one of the leading personal injury law firms in the United States. Established in 1995, the Michigan-based firm has obtained over one billion dollars for its clients and now owns several subsidiaries along with a consulting firm for small-medium businesses. Today, it has grown to over 200 employees and provides clients with the strength and resources they need through unmatched representation alongside community involvement. 
As the Chief Information Officer, John Georgatos came to Mike Morse Law Firm after serving as the Global Chief Information Officer at MDC Partners, a billion-dollar advertising holding company. There, he delivered $25 million in operational savings and led a digital transformation for a cloud-based office space at One World Trade Center that incorporated Verkada's modern building solution.
The Challenge
"A lot of law firms don't put enough emphasis on building security and heavily rely on antiquated technology to get them where they need to be. Verkada helps improve not only security, but overall efficiency."
Mike Morse Law Firm's previous security system was solely designed for retroactive investigation and had no intelligent analytics or proactive alerting system. Access control required employees to carry multiple key fobs and was disconnected from cameras and visitor management, making it impossible to verify the identities of individuals who badged in or came onsite.
The Solution: Bringing Workplace Security Operations Under One Platform
John took his experience deploying Verkada at One World Trade Center to create a standard technology blueprint at Mike Morse Law Firm for other firms to follow. Whereas he delivered the transformation in less than one year at MDC, he was able to transform Mike Morse Law Firm in under 90 days.
"We partnered with Verkada in this process to increase our security efficiency, leverage AI for predictive analytics, and enable employees to securely access facilities through their mobile devices."
Mobile Access Control for the Modern Office
"Verkada streamlines credential management across multiple locations, so our CEO can seamlessly use his badge or phone to gain access to any sister office. Employees can unlock doors with Bluetooth through the mobile app so if they forget their badge or wallet, they can still use their phone as a credential."
Verkada's integrated access control makes it convenient and intuitive for any employee to leverage their smartphone as a digital keycard. John has enabled mobile unlock through Bluetooth Low Energy (BLE), so they can unlock authorized doors by simply walking up to or scanning their phone over door readers. Through SCIM integrations, John can automate user provisioning to further enhance efficiency and security.
"On one floor, we have over 30 doors. In some areas, if employees are not carrying their badges, they can find themselves trapped between doors and not get to where they need to be. Having Verkada allows them to travel securely through any office without a second thought."
Automating Workplace and Security Operations
"The beauty is that Verkada ties access control with cameras and visitor management in an intelligent way, so we stay protected while streamlining workflow. We get alerts for important events – whether it be tailgating or an individual arriving on-site – so we can respond quickly and appropriately with ease."
Mike Morse Law Firm has automated emergency response and workplace processes to enhance both safety and efficiency. Verkada devices can be configured to generate alerts for key events such as tailgate detection, door held open, door forced open, unusual after-hours activity, and Vehicles or People of Interest. Employee identities are quickly verifiable through integrated video analytics and access control, making it fast and simple to investigate stolen badge incidents. 
"With the number of new hires we have and more employees returning to the office, transforming the overall safety and security of the firm was necessary to match the type of growth and success we've seen," said attorney and founder Mike Morse. "The automation and convenience of the platform allows employees to focus on their workday without any slowdowns or interruption."
AI-Powered Analytics to Drive Efficiency
"We leverage data to measure productivity and make informed business decisions. One key benefit of Verkada is the ability to leverage AI analytics. We use Occupancy Trends to identify traffic patterns and decide whether we should      have a remote, hybrid work, or in-person office culture."
John uses actionable insights from Verkada's computer vision technology to inform and optimize business operations. With Occupancy Trends, he is able to measure the flow of traffic in-and-out of office spaces to benchmark the performance of a location, adjust staffing, and optimize hours of operation. Taking the time badged in, validating that with video security, and marrying Verkada's data with existing tools tells Morse Law Firm if and when employees and clients are coming into the office.
"Lawyers are always on the clock, and we use specific tools that measure productivity across the board. It ultimately ties back to revenue and opens the gates to create a more efficient, streamlined, and secure environment. Not having the right data can hinder a firm's ability to make the right choice – be it  a flexible work culture, or justification for opening a new office."
Looking Ahead: Integrating Workplace and Visitor Management
"We're implementing Verkada's Workplace solution for secure guest management. Everything was done traditionally – like a mom-and-pop doctor's office – to manually sign in with a pen-and-paper logbook. We really wanted to modernize that guest experience."
What began as a mission to tie video security behind a single pane of glass has evolved into a modern technology blueprint that extends beyond cameras. With Verkada's platform of integrated devices, John hopes to help other law firms navigate evolving technology demands of the modern world and set the standard blueprint for secure building operations.
"Verkada is the operating system of the future that gives us everything we need in one place. It delivers a simple interface, while using artificial intelligence to predict and alert us to events. We're not looking for a needle in a haystack, or need a 24/7 security team to retrieve footage. Technology has to be simple, yet robust, and that's Verkada."
---
To learn how Verkada can simplify and streamline security operations at your organization, attend an upcoming webinar or request a free trial.