Move It Storage
How a Top Storage Operator Secures 6.3 Million Square Feet of Rentable Space
Katie Cowen, Director of IT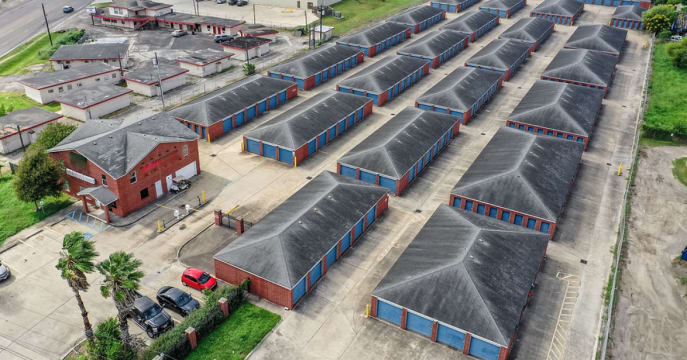 2

arrests made

10 min

incident resolution from 8 hours

24/7

professional monitoring
Since its founding, Move It Storage has built an outstanding reputation for its value and quality of service in the self-storage industry. Recognized as one of MINICO's Top 10 Operators in the United States, the organization manages approximately 6.3 million square feet of rentable storage space and 34,000 tenants.
As the Director of IT, Katie Cowen evaluates technology and programs for 115 sites across Texas, Tennessee, Louisiana, Mississippi, Alabama, and Florida. To maximize operating efficiency, Cowen sought to centralize disparate security systems to one cloud-based solution that could be accessed remotely by District Managers.
The Challenge: Slow, Costly, and Inconsistent Alarm Response
Prior to Verkada, Move It employed a security service that periodically sent an onsite guard to drive through the premises. The base cost of $1,000/month (per location) covered only two to three visits per night, and scaled exponentially from there.
"The security was only as good as the guard who was showing up; trespassers could spot the headlights and simply hide until the guard passed by. Guards made their rounds 15 minutes out of every four hours, which was not efficient or sufficient for us."
If the on-site guard did notice suspicious activity, reporting incidents was a manual and time-consuming process. Finding and pulling video evidence would also take approximately 8 hours each time.
"The guard would provide us with a vehicle description, which may or may not include a license plate. From there, we'd have to watch through hours of footage to find a similar vehicle, then cross-reference it with gate records at that exact time to tie the vehicle with a tenant."
Why Verkada: Instant Alarm Response with 24/7 Monitoring
"We can immediately detect, watch, and resolve any intrusion event as it's happening in real-time. Regional managers receive SMS alerts for suspicious activity with a link to time-stamped footage. If they don't respond, our 24/7 Virtual Guard will video verify the event through integrated cameras and dispatch the police as needed. "
Cowen has enabled real-time Virtual Guard monitoring with Verkada, while drastically reducing the time and cost of investigations. She has simplified and strengthened physical security across the organization, leveraging a hybrid cloud solution that offers:
1. Preventing Incidents with Integrated Cameras & Alarms
"We resolve incidents in 10 minutes instead of 8 hours. The ability to view and share alarm footage across any site takes seconds, and it's all centrally managed from one cloud-based platform."
With natively integrated alarms and cameras, Cowen has been able to detect and stop real crimes in-progress. Cameras record around-the-clock, and any device event - such afterhours motion - can also be leveraged as an Alarm trigger.
If an alarm is raised, Cowen and District Managers will receive an email and SMS alert with a link to the associated footage. Video events are also verified by Verkada's 24/7 professional monitoring team, who will call the police if a threat is detected.
"I was asleep when we had an incident at one of our sites. Verkada's Virtual Guard immediately video verified the intrusion event and dispatched the police. I woke up to a message that the intruder had been caught, and we had clear video evidence to prove it."
2. Straightforward Alarms TCO with No Hidden Fees
"There are no hidden costs with Verkada Alarms. The annual license is the same price as one month of drive-through visits from the onsite security service, but Verkada is much more effective at catching and cataloging incidents, as well as automating manual updates and guesswork."  
Alarm settings can be directly configured from Command, eliminating servicing fees for backend changes. With a straightforward pricing model, Cowen has a predictable view of the total cost of ownership over time for clear budgetary forecasting. Her Verkada devices also come with an industry-leading 10-year warranty, along with automatic software and firmware updates that are deployed over-the-air at no additional expense.
3. Easy Setup, Centralized Management, and Role-Based Permissions
"Alarms are tied to camera analytics, so there's no additional equipment I need to install - it's simply another license to sign up for and takes seconds to enable."
Any device in Cowen's Verkada ecosystem can be easily configured to raise an alarm, so she does not need to purchase additional hardware to use Alarms. Plug-and-play cameras come online in minutes, and can be centrally managed through the Command mobile app or web-based browser.
"Unlimited user seats are included with our license. District Managers each have their own user accounts with personalized permissions to manage their individual sites."
Cowen has provisioned team members with role-based access to remotely monitor their sites. From their mobile device or computer, they can quickly check camera feeds, access events, and customize their alarm response flows. 
4. U.S.-based Ambarella Chipsets to Power Edge-Based Analytics
To make her Alarms system even more capable, cameras are equipped with powerful processors (in collaboration with U.S.-based chipset vendor Ambarella) which enable edge-based computer vision technology such as People and Vehicle Analytics.
For data integrity, hardware and software for Cowen's cameras are designed by teams based in San Mateo, C.A. who control the software development lifecycle so no component or service is introduced without thoroughly vetting it for performance, reliability, and security. 
Looking Ahead: Scaling Physical Security Nationwide
For next steps, Cowen plans to expand her Verkada deployment to additional Move It locations. From there, she can easily grant or restrict access to field employees based on need.
"We'll continue replacing our legacy alarm solutions with Verkada. We'll have a stronger system, and be able to centrally manage all security from one intuitive cloud-based location."
---
Start a free Alarms trial to enable real-time intrusion detection at your organization.