Petroc College
How Petroc College deployed hybrid cloud security across three campuses
Neil Tanton, Head of IT Services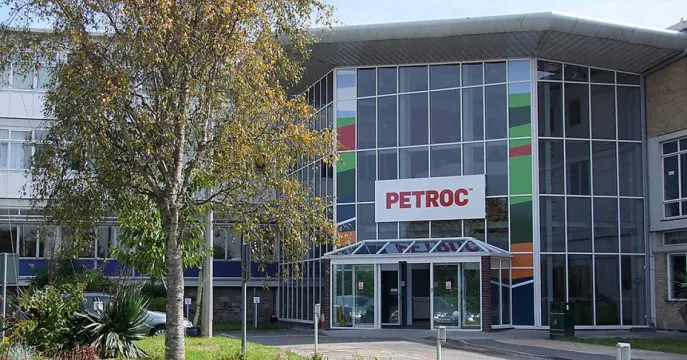 3

further-education campuses in Devon, UK

20 kbps

bandwidth uplink per camera

11,000

student capacity
Petroc College is a further education and higher education college based in Devon. Serving up to 11,000 students each year, it has three campuses in Mid and North Devon, UK. The North Devon Campus is located in Barnstaple. The Brannams Campus is also located in Barnstaple, in the Roundswell area, while the Mid Devon Campus is in Tiverton.
Among the college's stated aims and ambitions are to: create outstanding learner achievements in all areas; transform life chances and employment prospects for all; and tackle the climate emergency.
Neil Tanton has been with Petroc since 1994 and is the Head of IT Services. He explains why the college wanted to upgrade its security operations and outlines the challenges of overseeing multiple sites.
The Challenge
"Our video surveillance systems were a real mixed bag. We have three campuses and had a CCTV solution that had been put together in a piecemeal way."
Following a review of its technologies and processes, Neil and his team took the decision to drive towards a cloud-based approach for the college, including its CCTV set-up. As well as the issue with the CCTV system being built over time, its dependence on on-premise infrastructure was also causing issues.
"We wanted to reduce the on-premise footprint because of the challenges it presented in accessing the data. One of the main reasons we need video security is because of safeguarding, which is not an area that IT oversees.
"But we found that when incidents occurred, it was something IT had to help with, whether that was helping people with the old interfaces so they could see recordings or providing access to law enforcement."
In order to secure access for remote video monitoring, staff were having to connect to secondary computers and systems – "Once you have to introduce steps like that, it becomes too complicated for people, it was too much of a headache for people to access the footage they needed. So we needed something different that could offer ease of use."
Why Verkada?
"I had seen the Verkada technology advertised and we utilised it for a small pilot project. We got to see that ease of use, which has led to further adoption across our campuses"
Keen to explore cloud-based alternatives to Petroc's disparate CCTV system, Neil and his team deployed a small deployment of Verkada video security at its South West Institute of Technology building, which houses high-value tech such as 3D printing equipment and high-end computing.
"The South West Institute of Technology is a flagship for us and there's a lot of very valuable equipment in that building. Verkada allows our Estates Team to have that 24/7 accessibility and monitor movement through the site."
Such was the success of the project, Verkada has now been installed across much of its North Devon and Mid Devon campuses.
Cloud-based technology
The move away from on-prem infrastructure to a more agile cloud-based system was key to Petroc's security goals. The transition has meant less hardware has to be kept on-site, along with all of the associated costs that come with upkeep and upgrades to servers.
Neil says the ease of use and interface has made the college's security operations more streamlined, with permissions given to faculty staff to view specific parts or the entirety of their campuses.
"The ease of use is a big thing. Footage can be accessed through a phone or laptop and we are able to group cameras into sites and locations and segregate access, which is a real plus point. It's really intuitive and the interface is really user-friendly. We can give different people access to different campuses and sites. So, the Centre Manager for the Centre of Technology & Innovation can have access to her cameras, whereas the Estates Managers have access to the cameras across three campuses.
Student safeguarding
With up to 11,000 students spread across three sites at any one time, rigorous safeguarding policies and procedures have to be followed by Petroc. The old system made things challenging for Neil and his IT team, with non-technical staff finding the technology difficult to navigate and important footage challenging to access.
The new technology has introduced ease of use and a convenience factor, while also ensuring that relevant footage can quickly be identified and supplied to the relevant authorities if necessary.
"We installed Verkada cameras at appropriate locations which can show us what is happening on and off-site," Neil says. "We can monitor high circulation and be quick to react to any incidents. So if there is a break-in, damage, or any other kind of incident, the relevant teams are able to pull that footage up and see what has actually gone on. It is there to protect the campuses.
"We also really like the analytics that are available and the ability to search through footage and identify people or objects that are of interest. That's been a real positive."
Freeing up IT resources
The installation of Verkada's hybrid cloud technology has eased the pressure on Neil and his IT department. Whereas previously, IT had found itself getting involved with every CCTV request, the new system is far simpler, allowing around-the-clock access to relevant stakeholders.
"We [the IT team] have been able to separate ourselves from it," Neil says. "Verkada is now being managed by the Estate Managers and the Centre Managers themselves and on the occasions we do have to get involved, it isn't difficult for us to do so.
"We have a small IT team here and IT resource can be very hard to come by. If a deployment is easy to use then that means we're not always having to get involved. If the product is good and easy for other staff to access then it means my small team is not consistently being called upon, which has been a real selling point."
Looking Ahead: Integrating Door Access
"We have Verkada across our three locations, although we haven't actually fully completed our Mid Devon campus as of yet. We've done the Centre of Technology and Innovation Excellence on the North Devon campus; we've done the South West Institute of Technology on our North Devon campus; and we've rolled it out to cover the other locations across the North Devon campus.
"We're having a network edge refresh and a Wi-Fi refresh at the moment, so there's still some more configuration for us to do to get those cameras fully operational."
Neil says he is also looking at how he and his IT can begin integrating more features of the Verkada system into the college's operations.
"Verkada recently released some new features which allow you to control door access. I don't know yet whether that's something we would use everywhere or just deploy in certain buildings but knowing we can directly link our cameras to a door access system is a real positive feature."