Shaner Hotel Group
How a Hotel Management Group Centralized Video Security Across Multiple Properties
Steve Shala, Vice President and Chief Information Officer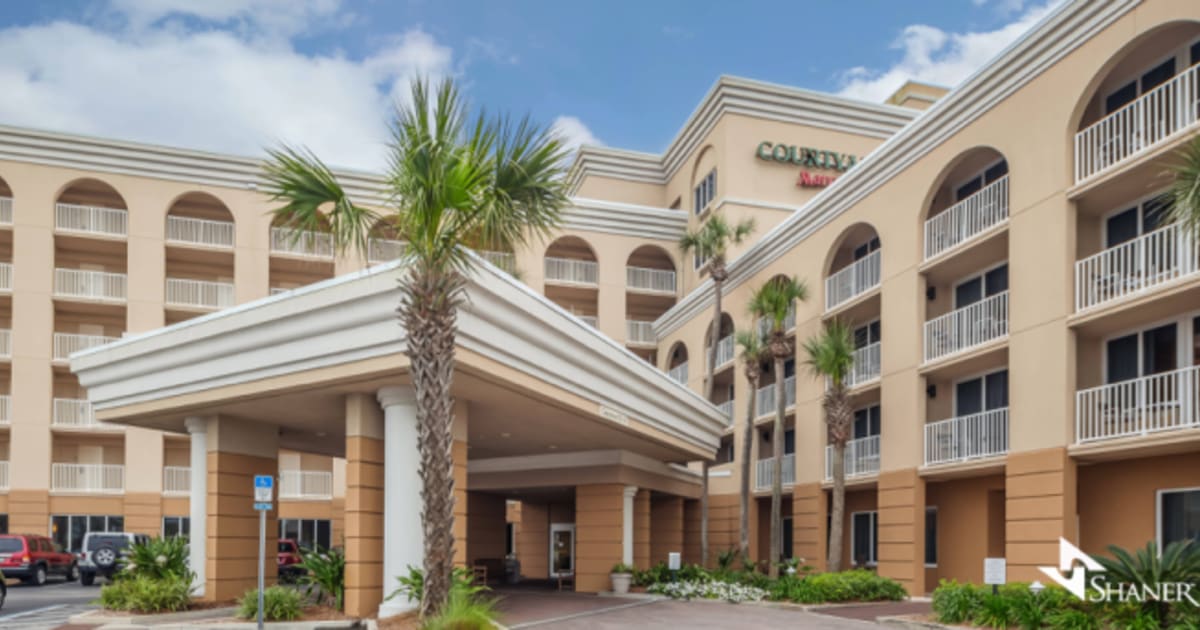 4-Person

IT Team

52 Properties

Across 17 States

98% Faster

Footage Retrieval Time
Headquartered in State College, Pennsylvania, Shaner Hotel Group is an award-winning hotel developer, owner, and operator in the global hospitality industry. The company manages an expansive portfolio of 52 properties across the United States, the Bahamas, Italy, and Greece that include Marriott, IHG, Hilton, InterContinental Choice, and independent hotel brands.
Through continuous growth and innovation, their mission is to deliver extraordinary experiences for guests, solid financial results for owners and partners and a great work environment for associates.
The Challenge
Steve Shala, Vice President and Chief Information Officer at Shaner Hotels, oversees all technology that supports business operations across 52 hotel properties. Following staffing reductions due to COVID-19, his bootstrapped team of 4 found that managing physical security and camera systems was a challenge.
With limited access to footage offsite, remotely supporting staff with video requests across 17 states was a complicated and timely endeavor. Because the security setup varied across the properties, figuring out how to get into each camera system to locate footage was tedious and unscalable for the small team.
"We'd spend hours trying to fulfill a simple retrieval request. We had to tinker with firewall settings to get into the platform, then we'd have to download large batches of footage, manually scrub through video to find the incident, then convert the clip to a readable format. There wasn't an easy way to get footage into the right hands."
Additionally, the NVR systems had limited storage capacity and frequently experienced undetected downtime. "I started looking for a camera solution that'd be easy to use and access."
Centralizing Footage Across Hotel Locations with Verkada
"I remember my first demo... I was sent a Verkada live link and in a matter of seconds, I was looking at a feed of (Verkada's) kitchen straight from my mobile browser. It blew me away. I asked, 'how much do these cameras cost and how fast can I get them?'"
The ability to access cameras across all hotel locations from Command, Verkada's cloud-based platform, convinced Shala that Verkada would streamline security and reduce management overhead for his team. "If I could describe Verkada in five words, it would be 'seamless video access from anywhere.' Whether I'm on the go, or at my desk, I'm able to get to what I need from my phone or desktop."
Secure Access to Remote Footage
"Finding and sharing footage of an event takes a few clicks and a matter of minutes. Not only does it save the IT team time, it saves the broader team time because they're able to resolve those incidents faster."
To gain remote access to the legacy systems, Shala needed to open firewall ports—a practice he avoids if possible to prevent network vulnerabilities. "With static IPs, you're already susceptible to bad actors trying to access your network remotely. Once you open up ports, that's another line of defense down. It's impossible to know what your network might be exposed to."
With Verkada, outbound connections are sent only over HTTPS/SSL via Port 443. When footage retrieval requests come in, he can enable secure remote access quickly and easily—without the risk of opening firewalls or port forwarding.
"Network configuration was effortless. I just need a simple internet connection, and I could plug them into any network to permanently authenticate the MAC address."
Most of the properties have PoE switches already installed, so Shala just needed to provide a port and plug the cameras in to get them up and running. "The cameras don't even have to be on the same VLAN network. They're cloud-based cameras so they're accessible from anywhere with an internet connection."
Intelligent and Intuitive Search Functions
"Our IT team is no longer the bottleneck because we've giving managers the tools they need to retrieve footage themselves. If I could quantify time savings, it'd be about 98%."
By setting up user groups and splitting up cameras by sites and sub-sites, Shala has given the risk management team, front desk faculty and managing staff varying levels of access to cameras within their purview. With powerful search filters, the team can quickly identify people of interest, find footage of specific vehicles or detect unusual activity during off hours.
"The software capabilities have grown significantly since we first installed the cameras. We're notified of updates directly in the platform with an overview of how to use new features to surface events faster."
Reliable Storage and Operability
"With the old system, there was no way of knowing that a camera had fallen offline until we needed to review footage—and by then, it'd be too late. With Verkada, we know that everything is working unless we get an alert that tells us otherwise."
Many of the legacy NVRs could only retain up to 36 hours of footage, overriding footage from just a day or two prior. With Verkada's hybrid cloud infrastructure, cameras store up to 365 days of footage on the device itself and can be archived indefinitely in Amazon Web Services (AWS) servers. Should a camera fall offline due to a network outage or firmware error, Shala and his team receive an SMS alert notifying them of the issue. "When we get these notifications, I call Verkada's support team and they're able to resolve all of our cases remotely. The fact that we don't have to call technicians onsite to service the cameras has been a tremendous cost savings for us."
Looking Ahead: Integrating Video and Access Control Systems
Moving forward, Shala plans to replace the NVR system at the Shaner Group headquarters with Verkada's solution to further centralize video security management. Additionally, the team is looking into integrating the cloud-based cameras with Verkada's new access control solution to pair access events with real-time video footage.
To learn more about Verkada's easy-to-use solution, sign up for a webinar or request a free trial camera today!