Socafna
How a French logistics giant optimised business operations by partnering with Verkada
Arnaud Borg, Head of IT Infrastructure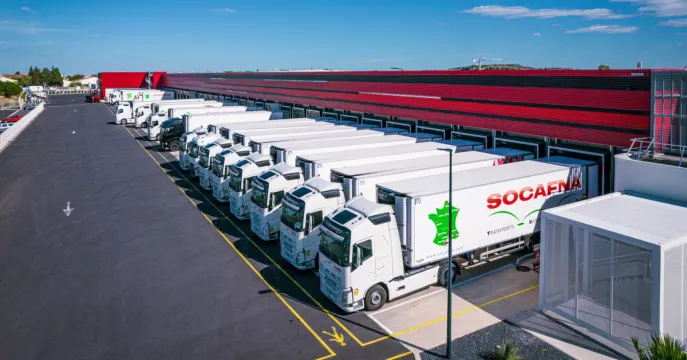 2 days

saved per month

300+ vehicles

in the Socafna fleet

12 sites

across Europe
Background
Socafna is a French refrigerated transportation and logistics giant. It operates several logistics centres across France and a fleet of more than 300 vehicles, which transport produce seven days a week. The head office of the Group is based in the Marché Saint-Charles in Perpignan, a European crossroads for the flows of fruits and vegetables, especially from Spain and Morocco.
Arnaud Borg, Head of IT Infrastructure at Socafna, outlines how the company moved its security infrastructure to a cloud-based system and how Verkada gave it complete visibility across multiple sites. 
The Challenge
Socafna had a traditional security system made up of Network Video Recorders (NVR) and servers provided by Milestone. While it served its purpose, the administration and man hours demanded by the setup were a pain point for the business. 
"We decided to move to a cloud-based system," says Arnaud. "We recognised that moving to the cloud would enable us to centralise the security across all of our sites. As well as wanting to monitor the sites effectively, we had an objective to better respond to customer complaints. That meant easily collecting evidence and verifying incidents that we could send to customers to resolve conflicts."
Verkada's Solution
Having originally chosen to install Meraki security cameras from Cisco, Arnaud and his team still felt the cloud-based system had more to offer. 
"We went back and looked at the market and considered what Verkada could offer Socafna. We liked that Verkada had proven expertise with physical security and could see the opportunity to scale Verkada across our sites because of its plug-and-play capabilities," he says. 
Key Result: Reducing Overhead & Enhancing Efficiency
"Verkada is saving us two days a month in man-hours."
The decision to install Verkada cameras across its facilities has saved Socafna a significant amount of time that was previously taken up dealing with the drawbacks of traditional security systems, says Arnaud. 
"Our team is saving two days a month thanks to Verkada, which means that time can be used on work that delivers value to the business. With the Milestone system, our biggest challenge were the time-consuming and repetitive software updates. Each camera and server had to be updated one-by-one. Verkada pushes out updates automatically, and has allowed us to recoup all of that lost time where we can deploy all of our expertise in other areas."
Seamless Integration
"Verkada integrates seamlessly on one simple platform."
One of the key pillars of Verkada's offering is its customer-centric approach. Its products are designed with users in mind, with ease of use, installation and scalability all of paramount importance. Arnaud says Socafna is benefitting from each of these value propositions. 
"One of the main reasons we went with the Verkada cameras was that ease of use, and we've definitely found that to be the case. We've been able to seamlessly plug and play the cameras and integrate them into our cloud-based system. 
"Socafna is always looking to update and upgrade the technology we use on sites, so that ease of use allows us to scale Verkada across our facilities in a simple and time-effective way. Verkada has enabled Socafna to centralise our camera system across new and existing sites.
"A lot of the other solutions on the market are complex and mean you have to spend a lot of time training employees. That is not the case with Verkada; the platform is easy to use and gives our people a level of autonomy that they didn't have with previous systems."
Controlled Total Cost of Ownership 
"Verkada gives us control over ongoing security costs."
As an enterprise with a substantial footprint across multiple sites, Socafna spends a great deal of time and money updating its security and technology infrastructure. The previous system did not provide the efficiency and quality expected in relation to its investment. The pivot to a Verkada system has given the business better control of its expenses and clarity over its plans, says Arnaud. 
"We really liked the Verkada platform when it was presented to us, and that combination of the platform with the 10-year warranty convinced us that Verkada was the right solution for Socafna," he says. 
"Verkada was an upfront cost, but the fact that the cameras do not rely on DVR has allowed us to control the pace we replace some of older cameras and better manage and forecast how much we'll be spending on physical security in the coming years."
Simple, Smart, & Easy of Use
"We're able to respond to incidents instantly."
Socafna's logistics centres are busy locations, with vast quantities of produce arriving and leaving daily. It is vital that the company has complete visibility over who is on-site at any time, both from a security and customer perspective. 
"Security is a concern, but we also need to be able to answer any questions we get from our customers," says Arnaud. "With our older systems, getting accurate images of an incident was very tedious. We are now able to send that video verification to customers instantly.
"An added benefit is that we've been able to reduce the bandwidth we're using on our network as we can run Verkada on our LAN."
Looking Ahead
Having seen great success with its deployment, Socafna plans to roll out Verkada further across its sites. Arnaud has some words of advice for other companies considering upgrading their security plans and repairing the benefits of a cloud-based system.
"We have completed the security upgrades on four of our sites and intent to continue that initiative across all 15 Socafna facilities. Verkada has allowed us to centralise our camera system effortlessly and has impressed teams across the business. I would advise anyone thinking of working with Verkada to do so because it's given us so much back as a business."