DataVox
How DataVox and Verkada built trust over a 3-year partnership
with Scott Ferguson, Director of Physical Security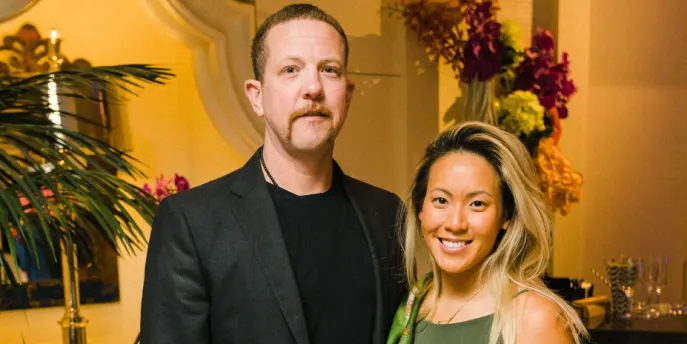 ---
Partner since January 2019

50/50 split of business opportunities

Verkada delivers at least one large-scale opportunity per quarter
---
DataVox is a family-owned business based in Texas that has been helping enterprises with their IT needs since the late 1980s. The business works with over 7,000 to deliver best-in-class technology solutions, including cybersecurity, cloud computing, networking, data centers, and physical security. DataVox works with world-class partners in each of these verticals and began its relationship with Verkada in early 2019. 
Scott Ferguson is the Director of Physical Security at DataVox and helps customers integrate building security strategies and solutions that are right for their businesses. Here, he explains the genesis of the Verkada-DataVox relationship and how the partnership has exceeded all expectations. We also hear from Mary-Ann Ferguson, Regional Sales Manager. 
The Challenge: Building trust with a new partner
We've all heard the adage that if something sounds too good to be true, it probably is. That was the position Scott took when Verkada first approached him with the promise of opportunities and building a pipeline. 
"What Verkada came to me with was not what I was used to," he says. "Potential partners coming to me with the promise of opportunities, deals, and pipeline - that just isn't normal."
That skepticism was amplified by the disruptive nature of Verkada's product offering, but there was a sense from Scott and his team that they didn't want to miss out on a product that could change that market. 
"Verkada was in its infancy, and physical security packaged up in a cloud-based platform was also really new. We had discussions with Verkada where they told us 'this system is better,' but everybody says that. We were skeptical, but we felt we had to take a calculated risk."
Verkada's Solution: A dedicated partner enablement team
Just six months after Scott and his team took a leap of faith, Verkada's ambitious claims had been proven correct. "We already had a healthy pipeline and were selling a lot of Verkada product –  everything they said to us in our initial conversations had come to fruition.
"Verkada challenged our perceptions and made us think outside the box. They didn't just think about getting one big deal in today. It was about looking at the next two or three years. 
"We've worked with them on that growth plan, working alongside their teams, we've gained a sales team by working with its Customer Success Managers and Account Executives. We've been working together for more than three years, and we see Verkada as an extension of our team."
The Result: 50/50 Partnership for New Business Deals
"This is a genuine 50/50 partnership. They bring us as many opportunities as we bring to them" - Scott Ferguson
"It's a great example of what a true partnership should look like. We're there for each other, and we celebrate each other's success" - Mary Ann-Ferguson
The central pillar to the success of the Verkada-DataVox relationship has been a commitment to developing a long-lasting partnership built on a spirit of collaboration. 
"Verkada brings us 50%, and we bring 50% of the new business as the partnership develops," says Scott. "But it's more than that; DataVox is an extension of the Verkada team and vice-versa. We've benefitted from more than just dollars and cents. We've gained a team."
Ease of selling
"Verkada is a product disruptor - there is no doubt about that," says Scott. The intuitive platform that Verkada has built and its simplicity of use has proven a smash hit with DataVox customers. 
"It ticks all of the boxes for our customers. It's cloud-based, has great features, and you'll benefit from a really intuitive UI - it's what everybody is looking for. Customers want something easy to set up and can be used straight away by their whole team. 
"Verkada has that ease of functionality that businesses want - they haven't got time to set up 20-hour training sessions."
Cross-selling
The ability for both teams to cross-sell has gone some way to developing a thriving partnership. 
"This is where Databox shines because this is what we're used to as a business, we sell physical security, but we cross-sell all these other technologies," says Mary-Ann. 
"Verkada, as a security partner, started in the camera industry, but now you have all these features and functionalities. It fits into our organization as our sales team and customers need it. So it helps us sell, but it also helps the customer and saves them money and time
Scott says that, on average, each quarter Verkada delivers at least one "big deal." "I don't receive those from anybody else. That's unique. 
"As hard as my guys are working in the field, there are times when we think we might be losing a deal, but you guys are with us fighting and maybe turning an opportunity that wasn't going our way. That is so important."
Reliability
"One of my favorite reasons to sell Verkada to my customers is I don't have to roll my trucks anymore - the product is reliable," says Scott. 
"Verkada's products and platform can be serviced remotely, meaning our margins are improved, which is what we're all looking for as business owners. We know the product works, and we're not going to have to be at the customer site 24/7."
Scott says he has seen occasional customer questions over Verkada's proprietary structure. But, he says, the lack of integration means that architecture is a non-factor. 
"There are many systems out there claiming to be open architecture, but they truly are not. Most things are proprietary, and other products integrate well. But with Verkada, the whole solution has already been built; there's no need for integration. 
"It's an end-to-end system that has been built flawlessly. Why would I want to attempt to troubleshoot a system with 20 different brand names instead of Verkada?"
Looking Ahead
"Verkada is changing the entire security industry."
While he may have been hesitant initially, Scott and his DataVox colleagues now have no doubt about the Verkada package. He believes that the fresh approach to security has become the blueprint for others to attempt to follow.
---
Interested in learning more? Sign up for an on-demand webinar for information on Verkada's Partner Program.