Adams Beverages
How a Wholesale Distributor Centralized Access Control and Video Security Across 7 Sites
Christopher Koch, Director of Information Systems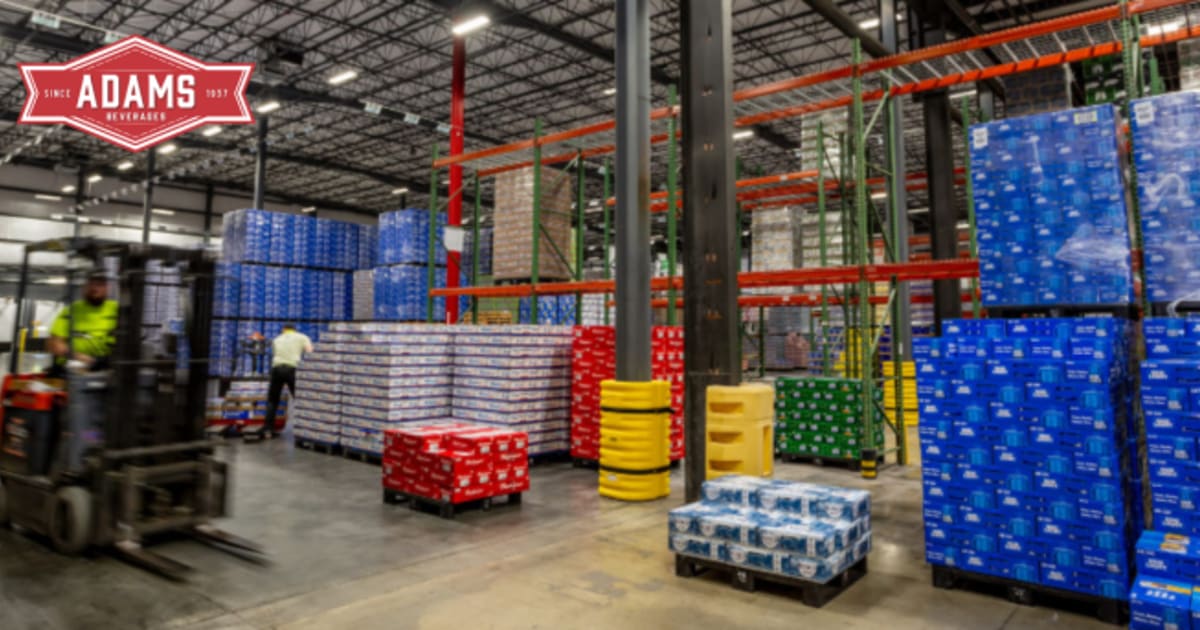 500,000

Total Square Feet

7 Sites

Across 2 States

15 Min

User Migration
Background
Adams Beverages is a family-owned beverage wholesaler and distributor with seven locations spread across North Carolina and Alabama. Since 1937 with the repeal of the Prohibition, the company has been selling and delivering beer and non-alcoholic beverages with a strong commitment to high standards of quality.
Christopher Koch, Director of Information Systems, oversees strategic operations that include information technology and distribution strategy. With multiple sites to manage across two state lines, Koch is strongly driven by logistics and data to enhance efficiency and route-to-market excellence. When upgrading the legacy security system, he saw an opportunity to centralize physical security management across the company's warehouses and distribution centers.
The Challenge
"We're expanding to new facilities, which posed the question 'what do we want to do holistically from a security standpoint?' We had the choice to keep adding disparate systems to each site, or have a single solution to unify security across all our locations."
Each facility had a different security solution deployed, but none of them gave Adams the ability to manage cameras and users remotely. Their previous access control system ran on end-of-life Windows XP software, and would cost upwards $30,000 to upgrade to Windows 10. On top of that, Koch's team no longer had the ability to modify employee credentials. "That was the turning point for us, the database was corrupt so we lost the ability to add and edit users—we had people using someone else's badge that was an employee three years ago. If a driver left we had to keep their badge and remember it was a driver key, so whoever had it next would have access to places drivers were allowed to get into."
Why Verkada?
"I have one solution where I manage all physical security across our facilities, I no longer need to maintain disparate servers and separate user databases. Software and firmware updates are pushed automatically, and video analytics like Heatmaps reveal high-traffic areas in our warehouses to inform product placement."
With a hybrid cloud system, Koch has adopted a centralized approach to physical security management. He and his team only need to sign onto one platform to view cameras and access-based events across the entire organization. Koch is able to remotely manage users and cameras in Alabama while he's stationed in North Carolina, simplifying user provisioning and speeding up investigations. The latest upgrades are pushed automatically at no cost or effort required from Adams and its team, with the promise of an evolving feature set and more advancements to come.
Centralized Remote Access for Multi-Site Management
"Verkada makes it easy to remotely manage users, cameras, and doors across the entire organization on one platform. Any changes I make are automatically synced across all locations, I don't need to worry about logging into multiple systems and updating each one."
Most of the legacy systems across the facilities were strictly on-premise solutions with no remote access, "We had one with the capability, but it required complex configurations in order to enable it." In contrast, Koch now manages all his physical security needs from anywhere by signing into Command, Verkada's centralized management platform. From a web-based browser or mobile application, he is able to unlock doors, set user permissions, customize door schedules and share footage for investigations. Integration to active directory platforms ensures that employees are automatically configured, onboarded and off-boarded. "Migrating our user base to Verkada was easy as uploading a .csv file. It only took 15 minutes to add 205 users."
Access Control Integration with Existing Hardware
"Verkada's access hardware works with our existing infrastructure, we used the same door strikes and readers but swapped out the brains of the system. For organizations looking to scale, Verkada is great for streamlining everything through one solution, versus having a hodgepodge of different technologies that don't speak to each other."
Verkada access control includes a redesigned control panel that can be used with existing door hardware and card readers. None of the wires to each individual touchpoint needed to be changed, so all Koch had to do was replace the access panels. From there, doors came online and configured in minutes, with no servers or on-premise clients required. Combined with native integration with the Verkada camera system, Koch has complete visibility into access-based events across the organization. Video footage is seamlessly synchronized with access control, delivering real-time insights for loss prevention and enhanced safety.
Product Placement Insights with Heatmaps
"We use Motion Plotting Heatmaps to identify bottlenecks around high-traffic areas and popular items. The insights we gather with Verkada inform product placement, so we are able to funnel traffic more efficiently and prevent overcrowding."
Using visual data gathered from Motion Plotting and People Heatmaps, Koch analyzes trends with order selectors' behaviors. Heatmaps are plotted against a floor plan of the facilities so Koch can quickly identify congested areas where people tend to gather. He uses this knowledge of browsing patterns to strategically plan spaces, disperse traffic, and drive sales more effectively.
Looking Ahead: Access Control and Camera Deployment to All Locations
"The facilities that don't have Verkada up yet are eager to have it. The feedback I hear most from the team is 'When can we get that?'"
Koch has just finished camera installation for two sites in Alabama and one site in North Carolina, with his next step being a gradual deployment across the remaining AL and NC facilities. Over the next few years, he plans to have access control installed in each of these locations.
To learn how you can try Verkada's hybrid cloud security system at your organization risk-free, attend a webinar or request a free camera trial today.