Austin Hose
How a Manufacturer Scaled Coverage Across Sites to Improve Employee Safety
Brandon Denney, IT Manager at Austin Hose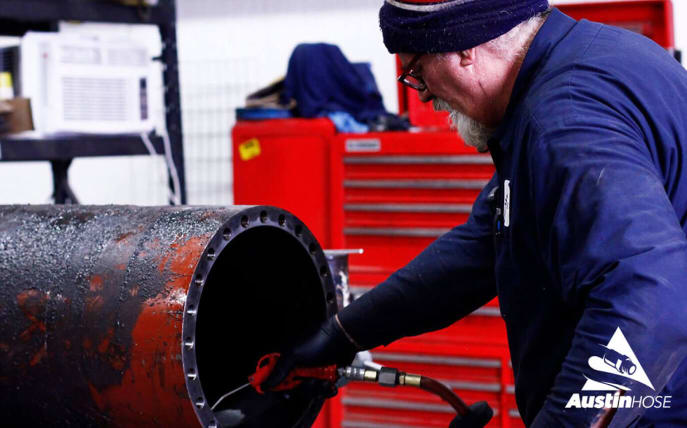 Background
Austin Hose is a premier hose, fittings, and accessories supplier with locations in Amarillo, Odessa, San Antonio, Corpus Christi, Wichita, and Oklahoma City. Agricultural, industrial, OEM, and natural resource businesses across Texas, Oklahoma, and Kansas rely on Austin Hose's product line to meet production goals and stay on track.
Brandon Denney, IT Manager at Austin Hose, faced a number of challenges with the surveillance approach the team had historically deployed, and knew it was time for the business to adopt a standardized, modern video surveillance approach across locations.
Challenge: Lack of Expansion Strategy
"The DVR system we used led to coverage gaps that highlighted every challenge we faced as a business. We needed to expand surveillance coverage, but knew we couldn't until we figured out an alternative that better addressed our business needs."
The team's legacy surveillance solution provided an incomplete picture of day-to-day operations at each location. While Brandon had several white-box solutions in place, no site was sufficiently covered because surveillance was never a topline priority; it was expensive and difficult to install.
Of the systems that were in place, Brandon faced a number of expansion limitations associated with the DVR-backed system. "There was no way for us to streamline management across locations. There was a web interface, but it was incredibly slow if you weren't on the same network."
The combined shortcomings of this legacy solution resulted in difficulty managing surveillance across different sites, and the broken process wasn't scalable.
Solution
"We're able to use Verkada's fisheye camera to get four angles instead of using four different cameras. We're saving money but we're getting the same amount of coverage, if not more, with Verkada."
By using fewer cameras, Brandon has been able to repurpose his savings to further expand surveillance across locations. Once cameras have been installed, Brandon gives branch managers access to cameras within their respective sites. With this approach, managers can see footage as needed, and Brandon—as the platform administrator—is able to seamlessly manage cameras, sites and users.
With scalable installation and management processes in place, Brandon and leadership felt confident prioritizing an expansion of coverage of each Austin Hose location. To date, Brandon has deployed 76 cameras to cover two 150,000 sq. ft. Odessa locations and plans to continue expansion rapidly across locations.
Challenge: Employee Safety & Liability Concerns
"We didn't have a lot of visibility into what was happening day-to-day, especially since there are a lot of space to monitor. There were blindspots that we were unaware of until an incident occurred."
Monitoring workplace conduct reliably was a constant challenge for branch managers, who primarily relied on feedback to define and build safety measures. While it was possible to collect scattered insights and helpful suggestions to implement best practices, they couldn't rely on employee feedback to drive employee safety efforts.
Without question, the most challenging safety concerns to address were the unsafe practices that were essential for product testing and quality control. For instance, the team searched for a method to test hose pressure without subjecting team members to potentially harmful exposure to pressurized hoses, but struggled to find a workable solution.
Solution
"The new safety efforts we've put into place have made a noticeable difference across my team. Leadership is glad we're able to more reliably monitor workplace conduct to ensure that unsafe behaviors are corrected."
The Austin Hose team has made a number of strides in terms of employee safety. "We're able to be creative in how we're using video security. For example, when my team conducts pressurized tests for some of our hoses, they're able to stay on the other side of the wall and watch what's happening from a safe distance," Brandon recalls. "The live footage gives them the ability to confirm whether a hose is entirely depressurized before re-entering to disassemble the test."
Furthermore, by taking the guesswork out of employee safety, branch managers have been able to build and implement proactive team training around unsafe practices they observe. This safeguards the company from liability when members of the team engage in unsafe workplace practices—such as using machinery incorrectly—and has helped the team stay safe and avoid dangerous situations.
Challenge: Inefficient Site Management
"With our old mix of systems, inventory and facility management was a headache. There were multiple platforms and hours of scrubbing footage involved—and that's assuming there was captured footage of an incident at all."
A number of obstacles made fully protecting store locations and inventory a complicated, frustrating, and time-consuming experience. Brandon spent hours combing footage from a wide array of cameras and time intervals each time an incident unfolded. Even once Brandon located footage, he wasn't always able to identify the vulnerability that enabled the incident, or how he could prevent the next one from happening.
Solution
"I'm excited to have a powerful system in place that makes it simple to monitor store locations and inventory. I'm able to identify potential threats before they occur, even if I'm not actively monitoring the system."
With a more strategic approach to identify incidents of concern, site management and loss prevention are no longer black boxes. Brandon is able to quickly locate and share footage to effectively address vulnerabilities that have historically enabled theft to occur.
When a thief broke into Austin Hose's Amarillo location a few months after Verkada cameras were installed, the team had the chance to test its enhanced approach. "After the incident, police came onsite and needed our team to pull all footage of the intruder. We were able to use Verkada's face search feature and locate all scenes with the intruder in frame," Brandon recalls. "It was so quick. The police were in and out in no time. They were impressed, and so was I."
Conclusion
Employing a scalable approach to surveillance has given Brandon and branch managers the visibility they need at the scale they hoped to achieve. Now, the team works to proactively enhance employee safety and site management with the help of Verkada's modern video security solution.
If you'd like to learn more about how Verkada's hybrid-cloud security camera solution is a scalable solution for manufacturers like Austin Hose, request a demo today.