Bank of the James
How A Full-Service Bank Increased Coverage Across Branch and ATM Locations
with Phil Hampton, IT Specialist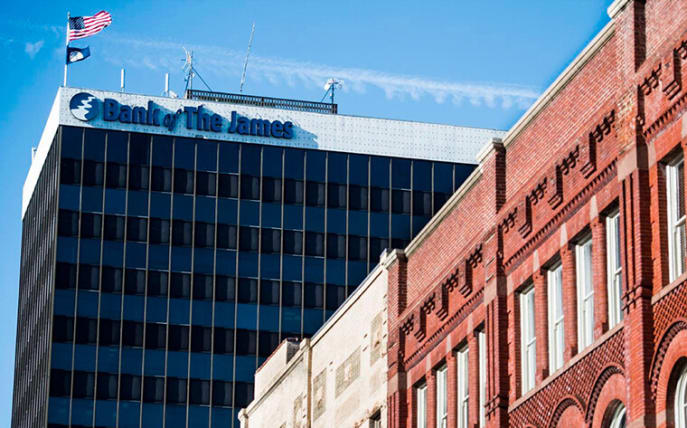 Bank of the James is a full-service commercial and retail bank, providing services that range from mortgage and loan planning, to personal banking solutions. With 19 branches, ATM locations, mortgage offices across Virginia, Bank of the James focuses on equipping customers with the right financial expertise to achieve short- and long-term goals.
In line with providing clients with quality services, Phil Hampton, IT Specialist at Bank of the James, noticed a growing number of issues with the existing video surveillance system in place. If they continued with the current DVR system, these issues could threaten customer safety and bank security.
Challenge: Difficulty Managing Bank Surveillance System
"Managing cameras that ran on different platforms was an ever-present headache. Camera footage across locations wasn't centrally accessible, so I'd have to log onto separate systems to access feeds at each site. The disparate systems made easy tasks–like checking whether or not cameras are online–incredibly challenging."
From parking lots to ATMs to bank teller windows, Bank of the James historically invested in different security cameras across each bank location. This fragmented approach created a management windstorm for Phil, who had to juggle different processes and logins to access system health and camera footage. The inability to manage all cameras in a streamlined way left Phil and his team limited and frustrated with the outdated, inefficient process.
Solution
"Verkada's centralized platform has unlocked a new level of efficiency for my team. Having all security cameras on one platform allows us to resolve security incidents in record time."
With Verkada cameras deployed throughout each bank location, Phil has improved both indoor and outdoor security. Beyond bank facilities, Phil uses Verkada cameras to monitor on-site ATMs. "Verkada cameras are highly flexible because of how easy they are to set up and the little bandwidth required to operate them," says Phil.
With multi-site camera footage consolidated into one centralized platform, Phil can securely view bank footage from any location, no matter where he is. "Not only do I have the ability to remotely access camera feeds, but I can also grant branch managers access to footage so they can handle on-site incidents themselves."
Challenge: Inefficient System Health Auditing
"I spent at least an hour each morning, making sure surveillance systems were online. Even then, the worry that systems might fall offline at some point in the day—without my knowledge—was a huge concern."
With independent DVRs running at each location, Phil had to log into each system to assess system health across the entire business. This time-consuming process, which happened at the beginning of each day, left system uptime to chance. Without a way to know what's going on until the next round of audits, there was no way Phil could guarantee that systems were operational at all times. The critical nature of having video footage available at each bank location for liability's sake became a more significant concern for the stakeholders, prompting them to evaluate a more proactive solution.
Solution
"Verkada gives me so much of my time back because of the features built into the platform. I can quickly get to what I need, whether that be checking on cameras or getting footage."
With Command, Phil no longer needs to perform system audits manually each morning. "Receiving instant alerts in the event of camera downtime replaces my need to proactively monitor the system," shares Phil. "Even in the event of network outages, cameras continue to record locally… and once connectivity is back up, all footage stored on the device is uploaded to the cloud. It's fool proof." Verkada's unique hybrid cloud approach to storing video footage eliminates any single point of failure and ensures that there are no gaps in coverage.
Additionally, Verkada's solution is fully PCI compliant. The ability to store footage 90 days and store user records through audit logs makes it easy for Phil and his team to meet industry security requirements.
Challenge: Unforeseen Camera Replacements and Maintenance Costs
"Maintenance costs were unpredictable. There was no way to know how much we should allocate each year for replacement or service fees."
Maintenance was a frustrating endeavor with the legacy DVR system. In many cases, Phil wasn't able to get the support he needed—some manufacturers didn't offer support at all, which meant Phil had to forfeit and replace cameras in need of repair. The unanticipated combination of replacements or service costs was often contested by management, who grew increasingly frustrated with unforecasted charges.
Solution
"With Verkada, there are two line items: the hardware and the software. No secret support fees, no hidden software upgrade charges, and a 10-year warranty for all cameras. Verkada is a far better long-term financial investment."
In Verkada, Phil has found a pricing structure that's transparent and easy to understand, when evaluating the total cost of ownership over time. Eliminating the potential for unplanned, expensive replacements has enabled Phil and his team not only to budget more effectively, but focus on executing other initiatives more confidently. "It's not often that a decision like this one provides enhanced efficiency and confidence beyond the individual stakeholders," Phil says, "But in this case, Verkada has done just that. We no longer execute on things while thinking what if. I'm grateful the days of doubting our video surveillance solution are behind us."
Bringing Centralized Hybrid-Cloud Security to the Entire Bank
From streamlining management to eliminating hidden expenses, Phil is already seeing improvements after adopting Verkada's enterprise camera system. As Phil continues to transition DVR systems across branches to Verkada cameras, he hopes to gain better visibility into site security, while giving branch managers more autonomy to handle onsite incidents.
If you'd like to learn more about how Verkada's plug-and-play security camera solution is a perfect fit for banks that require coverage at branch locations and ATMs, get a demo today.