Belimo
How Belimo Proactively Protects People and Property with a Modern Security System
Carlos Roy, Security Specialist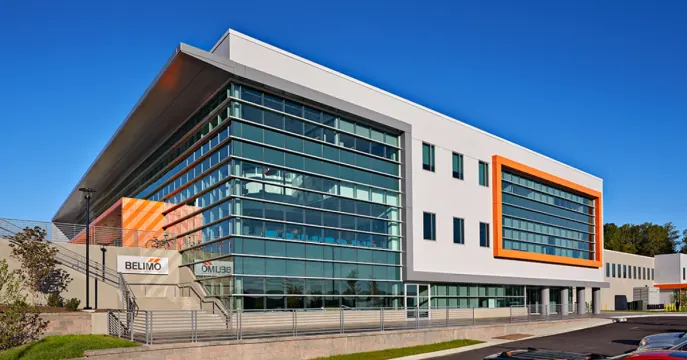 Daily Site Activity

350 people onsite with 30-40 trucks moving in and out of the dock.

Production Value

Approximately $1 million in production output daily.

Global Presence

Over 2,200 employees operating in more than 80 countries.
Background
Established in 1975, Belimo, a renowned Swiss-based titan, has carved a niche for itself at the pinnacle of energy-efficient HVAC system control. Their relentless pursuit of innovation has secured their position as market leaders and garnered them acclaim on the Swiss Exchange (SIX) for their contributions. As Belimo's Security Specialist in the Americas, Carlos Roy safeguards people, assets, and properties across U.S. manufacturing and office locations.
The Challenge
Belimo stands at the forefront of developing, producing, and selling field devices for HVAC systems; their commitment to creating efficient, remote-friendly, and optimized buildings is second to none. However, the hive of activity at their U.S. sites – marked by 350 daily staff and constant truck movement – highlighted certain challenges. Individual sites had their own isolated video security systems, which resulted in limited remote access, unreliable video quality, varied management procedures, and long investigations.
"Instead of juggling multiple technical platforms, we streamline security operations with Verkada."
Why Verkada?
"We switched from other systems to Verkada because of its all-in-one solutions. Verkada allows us to manage multiple locations remotely, making security easy and efficient."
This shift from a splintered security model to an all-in-one system underlines Belimo's unwavering commitment to remain at the forefront of innovation. With AI-driven analytics and an intuitive software interface, Carlos has easy-to-use security tools within the cloud-based Command platform.
"The goal is centralization. Verkada is a scalable system that strengthens and simplifies security across any number of sites."
Actionable Insights and Trajectory Analysis
"I can track, analyze, and respond to events faster than ever before with tools like Heatmaps and Trajectory Analysis."
Carlos highlights Motion Search with Trajectory Analysis as one of his favorite new features, introduced through an over-the-air update.
 "Trajectory Analysis gives me immediate insight into where people are going. It saves an exponential amount of time compared to our previous systems."
This real-time analysis, combined with People Analytics, has dramatically improved both situational awareness and investigation speed. Carlos can preemptively spot potential hazards and produce crucial data for proactive security strategies.
Seamless Remote Access 
Navigating through myriad tools and systems can often overwhelm security managers. With Verkada's unified system, this complexity is distilled into a streamlined, intuitive platform.
"From any location, our team can effortlessly access security feeds."
The Verkada Command software ensures that both live and archived footage is readily accessible, be it from a mobile app or a web browser. Whether it's Carlos or other team members, multiple users can engage with the platform simultaneously. This not only enhances communication but also ensures cohesive action during incidents. In situations with active threats, Carlos can swiftly retrieve and share live links to relevant camera feeds to provide first responders with instant visibility.
Scale Devices with Ease
"From one location to the other, Verkada brings each site together – ensuring we're connected and protected."
Whether it's 9 locations or 12, the ability to remotely install and manage devices is paramount. The Verkada system is designed to grow with Belimo's needs; each camera consumes only 20-50 kbps in steady state. Built with hybrid cloud infrastructure, Verkada Cameras come with on-device storage and unlimited cloud archiving – eliminating the need for digital and network video recorders. Carlos can seamlessly integrate other sites into the Verkada ecosystem as needed.
Proactive Security Measures
"Verkada's bullet cameras are effective deterrents, and send a clear message of a secure premise."
Bullet cameras are strategically placed throughout Belimo's exterior domains. From warehouse deliveries to employees entering and leaving, bullet cameras help monitor all activities. There are several reasons Carlos chose them for outdoor security:
Performance in adverse conditions: Built with a protective case, bullet cameras are resistant to environmental dirt and debris for longevity and consistent camera performance over time.

Detailed images at a distance: With the option to select between wide or telephoto lenses, the Bullet Series cameras can cover extensive areas and focus on distant objects simultaneously. This feature proves particularly advantageous when monitoring vast areas like loading docks or vehicle parking lots.

Day and night functionality: Belimo's premises remain active throughout the day and night. The Bullet Series cameras, equipped with advanced sensors, can capture clear images regardless of the lighting conditions, ensuring round-the-clock surveillance.

Advanced features and capabilities: Powered by next-generation processors, these cameras support AI analytics and come equipped with features like License Plate Recognition, making them ideal for overseeing vehicle activity.
Roy adds, "The integration of License Plate Recognition in our bullet cameras offers an added layer of security. It's about not just observing, but understanding and analyzing the traffic that moves in and out of our facility."
Streamlined Event Monitoring
Belimo's security protocol goes beyond passive surveillance. Carlos routinely checks to identify any unauthorized activities during the night. Using the cameras' analytics features, he's able to swiftly identify any unusual movements or unpermitted entries.
"With Verkada, uncertain situations become clear. I can immediately understand what's happening in real-time."
A case in point was when a car pulled into the back of the building late at night. The bullet camera's recording helped Roy quickly discern the purpose of the visit. Such events, previously demanding hours of footage review, are now resolved at a glance.
The Transformation in Incident Review
"In the past, sifting through data felt like looking for a needle in a haystack. With Verkada, hours have turned into minutes. Beyond speed, it's the precision and insights from our new cameras that highlight the evolution in our security technology."
Comparing the old and new systems, Carlos recalled the cumbersome process of accessing data from the former IT closet, which sometimes took an entire day. Now, with the cameras and their integrated analytics, what used to be a day's task has been reduced to a matter of minutes. This efficiency, combined with the detailed insights provided by the cameras, makes Belimo's security system on par with its standards for modern and efficient technology.
Looking Ahead
"With faster incident reviews, streamlined remote access, and proactive security measures, Verkada has revolutionized our security. Looking ahead, this is just the beginning of our journey to define modern building security."
Belimo's partnership with Verkada is more than a system upgrade; it's a strategic alignment of visions for a safer, more efficient, and progressive future. With Verkada, Belimo stands ready, not just to achieve – but to define – the benchmark in advanced smart building infrastructure.
---
To learn more, request a live demo or watch an on-demand webinar.