Chapters Health System
How a Healthcare Organization Keeps Patients and Data Secure with a HIPAA-Compliant Solution
Michael Parkin, Director of IT Security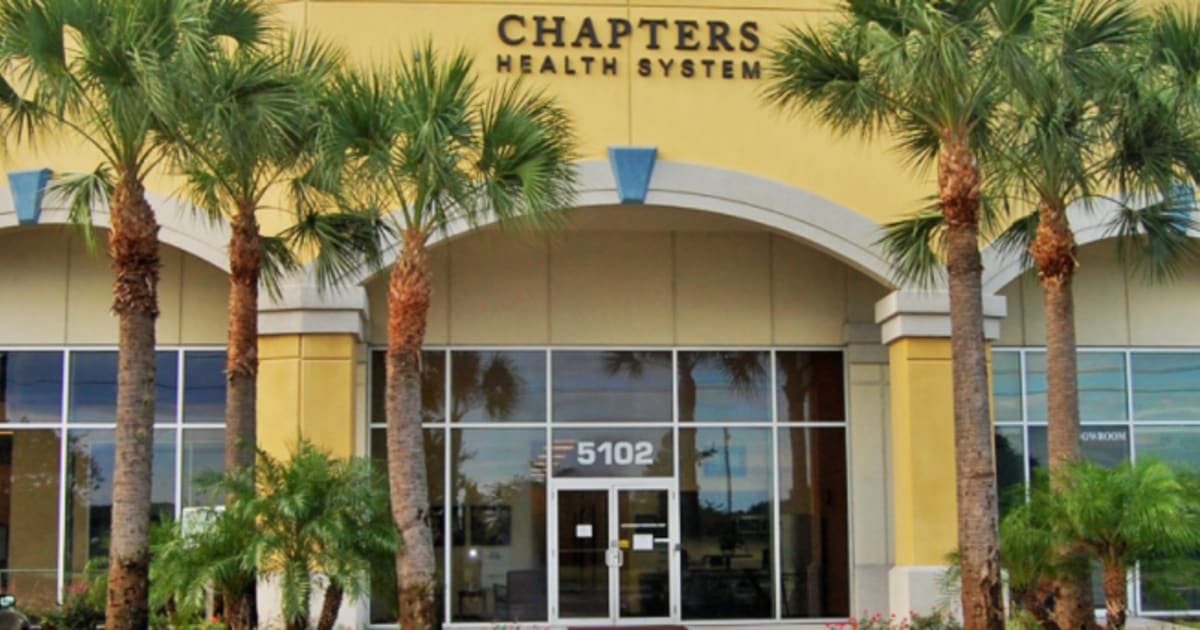 26

NVRs Eliminated

Automatic

Updates

98%

Faster to Pull Footage
Providing post-acute care across Florida, Chapters Health System is a not-for-profit organization improving the lives of those affected by advancing age or illness. From palliative and hospice care to in-home and community-based services, they deliver expert support to guide the communities they serve during the aging and end-of-life journey. In doing so, they empower families and patients with more choices, education, and guidance to make the most of life.
Michael Parkin, Director of Information Technology (IT) Security, runs cybersecurity and information assurance across Chapters Health, which includes its seven affiliates Chapters Health Home Care, Chapters Health Palliative Care, Chapters Health Hospice, Good Shepherd Hospice, Hospice of Okeechobee, HPH Hospice and LifePath Hospice. Having been at the organization for seven years, he was recently put in charge of modernizing the video security system across their organization, including ten in-patient units.
The Challenge
Parkin inherited a legacy surveillance system that consisted of a network video recorder (NVR) at every site. Though initially maintained by a facilities team, it was reassigned to Parkin's IT team to manage and make improvements. During this time, he discovered key issues with the system's architecture and capabilities. "Pulling footage was a logistical nightmare—it took up to four hours of watching playback, working through technical issues, and exporting the file into a readable format."
Additionally, the NVR hard drive was often a point of failure causing cameras to fall offline. To mitigate data loss and vulnerability risks, he conducted manual updates to each NVR and contracted vendors to handle difficult sites. It was a large cost of overhead and time, with 26 NVRs total and each update taking 15 minutes to two hours depending on how old the host machine was.
"I established protocols to regularly check, patch, and upgrade the system to make sure we could always provide footage if we need to, but it wasn't sufficient. I have a small team, we were investing too much time and maintenance costs were unpredictable. So, this made me turn to other solutions."
Why Verkada?
"I've been in IT a long time and I've worked with a lot of legacy systems, so I'm used to seeing dated antiquated technology—being forced to work with it in a lot of cases. That's why I can appreciate the architecture of Verkada; it's well-designed, simple-to-use and has me excited for other products coming down the road."
Compliance and cybersecurity were key considerations for Parkin in evaluating a solution. Working closely with a Chief Compliance Officer, Parkin sought a system that's compliant and secure by default. He found the custom permissions, storage capacity, ease of use, and automatic updates in Verkada's solution to be exactly what he needed.
Secure By Default with Automatic Updates and Encrypted in transit and at-rest
"Cybersecurity is a huge priority for us in healthcare. It was a relief not to have to worry about conducting manual updates anymore. Verkada is a system that maintains itself."
Data security and privacy protection are key considerations for Parkin. Verkada deploys automatic firmware updates and software enhancements—with no cost or action required from Parkin. By automating manual security tasks, Parkin has freed up both time and overhead to dedicate towards cybersecurity initiatives. To mitigate the risk of data loss, Parkin also tested the Verkada system for data protection and integrity.
"We looked into where and how data is hosted in AWS. In addition, we did our own tests with the cameras plugged into the network, including packet loss tests and network traffic analysis."
Archived video footage is stored in cloud servers hosted by Amazon Web Services (AWS), a data center operator that can meet high standards for data security, data integrity, physical security and privacy certifications. Data is fully encrypted both at rest and in transit—with no special configurations needed by Parkin.
Compliant By Default with Custom Permissions and Sufficient Storage
"Being in healthcare, there are strict laws around HIPAA, HITECH, Joint Commission, and patient privacy we follow. Verkada makes it easy to restrict camera access based on sites, or limit to live-only viewing."
Parkin works with a Chief Compliance Officer, who reviews all footage retrieval requests before they reach IT for compliance, risk assessment, and quality assurance. Operating on the principle of least privilege, Parkin limits camera access to a select number of administrators based on sites and sub-sites. He has created 15 total accounts, primarily for receptionists to oversee a small subset of cameras overlooking public doorways from a private monitor. With Verkada, Parkin is also able to set four levels of role-based access: site admin, site viewer, live-only viewer, and no access. "We can get very granular with user permissions. Our receptionists are designated as live-only viewers, so they only view camera live streams—with no access to historical footage, archives, or live link sharing." By gating video access with role-based permissions, Parkin takes safeguards to protect patient privacy in compliance with HIPAA.
Once captured, video footage needs to be retained securely and reliably for 30 days. "Our storage requirement policy is 30 days, no matter if it's local or cloud." With camera storage options for up to 365 days, Verkada effortlessly meets critical timelines and requirements for video retention. After adopting a hybrid cloud infrastructure, Parkin also experiences no more issues with camera downtime. He has eliminated any single point of failure, as encrypted video recordings are stored both locally on camera and in the cloud via optional cloud backup. With this distributed approach to storing video footage, Parkin ensures continuous recording and no gaps in coverage.
Ease of Deployment, Footage Retrieval and Budgetary Forecasting
"Simple is the word that stands out with Verkada. I'm able to plug in cameras and get them running in a matter of minutes. Getting people onboarded was easy, we had no issues or complications. Investigations take minutes when they used to take hours."
The simplicity of Verkada's solution saves Parkin time across the entire deployment process, from budgeting and onboarding to sharing the first video file. "Due to COVID-19, we had to set up an emergency supply warehouse for personal protective equipment that required extra security. I was able to bring the Verkada cameras over, plug them in, and get them running in a matter of minutes." Because Verkada cameras require just a Power over Ethernet (PoE) connection for both power and internet connectivity, they have minimal hardware requirements. After connecting each camera with a PoE cable, the cameras are online and automatically configured.
"When I noticed one of the cameras appeared to be tampered with, I was able to go back through the history and see what happened, when it had been moved, and make sure it wasn't anything malicious. It took less than five minutes to see who did it and why." To quickly retrieve footage, Parkin uses Verkada's smart search features to filter for key events. Through Command, he selects an area of interest and runs motion search to quickly pull up instances of meaningful activity. "Motion search makes footage retrieval easy. If someone tampers with a vehicle, I'm able to isolate the area where that vehicle was parked and filter out all the noise."
With a minimal pricing model consisting of two line items, Verkada also has a straightforward cost of ownership that simplifies budgetary planning. "With Verkada we know the exact expense we'll be dealing with for our annual budget cycle." All cameras come with a 10-year warranty, and automatic updates are included in the software license cost. This provides Parkin with a clear total cost of ownership over time and eliminates unplanned expenses.
"Every time cameras on the NVR went offline, we needed to get a vendor on-site for repairs—it was nickel-and-diming us to death. We don't have that issue with Verkada, the cost is straightforward and the system takes care of itself."
Looking Ahead: Role-Based Provisioning and Access Control
"I absolutely recommend Verkada to my peers in the healthcare industry. I would say definitely sign up for the trial because you'll be impressed at how quickly you can have it up-and-running, how easy it is, and how much time you save during incident investigations. It's truly amazing."
Shifting from a disparate NVR system to a centralized hybrid cloud solution, Parkin has streamlined old processes and drastically improved operational efficiency. His next step is to set up SAML/OKTA integration to open up Verkada to more authorized users. He's also looking into Verkada's access control solution for a seamless integration with video security.
"Our access control system is dated and a pain to manage. If Verkada can do for our access control what it did for our video security, I'll be looking hard at that next budget year."
To find out how Verkada's hybrid cloud solution can enhance safety and security your organization, request a free trial camera today.