City of Los Angeles
How the City of Los Angeles Transforms Physical Security with Verkada's Smart City Technology
Jerry Morris, Communications Manager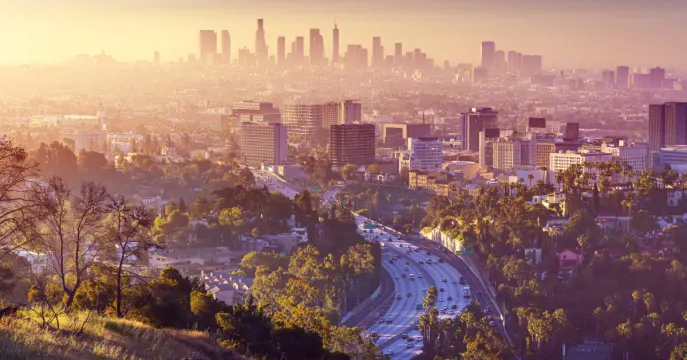 20MP

image resolution in key areas

20-50 Kbps

upload bandwidth per device

4 hours

saved per device installation
Background
The City of Los Angeles is the second-largest metropolis in the United States. When it comes to public safety, the city looks to next-generation digital solutions to protect over 4 million residents and 500,000 businesses across 469 square miles.
Jerry Morris, Communications Manager for the city's Information Technology Agency (ITA), connects agencies and entities across Los Angeles through responsive, Smart City infrastructure. He helps evaluate, deploy, maintain and enable end-users to leverage transformative new technologies  – including its physical security system.
The Challenge
"It took a lot of work, budgetary foresight and technical expertise to keep our previous legacy equipment up-to-date. We also received a lot of false alarms on that system, with no way to video-verify that an event was real."
Historically, four key limitations with other physical security systems prevented Jerry and his team from effectively responding to incidents and managing assets: 
Manual, inefficient processes with a network video recorder (NVR) system

Limited functionality to solve public safety issues

High resource and management overhead

Aging and antiquated technology infrastructure
The City's previous camera and alarm solutions were not integrated with each other, so the ITA had no visibility into alarm events without complex configurations. The only way for the ITA to access the end-of-life alarm system was through a third-party website, and their cameras were primarily used for investigations only after an incident had already occurred. To enable teams with real-time detection and response, Jerry began to look for a cloud-based solution that could scale with the city's ever-growing and changing needs.
Why Verkada?
"Verkada ties security together for us in one complete package that's easy to use and manage. We have a modern cloud-based solution, direct support from a highly responsive team, smart analytics to protect our citizens, and the guard rails in place to protect their privacy."
With Verkada, Jerry has solved his previous problems while meeting four key ITA objectives:
Invest in state-of-the-art technology that aligns with Los Angeles's Smart City strategic roadmap.

Maximize IT resources and reduce overhead costs.

Improve the safety of residents, businesses, and visitors with effective incident response.

Modernize, build and scale next-generation IT infrastructure and capabilities in a privacy-respecting manner.
Rather than having a piecemeal of different systems, the City of Los Angeles's physical security solution is now integrated behind a single, intuitive software platform with Verkada. Administrators gain a simple view across all sites, complete with emergency response tools such as real-time alerts and police dispatch with instant video verification. The City can also leverage intelligent data-driven insights to achieve greater operational efficiency and respond faster to incidents, while respecting citizens' privacy.
Invest in state-of-the-art Smart City technology to streamline management, operations and response
Moving towards the goal of making Los Angeles a connected Smart City by 2028, the ITA utilizes Verkada's leading-edge security technology to realize five distinct advantages:
Permit proactive, positive influence on the urban landscape to improve public safety and quality of life. With Verkada, Jerry has enabled proactive threat deterrence and greater peace of mind with real-time security – including instant alerts and emergency response automation.

Enable objective analysis and data-driven decision-making for city planning. With Verkada, Jerry uncovers actionable insights with edge-based analytics powered by computer vision technology.

Allow the City to make ad hoc adjustments based on emergencies for better public safety. Directly from Command, Jerry can easily set and configure custom emergency response flows. SCIM integrations help automate user provisioning, while adjusting device settings takes just a few clicks.

Create highly accessible services that can be accessed 24/7. With Verkada, Jerry has enabled role-based, secure remote monitoring on any web browser, mobile app or dedicated viewing station. He can also find, share and save footage without being onsite, and send video links to first responders in seconds.

Provide information and situational awareness around the city for better resource allocation and decision-making. With easy-to-install PoE devices, Jerry can flexibly install Verkada to secure low-bandwidth environments at 20-50 Kbps and adopt Cradlepoint solutions for remote locations.
Today, Jerry has deployed Verkada across public works facilities and locations across the city, from sanitation districts and communication sites to shops and public parks. "Costs were simple to overcome because Verkada presented valuable, long-term benefits to both our departmental customers and management teams."
Maximize IT resources and reduce overhead costs
Simple installation
Through Verkada's integrated platform, Jerry connects and centralizes security infrastructure throughout the city to reduce costs while enhancing visibility and response. Right away, he saw immediate cost-savings in the upfront installation, programming and activation of the system. 
"Since there was no NVR to install and program, we were able to save four or more hours of labor just in this area alone. Our dedicated Verkada Rep and Solution Engineer are also willing to step in and take care of internal requests, which saves us time and resources."
24/7 technical support
Jerry has access to a dedicated team of 24/7 support technicians on standby at all hours of the day. The average response time for phone calls and chat messages is measured in seconds, while 70% of all requests are resolved through chat. 
"Verkada was a natural fit for us. The transition was easy thanks to the ease of installation and high level of support. We never had this type of support with our previous manufacturer, usually, we'd spend 15-30 minutes on hold and then be greeted by a low-level tech support script. In contrast, Verkada takes care of us and we have dedicated care 24 hours a day, seven days a week through email, chat or a phone call."
Zero-touch maintenance
With up to 365 days of on-device storage and unlimited cloud archiving, Verkada provides a range of retention options to keep footage secure. The latest features and firmware enhancements are delivered over the air through automatic updates at no additional action or cost. "It used to take a lot of technical expertise to keep the equipment running. That's no longer the case with Verkada."
Improve the safety of residents, businesses, and visitors with effective incident response
Real-time intrusion monitoring
"Verkada makes it simple and quick to detect and respond to public safety incidents. It has never been easier in the over 20 years I've been here."
With Verkada's integrated Alarms solution, Jerry utilizes a US-based professional monitoring service that employs best-in-class agents across three UL-listed, TMA Five Diamond Certified central stations. Suppose an alarm is triggered by unusual activity. In that case, professional monitoring agents will first verify the event through instant video verification before contacting the LAPD, who have direct visibility to view and assess public safety threats through native camera integration. 
Instant alerts and video verification
Designated personnel receive automated SMS and email alerts containing a direct link to quickly review footage for unusual activity, including:
Crowd detection: to know if a fight or protest may be occurring.

System health: to detect tampering and offline devices.

Person or Vehicle of Interest: to help catch repeat offenders

Motion detection: to protect critical infrastructure and restricted areas after-hours
Each alert contains a direct link to quickly review footage from a web-based browser or mobile device. This ensures that key infrastructure and infrastructure are secure at all hours of the day, without having stationed security guards monitoring cameras at all times. From the centralized Alert Inbox on Command, Jerry can quickly review key events in one place, "Alert Inbox summarizes activity across devices in an organized, concise manner that's easy to review."
Intuitive, custom response flows
To ease the barrier to entry for Verkada Alarms, activity across any Verkada product can be configured as an alarm trigger. For Jerry, this means no additional intrusion sensor hardware or alarm panel is required, but can be added to further increase the coverage of his Verkada ecosystem. Through a drag-and-drop rules engine on the centralized Command platform, it takes seconds to configure alarms, triggers, responses and settings across sites.
"Programming alarms is straightforward and intuitive, we no longer need to go through a third-party website to conduct simple changes."
Modernize and build next-generation IT infrastructure and capabilities in a privacy-respecting manner
Privacy-enhancing safeguards
Verkada cameras can support edge-based People Analytics, which include Face Search and Person of Interest alerts, but these capabilities are turned OFF by default. This ensures Jerry and his team only provide access to these features to the appropriate people – filtering by department, site and role – and track individual access through audit logs. Furthermore, Administrators can enable Face Blur to respect the individual identities included in any video retrieved for an investigation. 
"Verkada makes it simple to secure critical areas throughout the city, while providing the tools to protect individual privacy." 
Supports limited bandwidth and infrastructure
Even in remote and poorly connected areas, Jerry has reliable video security coverage that operates in a low-bandwidth "steady state mode" at 20-50 Kbps. His Verkada devices are designed to scale across a variety of deployment environments – including areas without traditional networking infrastructure – and do not require NVRs or DVRs. Cameras are connected to the internet via a single Power of Ethernet (PoE) cable, which can also be connected to 3G/LTE/5G cellular modems and receive power through various sources – including batteries and solar power. 
"I like to keep it simple, and have found that CF81-E Fisheyes and CD62 Domes are the two models capable of covering 99% of our locations." 
Performance meets durability
Jerry deploys the Multisensor and Bullet cameras for city sites requiring more coverage and range. Built to withstand the toughest environments and deliver crisp details day or night, each Bullet camera has a next-generation processor that supports powerful AI analytics and features like License Plate Recognition and Occupancy Trends.
"I've noticed that the analytics and image quality on the new Bullet series has improved compared to the previous generation. The Vehicle Detection feature allows us to easily filter for the color red and see when the fire department has arrived at a location."
With the upgraded LPR algorithm, Bullet cameras are capable of capturing license plates for vehicles traveling at speeds up to 80mph / 128kph across three lanes. To simplify investigations, it takes seconds to isolate incidents with intelligent search filters and share them from unlimited cloud-based archives.
AI-enabled 20MP multisensor
By leveraging Verkada's CH52-E Multisensor camera, Jerry pairs four-way video coverage with crisp 20MP image resolution. With 2.5x optical zoom, he can target key details at much longer distances without diluting the image quality.
"The multisensor is a versatile and reliable solution that is easy to install, even in low-bandwidth environments. It offers exceptional coverage with high image quality, and the Command software is user-friendly and easy to use."
Looking Ahead
Jerry is also looking to add Alarms with professional monitoring to additional cameras, and currently trialing several solutions across product lines. With a customer-centric approach and constant feedback loop, Jerry is supported by Verkada's ability to scale and deliver best-in-class services in line with departmental goals.
"Verkada has helped simplify security management while enhancing public safety in a privacy-respecting manner, ultimately moving us towards our strategic vision of a smart and connected city."
---
To learn more about Verkada's integrated platform of physical security solutions, attend an upcoming webinar or request a free trial.