Durham College
How Durham College Enables Dynamic and Mobile Emergency Response for Campus Safety
Peter Trimble, Manager of Public Safety and Security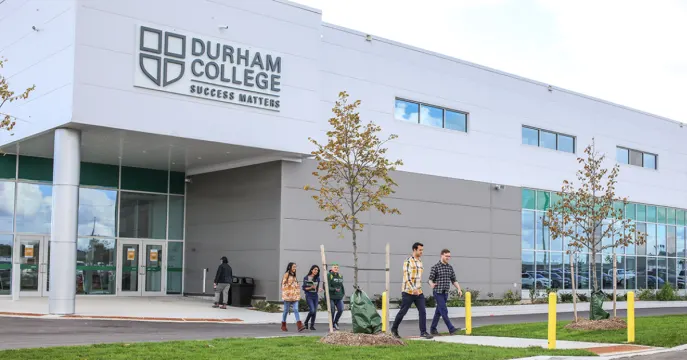 8

Viewing Stations

$5,500

Saved with Each CH52-E

185

Cameras Deployed
Background
With campuses in Oshawa and Whitby, Durham College (DC) offers over 12,000 full-time post-secondary and apprenticeship students access to more than 145 programs, including five honours bachelor degrees and nine apprenticeship programs. 
DC enables students to develop career-ready skills for the ever-changing job market by providing an exceptional college education. With a focus on experiential learning, led by expert faculty, through field placements, applied research, co-ops and other hands-on opportunities, DC grads are known for having the skills and knowledge employers need.
Students and faculty members have enjoyed a safe campus thanks to the work of Peter Trimble, the Manager of Public Safety and Security, and his team of 100 security staff members, who manage the physical security strategy and camera deployment for the college.
The Challenges
Due to budgetary constraints, the college had strict requirements when mapping out their camera deployment strategy. To justify the costs of new cameras and installation fees, Peter was only able to install cameras in areas of the campus that had heavy automobile and pedestrian traffic. However, this setup created security gaps that trespassers would exploit.
There were some cases of individuals coming onto campus and harassing faculty, students and staff. Without campus-wide coverage, spotting and stopping incidents as they were happening was easier said than done. 
When it came to investigating these incidents, pulling footage from the DVR system was cumbersome, requiring long treks to their server rooms and a tedious, manual workflow for downloading footage.
Worse yet, their previous system did not allow remote access or visibility into their camera feeds, meaning Peter would have to go to Durham's security command room to get live views of the campus. If a situation required an immediate response, Peter and his team could not instantly view or share camera feeds with first responders. Pulling footage would take between five to ten minutes, an eternity during an emergency.
"Our wired system came with more constraints than solutions. We couldn't place cameras in certain locations, giving us an incomplete campus view during active threats. And when we've had to pull and share footage with first responders, the process would take longer than it should."
Why Verkada?
Durham College was in the market for a new solution after their DVR solution had reached the end of its lifecycle. Tired of the numerous obstacles created by the previous wired system — including restricted camera deployments and time-wasting processes for pulling footage — Peter recognized that the benefits of a hybrid cloud system outclassed those of any traditional CCTV solution.
Peter started by testing two Verkada cameras and was impressed by everything that came with the platform. The marriage between the advanced camera functionality (such as a panoramic view of 180º from their CF81-E Fisheye camera) and cloud-based software made Verkada the right solution for Durham College, especially when it came to developing a better emergency response plan.
The combination of improved on-campus coverage, seamless remote access to all live feeds and cutting-edge capabilities have enabled Durham College to be able to respond to active threats much quicker and effectively.
"We had a traditional wired-based CCTV system that was reaching the end of its life cycle, and we knew that IP cameras and cloud-based technology were the way to go. It's been a few years since we started using Verkada and tested a few cameras. We really enjoyed the flexibility and efficiency it provided; it's now our main CCTV source for our campus."
The Results
Dynamic and mobile emergency response

Streamlined process for sharing footage

People analytics that help keep trespassers off campus

Smart, evidence-based deployment strategy
1. Dynamic and mobile emergency response plans
For Durham College, improving their emergency response plans was not just about expanding the video coverage; it was also about ensuring first responders had remote visibility and context into a situation the moment they set foot on campus.
Twice a year, the college's security team and the Durham Regional Police Service run a simulated emergency exercise to test response plans to potential threats. These active attacker preparedness exercises are invaluable training for Peter and his team, helping them to establish security protocols and better alignment with first responders during emergencies. 
None of this would be possible without Verkada's remote monitoring capabilities and the VX52 Viewing Station.
The VX52 Viewing Station enables Peter and his team to stream all of the college's live camera feeds from a 4K monitor, with zero local configuration needed. Peter has strategically placed multiple viewing stations in offices throughout the campus to maximize flexibility during an active threat.
If an emergency does arise, Peter and his team can move their viewing stations to their command room, where the security team and police officers can have a better vantage point of the situation on the ground. In incidents requiring a more agile and urgent response, Peter has set up tablets with camera grid views that he and security staff can hand off to officers arriving on the scene. With tablets acting as mobile viewing stations, officers have a clear, tactical advantage when dealing with an active threat.
"Our team has developed a more agile, dynamic emergency response plan by making our viewing stations mobile. We've placed our VX52 Viewing Stations on top of carts with wheels. If there's an emergency, we can move them to our command room. We also have a few tablets configured for view-only access and can hand them over to police officers arriving on the scene."
2. Streamlined process for sharing footage
Conducting an investigation consisted of a multi-hour process of pulling footage with Durham College's previous wired system. Peter and the security staff would have to venture out — typically across campus — to either the DVR closet or data room hub, sift through hours of footage, download the clip they needed onto a USB drive, walk or drive back to their office or command room and upload the clip onto their computers.
With the Verkada Command platform, Peter can quickly find, pull and share archived footage from their cameras on campus. Verkada cameras have 365 days' worth of onboard storage built in, eliminating the need for a DVR and manual process of pulling footage. Additionally, the platform comes with unlimited cloud archiving, so Peter never has to worry about an incident not being captured and stored.
If officers need to review a specific clip of archived footage, Peter and the security staff can share temporary access via link or SMS.
"There's no need for staff to head over to our DVR closet or data room hub to upload a clip onto a USB drive. From the comfort of my office, I can quickly and easily generate a link for a specific clip of footage and send it to any officers or colleagues conducting an investigation."
3. People Analytics that help keep trespassers off campus
When an unauthorized guest would enter the campus, there was no mechanism with their system that would notify Peter and his team. On top of that, when it came to following up on a trespassing incident, finding out how the individual entered the campus would require a lengthy review process.
To combat these issues, the college leverages the Verkada People Analytics solution that includes several key features, including but not limited to Person of Interest (POI) notifications and face search.
Within the platform, Peter can activate POI notifications that will alert him the instant a camera spots a known trespasser. If the security staff needs to retrace a trespasser's steps, they can leverage the face search capability to find all their associated footage.
Privacy is a major concern for Durham College, and they can trust that Verkada has safety measures that encourage the responsible use of People Analytics. The solution is disabled by default, and only organization admins can authorize who has access to it. 
"By using the People Analytics solution, we can detect and remove trespassers within minutes. All I have to do is take a picture of the person of interest and upload it on Command. Every time that person shows up on campus, I will receive an alert and call our local police service immediately."
4. Smart, evidence-based deployment strategy
With Verkada, Durham College can now deploy more cameras, from bullets to domes to multisensors and beyond, to gain better visibility of the campus. The fisheye cameras have been particularly impactful. After installing them, Peter found that they worked particularly well for outdoor coverage; the cameras provide a 180° panoramic view and can see a kilometer in each direction. As a result, he has a complete view of the entire east end of the campus.
Having that extensive coverage helps Peter and his entire team work more efficiently, especially when conducting an investigation. For example, if an incident occurs at the entrance of one of their washrooms, Peter can review footage from cameras that are strategically placed nearby instead of piecing together footage from cameras that don't have clear vantage points.
"The security staff are big fans of the fisheye cameras and the 180° panoramic views they provide. We even have one building on one of our main streets, and I can see a kilometer down each way."
Looking Ahead
The successful deployment of their new hybrid cloud solution has prompted Durham College to look for other ways to expand their view of the campus. Peter has been able to unlock significant cost savings with the help of the Verkada CH52-E Multisensor Camera.
The camera has four 5MP sensors that provide expansive coverage. Instead of installing multiple cameras in one location, Peter only needs a single CH52-E, and he's all set. The savings provided by the multisensor camera has enabled Peter to invest further and place cameras in other areas that need them.
"With a single multisensor, I saved about the costs of one camera, one license and installation fees. That's about a $5500 savings, which is great because it enables me to buy a dome and put it elsewhere. So instead of getting four cameras, I can get five and continue to expand our deployment. We're planning on adding more multisensor cameras."
---
Join over 3,000 education customers in strengthening school safety, while simplifying ownership. To learn more, attend an upcoming webinar or request a free live demo.