Halifax Health
How a Florida Healthcare Provider Easily Updated and Deployed a Scalable HIPAA Compliant Security System
with Michael Marques, Director of Technical Services, and Stephen Davis, Network Technician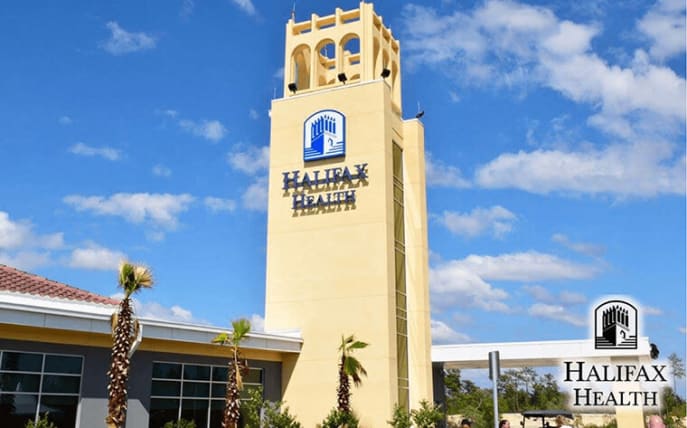 Background
Since opening their doors to the community in 1928, Halifax Health has become one of the largest healthcare providers in Volusia County, Florida. With over 500 physicians on its medical staff representing 56 medical specialties, Halifax continues to serve the community by providing high-quality healthcare while adapting to the latest technology available.
With continued expansion of hospital facilities, Michael Marques, Director of Technical Services, and Stephen Davis, Network Technician, began to explore the video security market in hopes of finding a solution that would meet compliance regulations and simplify the process of surveillance monitoring across locations. 
Challenges
"We've built a lot of facilities over different time spans and didn't have a really good strategy around standardization of our video security systems."  
Video Retention
The legacy systems in place consisted of a combination of different technologies, ranging from analog to IP cameras, making day-to-day management and retention compliance a challenge to maintain. "The IP cameras at offsite locations required dedicated DVRs to meet the 30-day storage standard for medical facilities," shared Michael. The unforeseen management overhead and costs associated with storage requirements complicated the process of scaling coverage across locations quickly and cost-effectively.
Bandwidth Consumption
Managing hundreds of terabytes of video footage on a central location was a tremendous drain on bandwidth resources. With upwards of 10 DVRs at each location, and 16 cameras on each DVR, it was clear to the team that they needed a distributed storage platform to reduce the amount of data used by the video security system. 
Difficult Installation & Maintenance
"Setting up the previous system felt like a series of overcomplicated steps. We needed to run cabling to connect each camera with a recorder, then we had to manually configure each camera to make sure it was on the right network. This is an oversimplified statement of what we had to do to get the systems working with each other, but the process was incredibly tedious and time-consuming," Stephen recalls. Maintenance was equally as cumbersome, as each camera required a manual reconfiguration when firmware updates were available.
Why Verkada? 
Easy to Deploy and Manage
"Installation went from 30 steps to 4 steps. We're deploying cameras in minutes, versus what was hours." 
Since making the decision to switch to Verkada's hybrid cloud solution, the Halifax team has set up over 190 cameras across 2 of their main hospitals, as well as additional offsite locations. With such a large rollout, they needed a solution that would scale quickly with minimal interruption to the faculty and patients. "The biggest impact has been the time savings. Traditionally, the amount of time invested in deployments is much greater, but we were able to quickly replace the old system with the new cameras on the same day." 
Beyond the upfront time savings, the cloud-based solution has also streamlined everyday surveillance management. "Footage across all locations is now centralized in one platform, making it effortless for us to get the information we need quickly. We've also set up an interactive viewing station so it's easy for us to monitor who's coming in and out of our facilities," shares Stephen.
Scale Coverage Without Cost 
"Originally, we thought we'd replace cameras one-to-one. However, with the wide viewing angle of Verkada cameras, we were able to achieve what we were previously doing with two cameras with one."
Even with Verkada's fixed lens cameras, the team at Halifax was able to replace existing PTZ cameras with Verkada's solution to increase coverage and reduce costs. The cameras, paired with Verkada's centralized management platform, provide the Halifax team with an easy way to pull HD footage quickly in response to incidents. "Everyone's been blown away with the quality of the wide angles cameras. We're able to do a lot more, a lot faster, even with fewer cameras," shares Michael. 
Improve Business Decisions & Patient Care
"Verkada has helped us implement features that make our business better and allow us to use video footage in ways that we hadn't thought of before."
The intelligent technology introduced by Verkada's platform streamlines efficiency for different business functions. "Previously, video footage was for crime prevention or post-incident investigation, but now, we're using it as a tool operationally. It's easy for us to visualize how our facility is being used, and we take those insights to facilitate a better patient experience; by looking at where the most backup occurs, we provide additional resources in those areas," Michael shares. "With smart technology, we're seeing a lot of other advantages and the team is getting creative with how they're using this solution."  
Meet Industry Standards
"We needed cameras with anti-ligature enclosures to eliminate the potential of patient risks - Verkada delivered on that need and made equipment that met requirements across the board."
Healthcare facilities enforce additional regulations that ensure patient safety and privacy. Alongside the physical security of patients', Verkada's solution is fully HIPAA compliant and prioritizes the protection of sensitive patient data, making it a perfect solution for hospitals, mental health facilities, and healthcare organizations.
Final Takeaways
"There were a lot of vendors that seemed similar, but once we got a Verkada camera in our hands, plugged it in and connected it to the software, the small differences in design and simplicity of the system made the biggest difference — and that's what won us over. There were no bottlenecks that prevented us from becoming successful with the Verkada solution."