Hanover Displays
How a Manufacturer Scaled Coverage Across Sites to Improve Asset Monitoring
Dan Lynch, Network Engineer & IT Administrator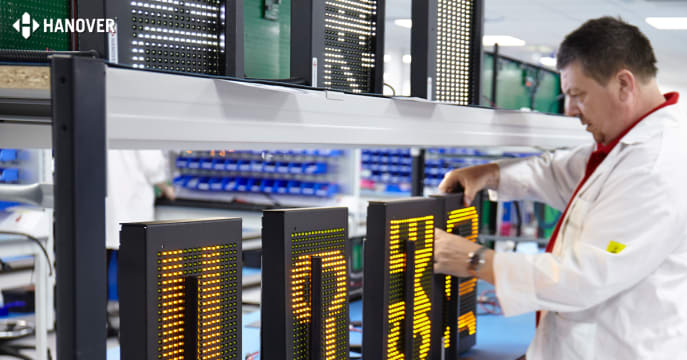 Background
Hanover Displays is a UK based manufacturer that designs passenger information systems for the public transport industry. With a vast product portfolio that ranges from LED displays to software solutions for message databases, Hanover Displays is a growing market leader that supplies information systems across 75 countries worldwide. Alongside the UK headquarters in Lewes, the brand has an international footprint ranging from design and development in France, to manufacturing in Chicago.
As Network Engineer and IT Administrator, Dan Lynch oversees all security technology for Hanover Displays and is in charge of scaling systems to support growth across new territories.
The Challenge
"The business had expanded quite a bit over the years and we needed to increase CCTV coverage across newer sites. We originally wanted to build on top of our current system, but after getting a vendor quote, we felt that the old setup wasn't worth the amount we'd be paying."
Not only did the legacy CCTV system require expensive onsite servers and NVRs, it had a history of recurring failures. To the dismay of Lynch and team, failures weren't always resolvable as many of the replacement parts were old, specialty cables that were no longer manufactured. This resulted in prolonged gaps in coverage and extended outages across numerous estates. "The NVR systems were generally slow and difficult to use; we felt it was time to start evaluating other options."
Why Verkada?
"We wanted to scale coverage and manage remote sites easily, so we started evaluating cloud-based solutions. With Verkada, we found success immediately. Not only are cameras online and fully operational in minutes, the features make it easy to monitor sites where valuable items are stored."
After conducting an evaluation of cloud-based CCTV solutions, Lynch found that Verkada's technology made it possible to strengthen physical safety and improve loss prevention across key sites.
Immediate Benefits with a Top-Rated CCTV App
Within 20 minutes of setting up the first camera, a scenario unfolded nearby and the intuitiveness of Verkada's mobile app helped Lynch and local police resolve a case. Despite not having used the system for long, Lynch utilized motion grid search to key in on suspicious activity and identified a number plate off the car. After finding the clip, he shared that footage with police as official evidence and gave a small statement.
"In minutes, I was using the system as if I'd been using it forever. I shared a link, which was emailed to local authorities, with access to the archived footage. All of this was done straight from my device--it's a seamless experience even for first-time users."
Simple Proof of Concept with Free Trial
"Verkada's free trial is a game changer. I received a brand-new camera in a matter of days, then went through the installation process end-to-end. It cost me nothing and quickly proved to me that it'd be the right solution for my team."
To understand the scalability of the solution, Lynch started with a free trial to gauge what would be required of him to undertake a large camera deployment. "All I did was plug the trial camera into an Ethernet cable, scan the unique QR code, name the camera then pin it on my map. It took minutes. Nothing I had used in the past comes close to this level of simplicity."
Each risk-free trial also comes with full access to Command, Verkada's management software. Because Command enables secure, remote access to all cameras from one platform, managing cameras as they scale would be straightforward.
By understanding what installation and day-to-day management would look like for the team, Lynch felt confidently that Verkada would allow his team to scale coverage in a cost- and time-effective manner. "I'd highly recommend getting started with a free trial. There's no investment on your end, other than a few minutes to set up the camera. The product really speaks for itself."
A Powerful, Future Proof Solution
"Having had a system that was unmaintainable, we needed to make sure that our next investment would be supported in the long run. (With) Verkada, we get a 10-year product warranty and excellent support from a team of dedicated product experts; it's a fantastic partnership."
Not only do all cameras come with a 10-year product warranty, Command--the software that supports the cameras--also receives automatic updates that provide new capabilities for end users. "In the period of time that I've used Verkada, I've seen numerous new additions to the technology stack. People analytics, vehicle search, and crowd alerts; all of these features make it easier for me to conduct investigations and reduce response time."
Additionally, ongoing security enhancements are provided at no additional cost. This removes the need for teams to travel onsite to manually audit cameras, removing a significant amount of management overhead and time.
"(With Verkada), I get all the things I wished I had with my old system--offline alerts, easy remote access, and the ability to call an intelligent, technical expert and get the help I need. The additional features are the cherry on top."
What's Next?
Lynch plans to scale coverage with Verkada across other global sites. The next project underway includes several smaller sites, then a longer-term project will kick off which consists of a three-floor unit which is in the process of being designed. Alongside expansion, Lynch is looking for new ways to use Verkada's technology to proactively improve the wellbeing of other employees.
If you're interested in trying Verkada's CCTV solution for free, claim your 30-day trial camera today.