Larimer County
How a Colorado County Leverages Hybrid Cloud Cameras for Election Security
with Nick Babion, Logistics and Projects Supervisor & Mark Olson, Director of Infrastructure and Support Services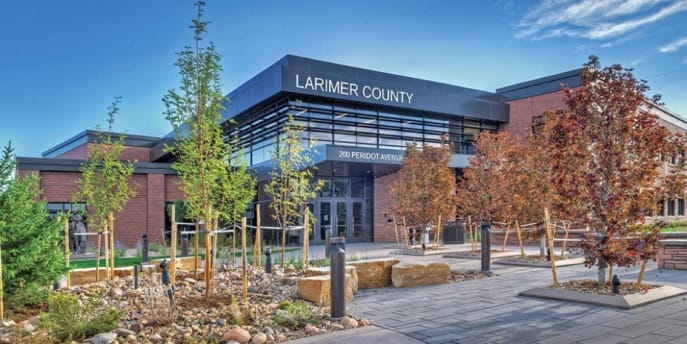 90%

faster installation

60%

cost savings

20 kbps

per camera
With over 350,000 residents, Larimer County is the sixth-largest county in Colorado based on population. The county encompasses 2,640 square miles and has five incorporated municipalities located completely within its boundaries. Elections in Larimer County are managed by the Clerk and Recorder Office, for which Nick Babion is the Logistics and Operations Supervisor.
The Challenge: Video Monitoring for Ballot Drop Boxes
After the passage of 2019 legislation and receiving state grant funding, Babion had six months to expand the number of 24-hour election drop boxes from 3 to 23, each one requiring 24/7 video monitoring. He and Mark Olson, Director of Infrastructure and Support Services for Larimer County, needed a video security system that would be fast and flexible to deploy to remote locations. They engaged with their vendor, Electronic Systems International, to come up with a solution in a limited amount of time.
"We had a six-month period to install all the election drop boxes and video monitoring system, so the speed of camera deployment was key. This is where Verkada's ease of installation really came through for us." — Nick Babion
Why Verkada?
"We record for 60 days before and 30 days after every election, then retain that footage for 25 months. Verkada covered that minimum rolling time frame, plus we were able to add longer-term storage in case of open records requests. Video is also backed up in the cloud and stored redundantly to ensure record completeness." — Nick Babion
Built with hybrid cloud storage, Verkada cameras are reliable and always recording. Cameras are equipped with solid-state drives that keep footage for up to 365 days, meeting even the most stringent legislative requirements. Archived footage is retained in unlimited cloud-based servers, and time-based cloud backup options can also be enabled. Most importantly for Larimer, deploying Verkada took a fraction of the time needed for a traditional DVR system. According to Olson, "It would have taken us days to install another solution, but the Verkada system takes only a few hours. You plug the camera into any network, and it comes online in seconds with zero configurations. You don't have to hone in and wire it back to a server room or connect it to a DVR."
Fast and Flexible of Camera Deployment
"The best part about Verkada is the flexibility of deployment: I can take any camera and put it in a remote location via Cradlepoint, then two months later I can take the same camera and move it to another location, then another. I can also install it quickly for a one-time special event, without going through the process of integrating it into our DVR system." — Mark Olson
With Verkada, deployment is simple. Plug-and-play cameras require just a single PoE cable to power the cameras and bring them online, with no additional configurations needed. For remote deployments where wired ISP connections are not available, cellular connectivity can be achieved using a Cradlepoint router.
Olson notes that the speed of installation helped reduce costs for the county, "If you compare five hours to 48 hours of installation time, that amounts to about 60% in cost-savings, taking into account the labor and soft dollar expenses."
Ease of Use and User Management
"You can give users access to view whatever cameras they need, which makes Verkada a really elegant solution to ensure election security from a county and municipal level. The Command platform is intuitive and easy to use, so no training is required." — Nick Babion
Municipalities within Larimer have repurposed the county's equipment as well. "We rent the drop boxes and cameras out to municipalities to use in their elections. I created temporary accounts for those users so they can monitor their drop boxes; once the election is over, they no longer have access to view anything."
Users can be easily created and provisioned with access to view only specific cameras. Permissions can be easily granted and revoked, with Azure AD integration available to streamline and centralize user management. Verkada's Command software platform is designed with user experience at top-of-mind, making it simple and intuitive to navigate and use.
Between Babion and Olson, main camera access is divided between two departments. According to Olson, "When the Elections Department logs in, they only see the cameras overlooking the drop boxes. When the Department of Natural Resources logs in, they see only the two cameras at the trailheads. This has taken the burden off of IT to set up individual profiles, and it's a win for us to be able to manage our sites so easily."
Steady State Low-Bandwidth Consumption and Scheduled Cloud Backups
"I can easily scroll through a thumbnail view of historical footage and find what I'm looking for. I have the flexibility to search, without compromising bandwidth by retrieving videos from the cloud." — Mark Olson
To provide the benefits of the cloud without hindering bandwidth, videos stream only when an authorized user requests live or recorded video. Outside of these requests, each camera operates in a "steady state" by sending metadata streams to the cloud once every 20 seconds using a bandwidth uplink of less than 20 kbps. The thumbnail images uploaded from each camera create a historical timeline view, from which Olson and Babion can apply search filters such as time/date and motion. To reduce bandwidth strain on private business' networks, Babion has scheduled cloud backups to upload footage during a set time at night, "I schedule cloud backups to occur when it's least likely to impact network speed."
What's Next?
"The Department of Natural Resources currently uses Verkada cameras to check trail and parking lot conditions, and these cameras are installed via Cradlepoint connection. Because deployment is fast and flexible, we will continue to use Verkada to secure remote areas and special events." — Mark Olson
Olson and Babion will continue to utilize Verkada for video monitoring in remote locations. They also plan to leverage Verkada in any use case requiring a quick or temporary deployment, such as an event or another upcoming election.
---
To learn more about Verkada's security solution, attend an upcoming webinar or request a free trial.