Mission Dolores Academy
Mission Dolores Academy Returns to School Safely with Verkada
Meredith Essalat, Head of School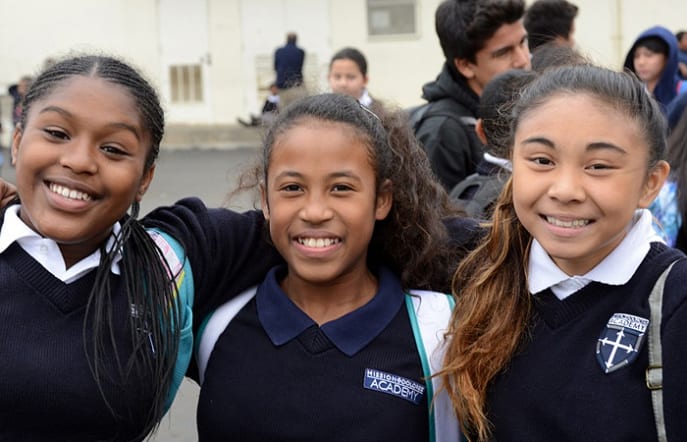 Situated in the heart of San Francisco, Mission Dolores Academy is an independent Catholic K-8 school. It's innovative curriculum graduates students who are lifelong learners. They are also a pioneer in blended learning, a method of teaching that integrates technology and digital media with traditional instructor-led classroom activities, giving students more flexibility to customize their learning experiences.
As principal since 2016, Meredith Essalat has been leading the 28 person staff and the countless volunteers to create a nurturing academic environment for over 240 students. That has meant overseeing the daily activities and operations within a school and ensuring the school environment is safe for all students and staff members.
The Challenge #1: Effective video monitoring in a transitioning neighbourhood
2019 marked their reinvestment in physical security. During the pandemic, MDA did not have as much access to the building as they normally would. In addition, the school is part of a transitional neighbourhood, where empty buildings were left in a vulnerable position. Their existing cameras had grainy footage at the front gate, which meant that unintended guests were sometimes buzzed in and allowed onto the premises.
The Challenge #2: Moving to digital processes, starting with guest check-in
As an institution focused on leveraging technology for their students, they found that many of their internal processes needed to be revamped. In addition, they found that the paper-based processes were incongruent with how they marketed themselves. "Here we are telling supporters we are at the forefront of technology, but here is a binder, paper and pen to sign-in," says Essalat. "We needed to align our external-facing processes to how we market ourselves as an institution."
Starting with their visitor management system, they looked at how they could go touchless while providing increased visibility into their operations - from photo evidence, to NDA and COVID waivers. "Having a framework to understand everyone entering the premises and how to track them down at a later point became a priority," notes Essalat.
The Challenge #3: Thousands spent on costly false alarms
With a large number of access doors across their sites, their existing wired alarm system with Bay Alarms was proving to be costly and error-prone. Not only were these non-emergency alarms a major strain on the MDA staff and local emergency resources, it was costing $5,000 dollars every year for false alarm dispatches from the SFPD. And as a school with 83% of children receiving financial assistance, every dollar matters.
An integrated solution with Verkada
Given these historical challenges with outdated and non-integrated security technology, MDA has been upgrading their cameras, alarms, keyless entry and guest management point solutions to Verkada solutions. Now, not only does each solution work well independently, the benefits are compounded because they work seamlessly together.
With Verkada technology, they were able to meet their 3 goals:
Increase safety. MDA can now activate a lockdown within seconds, authorize specific users to parts of the building, and share video clips to parents or authorities when necessary.

Reduce cost. With event-triggered video feeds that Mrs. Essalat can quickly review on her mobile device, they no longer pay thousands a year for false alarms. Meanwhile, digital door readers across all doors means not having to change locks when keys are lost or stolen.

Improve staff efficiency with guest check-in. With an integrated check-in system, overextended staff are no longer wasting time waiting for visitors to arrive and the front-office staff can confidently move about the premises.
How Verkada's integrated solutions improves physical security
A clear view of all activity on the premises
Using Verkada cameras and a 52" Viewing Station, MDA can stream up to 300 camera feeds to any display with ultra-low latency, crisp video playback and customizable layouts. Their cameras - located at all exterior doors, interior hallways, stairwells, parking lot, driveway, and kindergarten building - can now all be viewed in real-time and with crystal clarity.
Keyless remote entry for intelligent access
With Verkada's Access Control and Door Readers installed across campus, Mission Dolores Academy ​​can manage doors, users and schedules across the entire campus and staff. This has resulted in significant cost savings. "The amount spent on cutting keys and reissuing keys if they get stolen is significant", says Essalat. "Now, we can shut access down if a keyless card gets lost. We also have student files in one location, money in another - we can customize access to individuals and ensure confidentiality is being maintained."
Integrated guest management to track visitors
With the most recent integration of Verkada Guest, they've not only upleveled the appearance of the office, but have also maximized the efficiency of their staff. Within a branded interface, visitors and volunteers can select check-in flows based on guest type, print badges, and hosts are automatically notified of their arrival. "The aha moment was when we could have texts sent to phones when visitors arrived", says Essalat. " Instead of waiting 20 minutes for their guest, staff can stay with the kids, work on grant proposals, and support needs across the building - without having to always be near the front desk." And with guest logs and activity maintained in the same Command interface, they feel safer knowing that activity of everyone on campus is centrally tracked and managed.
Wireless intrusion detection to reduce false alarms
With Alarm Sensors installed across all primary doors on campus, they now have a better, simpler and more cost effective process to manage intrusion detection. All from her mobile device, she can quickly investigate alarms raised by events and screen out false alarms or escalate real threats to the police, saving the school thousands a year.
Securing more classroom doors with integrated locks
To enhance emergency response, Verkada integrates with Allegion Schlage's wired and wireless locks family to tie more doors into the Verkada ecosystem. With wireless locks, Essalat is able to increase visibility and control over interior classroom doors while eliminating the need to run additional wiring through them.
"By bringing more doors into Verkada's integrated platform, we can respond faster and give first responders the access they need to keep our students safe in an emergency. I can initiate a lockdown from my phone or computer, share a video feed or floor plan with police, and create safe zones within the school where we can monitor the incident as it's happening."
In the event of an emergency, Essalat is able to reduce response time by initiating a lockdown from any computer via Command, or any mobile device via the Verkada Pass app. Only designated staff members have the ability to activate and release a lockdown, and different scenarios can be created to address different event types - such as active threat or shelter in place.
A feeling of comfort and security
The biggest benefit has been the integration of all the solutions into a single view. "Verkada is a one-stop shop where we know we are under the umbrella of technology that not only works well independently, but even better together" notes Essalat. With Verkada, the staff at Mission Dolores Academy are given the seamless security they need in order to give the best to their students.
---
To try Verkada at your organization, request a free trial camera or attend our weekly webinar.