Open Pantry Food Marts
How a Premier Convenience Store & Gas Station Chain Caught a $7,200 Theft
Justin Borchardt, Chief Financial Officer (CFO)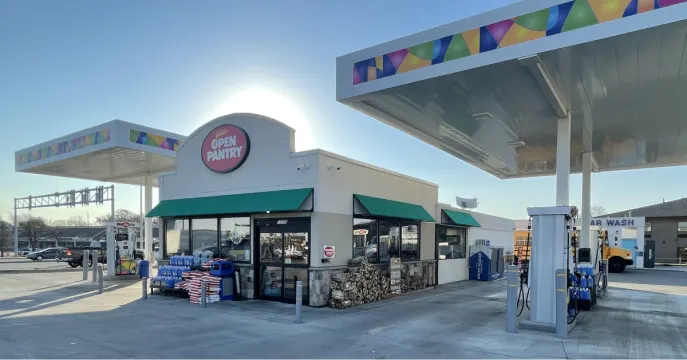 85%

faster investigations compared to using a DVR system

$7,200

retrieved with Verkada footage

24/7

continuous recording
An estimated 100 million Americans visit a convenience store on any given day, and over 80 percent of Americans prefer convenience stores to supermarkets due to their busy schedules. Located in the heart of Wisconsin, Open Pantry is committed to being the best convenience store chain in the state. The one-stop destination for gasoline, food, beverages and essentials is the ideal place to visit when you need a bit more time in your day.
Since 2018, Justin Borchardt has served as the Chief Financial Officer for Open Pantry. With a dedication spanning over two decades, he has held key roles in both Finance and Management for the company.
The Challenge: Convenience Store Crime
Convenience store robberies account for approximately 6 percent of all robberies known to the police. Unfortunately, these include cases of internal theft.
During one such incident, the digital video recorder (DVR) system was offline. Because of the single point of failure, it didn't capture footage of the employee stealing a cash box containing $7,200. 
"We found out the hard drive was corrupted, and the DVR was not recording for the past four or five days." 
Why Verkada: No Single Point of Failure
Fortunately, the store also had Verkada cameras, which captured the entire sequence of events.
Built with hybrid cloud storage, these cameras retain footage both locally and in the cloud. Instead of relying on DVRs or NVRs, video footage is encrypted and stored onboard within each device. This approach enhances security by eliminating single points of failure and drives efficiency by minimizing bandwidth usage. 
After finding the footage, the video of the theft was saved to unlimited archives in the cloud-based Command platform. To ensure usability in court, archived clips are automatically timestamped with the exact time and date of the incident. The team also has 24/7 access to both footage and live feeds through their desktop or mobile devices.
85% Faster Investigations
The intuitive video playback combined with high-quality visuals makes Verkada an invaluable tool for swift investigations. Using the AI-driven features of Command, Justin can pinpoint specific footage in significantly less time. The advanced motion-based and intelligent search capabilities reduce the average incident response time by over 85 percent.
"Finding specific incidents takes just 10 minutes with Verkada, in contrast to the hour and 10 minutes spent with our previous DVR system."
Granting, editing, or revoking user access permissions – whether by camera, site, or organization – is straightforward. With just a few clicks, Justin can readily share crucial video evidence with law enforcement and the insurance company. "Sharing videos with the police is as easy as emailing them a link, which expires after a period of time."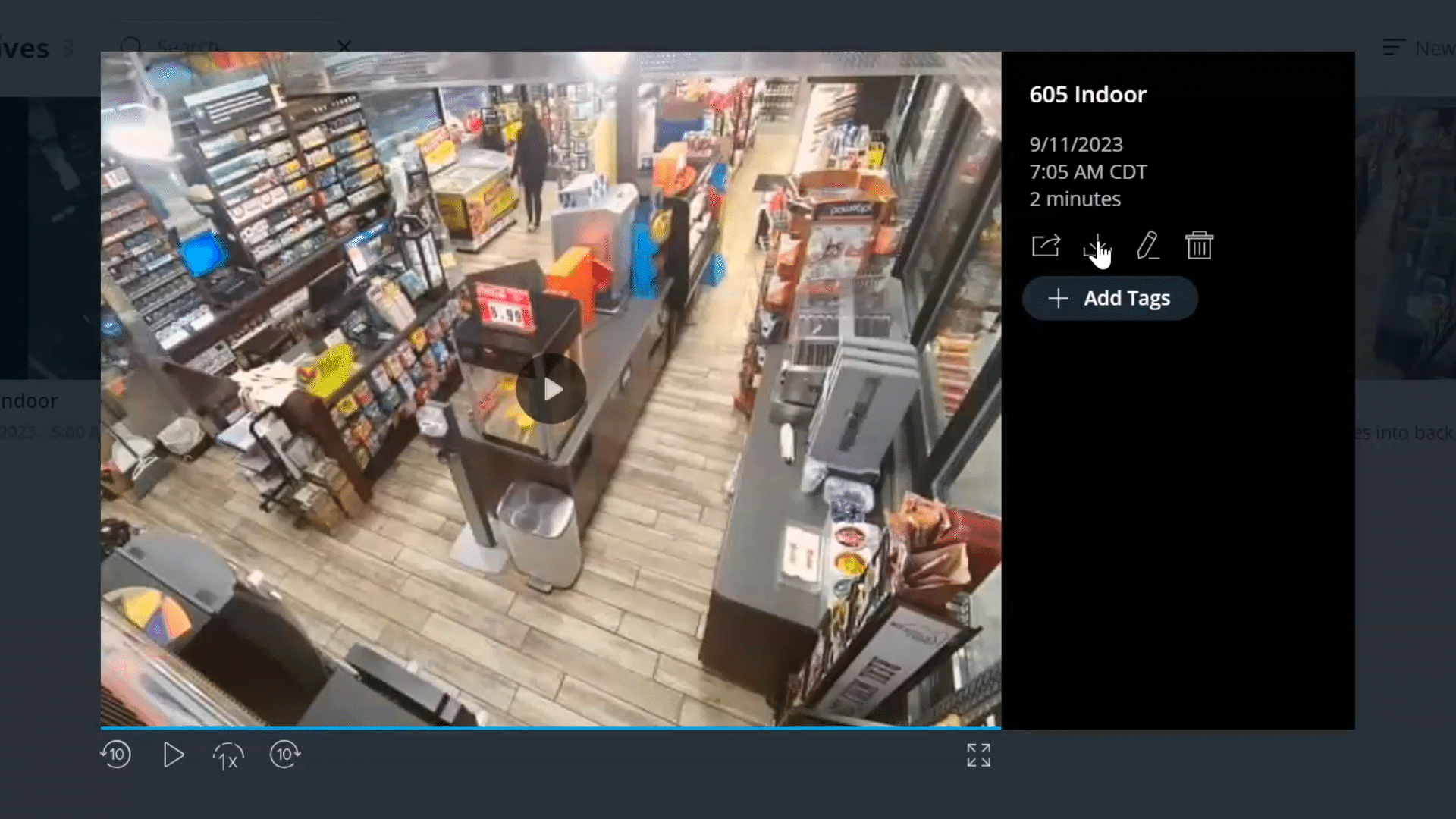 Combat Robbery & Retail Crime
The ability to detect and catch repeat offenders is critical, especially considering their nationwide prominence in retail theft.  Out of the 22,000 retail theft arrests in 2022 by the NYPD, a third of these robberies were committed by 327 repeat offenders. By May 2023, 250 individuals had been arrested close to 2,500 times, with 70 percent being repeat offenders.
To solve this challenge, Verkada People Analytics enables the identification and search of individuals within the footage. People of Interest (POI) alerts can notify teams when repeat offenders are onsite. The cameras are equipped with infrared LEDs (IR) sensors and night vision, ensuring clear video evidence regardless of the time of day.
"The ability to swiftly pinpoint and address repeat offenders has been a game-changer. The quality, reliability, and simplicity have significantly strengthened our store's security measures."
Prevent Gasoline Drive-Offs
Gasoline drive-offs pose another challenge for gas stations and convenience store businesses. Interviews with apprehended robbers reveal that they typically target perceived "soft spots" in security, assuming that businesses wouldn't implement measures to counteract them.
To strengthen and maintain outdoor security, Open Pantry deploys the outdoor Dome Camera to oversee gas station vestibules. The robust solution is meticulously designed for weather resistance and tamper-proof operations. It streamlines security infrastructure, obviating the need for local servers and firewall equipment – resulting in a significant reduction in operational complexities and costs. Software and firmware updates are released automatically, so Justin and his team stay ahead of potential threats with no action needed.
Looking Ahead
The transition to a modern hybrid cloud solution has resulted in significant time and cost savings, underscoring the significant potential over a 10-year warranty period. A summary of key benefits:
Simple & Intuitive: Justin cites ease of use, the cloud-based storage system, and AI-powered analytics as standout features. The process to archive and share footage took 10 minutes compared to over an hour with their previous system.

Robust & Reliable: During a significant incident where a manager absconded with over $7,200, the traditional DVR system failed due to a corrupted hard drive. However, Verkada's system captured the entire event, allowing them to identify the perpetrator and share the evidence seamlessly with law enforcement.

Versatile & Efficient: Though Open Pantry predominantly uses cameras for security, Verkada's People Analytics feature offers potential for even deeper insights and recognition, a feature not yet explored fully by the store.

Integration Opportunities: Justin sees the potential of integrating with Access Control and Alarms with Professional Monitoring, highlighting Verkada's broad array of solutions beyond just video security.
All in all, the Verkada deployment has been a positive experience for Open Pantry. The team recommends Verkada to any convenience store or gas station looking for a security system.
---
To learn more, watch an on-demand webinar or request a free trial camera.