Paradigm
How a Property Manager Secures Luxury High-Rises with a Hybrid Cloud Solution
Paige Hughes, General Manager of Meridian at Courthouse Commons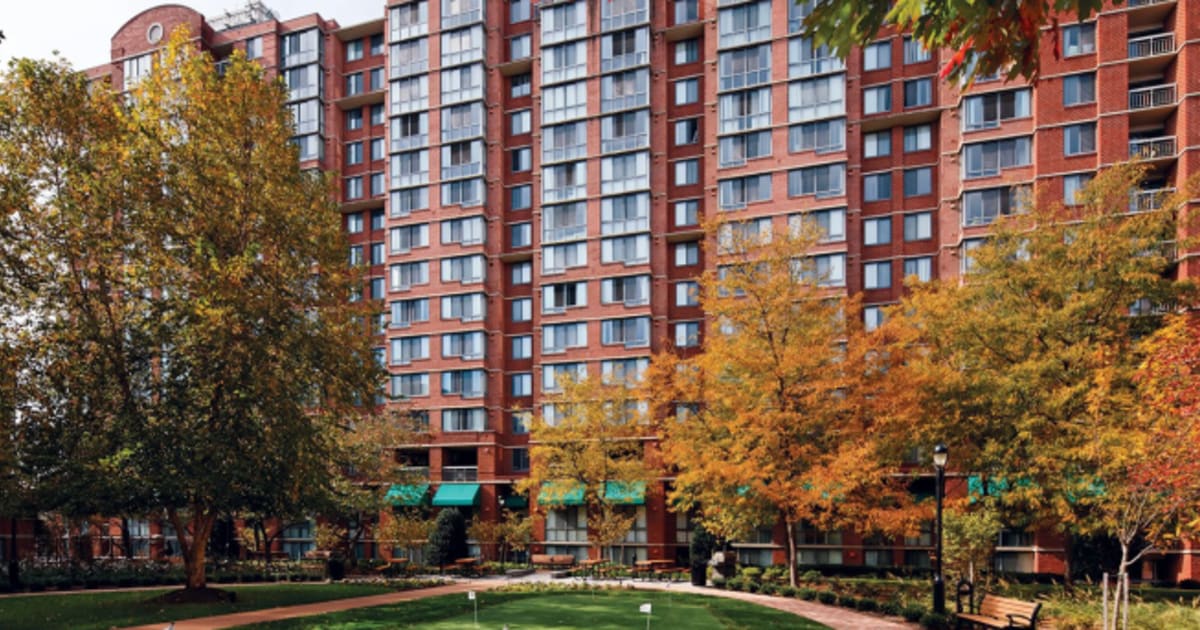 717

Apartment Units

2

High-Rise Buildings

4 Hours

Time Savings
Background
Paradigm is an award-winning real estate development, construction, and property management company that creates high-quality housing in urban communities across the mid-Atlantic region. With over 20 years of multi-disciplinary expertise, the company delivers a full range of real estate services that include efficient design and budgeting, construction, leasing, sales, and ongoing oversight. They serve residents, customers, and clients with a mission to make a difference in how people live, as evidenced by their emphasis on efficient design and green building technology.
Meridian at Courthouse Commons is one of their luxury apartment communities, located right outside Washington D.C. in Arlington, Virginia. Paige Hughes, General Manager, has been at Paradigm for almost 30 years and Meridian for six and a half years. She and her team oversee a 14-story and an 11-story high-rise building, each with its own three-level garage.
The Challenge
"Our legacy system software was dated and ran slowly, just logging in would take 20 minutes before we could actually get to a visual. I'd sit through hours of footage, then have to whittle it down to two minutes, or else the thumb drive couldn't be opened. It was a huge drain on time."
When Hughes started at Meridian, she inherited a security system with three critical issues that led to gaps in coverage and inefficiencies. First, cameras fed into a digital video recorder (DVR) that constantly overwrote itself. Second, if footage could be found, it would take hours to access, find, and export in a shareable format. Third, image quality was so low that the grainy videos were sometimes rendered unusable.
"Let's say we wanted to find a car that just hit a garage door; we couldn't even discern the type or color of the car, much less read the license plate. There was nothing about that camera system that was useful."
Why Verkada?
"Verkada's web platform is the most user-friendly I've experienced compared to other solutions on the market. Not only is it quick to learn, it's also easy to navigate and use on a day-to-day basis. Despite being the same price as our previous system, finding and retrieving footage now takes a fraction of the time, and the video quality is so much better."
Verkada's Command software platform is designed to be a simple experience for the end-user; having an easy-to-use interface greatly reduces the number of steps it takes to log in, retrieve, and send footage to stakeholders. With unlimited cloud archiving, historical videos of key events can be saved, viewed, and shared by authorized individuals from the convenience of a web-based browser. With unlimited user seats, Hughes is able to provision team members with their own credentials, set of permissions, and secure remote access. She has enhanced visibility and safety for key areas with video quality that reaches up to 4K resolution, as well as video analytics that streamline incident resolution and occupancy management in common spaces.
User-friendly Platform & Hybrid Storage with Unlimited Cloud Archiving
"My team members love Verkada, they don't mind being assigned to retrieve footage anymore. They can do it themselves with very little effort because the Command platform is so straightforward."
From start to finish—logging in to archiving footage—Hughes estimates a time savings of up to four hours. To find footage of an incident, she no longer needs to watch through entire videos in real-time. The Command platform is equipped with intuitive search functions and designed with user experience at top-of-mind, so she can quickly filter through footage by time, vehicle, or people analytics. Sharing footage takes only a few steps, and can be downloaded as an MP4 or sent directly to first responders via a link, SMS text message, or email. Each camera comes with its own onboard storage as an added layer of reliability. Plus, unlimited cloud archiving is included in her software license, so she can save events to cloud-based servers where they are securely encrypted both at rest and in transit.
"When we archive footage, we save it to the cloud for as long as we want; it's very easy to find any time we need access to it."
Unlimited User Seats and Secure Remote Access
"Everyone in my office has an individualized Command account, which is a big step up from sharing one set of credentials with our old system. We're also able to monitor remotely if we need to, our Regional Manager can see what's going on all the way from our headquarters."
Hughes has provisioned her front desk staff, regional manager, and maintenance technician with their own set of custom user credentials. She has an unlimited number of seats included in her software license, so as her team evolves she can easily change and add new users. To enhance security when it comes to user authentication, Verkada integrates with most SAML/OAuth identity management services and offers 2-factor verification options. By centralizing management onto one web-based Command platform, Hughes has enabled secure remote access without the risks associated with port forwarding or other technical configurations. Stakeholders from HQ are able to check live feeds at any time from any browser, or through their mobile device via the Verkada Command app.
Up to 4K Video Resolution and Occupancy Analytics
"The video is so crisp that I can simultaneously view both my clubrooms and immediately see if gatherings are too large, or if people aren't wearing masks. It saves us from running around to all these different areas, instead we just look at the cameras."
Hughes can quickly assess and manage occupancy levels with Motion Plotting and People Heatmaps, which provide a high-level view of occupancy load at any time. With Crowd Notifications, she can be immediately alerted when more than a specified number of people are detected in-frame. With image resolution that reaches up to 4K standards, she can distinguish individual faces and know who to speak to if protocols aren't being followed. "The footage so clear that I can now actually see and say, 'I know who that is,' versus, 'Is that a boy or girl?'" Cameras are equipped with night vision capabilities, and when lighting is low they will switch to night mode, recording in black and white and using infrared LEDs (IR) to illuminate the environment. This provides her with visibility into key areas at any time of day—even when there's no light.
Next Steps
"We're in the process of deploying additional cameras in the courtyard to oversee its construction, plus to areas that are either high-traffic or off-the-beaten-path. Having visibility into these spaces would be helpful so we can get a clear, quick visual of what's going on at any given time."
Looking ahead, Hughes plans to improve visibility for eight key areas that include garages, Amazon lockers, and communal courtyard. Construction for the apartment's courtyard is currently underway, and she's in the process of setting up an outdoor cabling system to prepare for new cameras.
Take the step to enhance security at your organization, sign up for a free camera trial to experience the benefits risk-free or attend a webinar to see Verkada in action.