Peoples National Bank
How a Bank Improves Visibility and Reduces Fraud With Verkada's Split Camera
Eric Kruse, Director of IT, Networking, and Security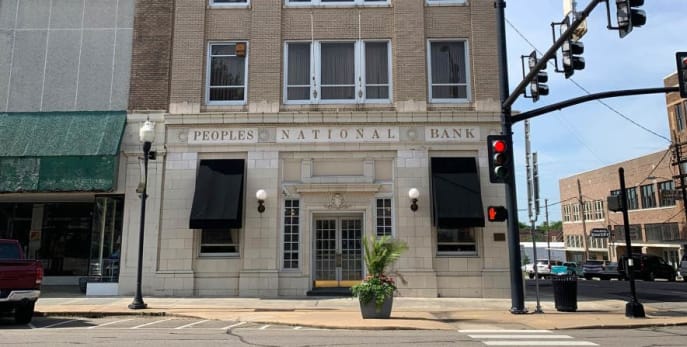 Background
Peoples National Bank has been in continuous operation for over 110 years, and controls assets worth over $1.6 billion. With 21 branches and 5 business centers in Southern Illinois and the St. Louis Metro area, Peoples National Bank remains a locally owned and operated community bank.
Eric Kruse, Director of IT, Networking, and Security, shares how installing Verkada security cameras has enhanced how Peoples National Bank protects its people and assets. The security team at Peoples National Bank can now effectively respond to false alarms and better analyze attempts at fraud and skimming across their ATM fleet.
The Challenge
Aging security cameras, false alarms and system vulnerabilities
As the new Director of IT, Networking and Security, Eric Kruse inherited an aging deployment of security cameras with known vulnerabilities. At the time, Peoples National Bank had three disparate systems:
NVR with independent storage and viewing

NVR with consolidated storage and viewing

IP base system with consolidated storage and viewing
To view camera feeds and footage, it was sometimes necessary to get into all three systems. Maintaining 90 days of stored footage on the hard drives was also time consuming and difficult. Often, the recorded footage from the legacy cameras was of such low quality that it was of little use for investigations.
"ATM transactions are traditionally the most requested footage from our branches. It's disheartening for our IT department to find out after the request we could not provide any information because the camera wasn't working or recording clear footage."
Realizing the unsustainability of managing the aging camera systems as well as the increased risk of hardware failures and security vulnerabilities, Eric began searching for a better alternative.
Why Verkada?
Modernizing with a hybrid-cloud camera solution
After researching and testing different security camera solutions, the benefits of Verkada's hybrid-cloud cameras were clear.
Always up-to-date. Verkada offers peace of mind through automatic firmware and software updates that proactively minimize system vulnerabilities. More importantly, updates that are in-progress or already applied or can be validated on a camera-by-camera basis through a single pane of glass on the web-based Command platform.
Hybrid storage. With Verkada security cameras, Eric was able to address the storage limitations and maintenance challenges that were inherent to the previous deployment. Each Verkada camera has built-in onboard storage, and the camera license includes 30 days cloud backup. Verkada eliminated the need for expensive hard drives that were slow and prone to failure and provided an easy way to store multiple copies of recorded footage.
Saving time during false alarms
"The Security Officer for our warehouse lives 45 minutes away. So for him to be able to get up and evaluate the situation on his phone, he saved himself 1.5 hours of driving, maybe at 2am."
Remote accessibility. The primary users of Verkada Command at Peoples National Bank are branch Security Officers. One of the biggest advantages of the Command platform is that when an alarm is triggered, they are able to bring up footage on their phones to determine whether a branch is secure or not. There is no longer a need to go onsite to meet with police only to determine that it was only for a false alarm.
Intuitive interface for non-technical users
Rapid deployment. The most obvious point of difference with other vendors is Verkada's intuitive user interface, making installation a non-issue. "A lot of the interfaces we were looking at still had that Windows 3.11 vibe, or even the updated Windows 95. I was able to roll out the Verkada interface to my users without even training them."
Results of the CM41-S Split Camera in ATMs
"The fact that [the CM41-S] can fit into small spaces is the biggest asset of that camera."
Compact and flexible: The CM41-S split camera was the perfect choice for installing inside ATM machines, because it can fit behind the front face of the machine without interfering with internal moving parts.
"If I am comparing it outside to other products, I would say that not only the ability to fit into small spaces but also the clarity that it provides makes it the best solution for [Peoples National Bank]".
Exceptional image-quality: The 5MP image resolution and 128° diagonal field of view has helped capture details that were not able to be seen before. "We are using them for fraud. And honestly it is not always even fraud. We can use them to see if a person did not count their money correctly and made a mistake."
"We have had multiple times where having cleaner footage helped us determine if cash was dispensed, who the person was that was making the transaction, or to prove it was who they said they were."
Alerting and offsite response: It is not uncommon for a bank to be subject to skimming attacks. In the past, when alerted it was necessary to go onsite and physically determine if a device was installed. "When I get an email from our ATM provider that says there has been skimming detected, I watch the people that went through before and after the alert to make sure there wasn't a skimming device put on there."
"The CM41-S has the same built-in alerting as the rest of the Verkada line. When an alert signals that a camera has gone offline, it enables IT to fix the issue before the next request is made."
Final Takeaway
Whether Eric is investigating a false alarm, validating details of a customer transaction, or using footage to flag and prevent skimming attempts, he feels that the team at Verkada provides a level of quality support that outperforms other solutions on the market. Equally important, Eric now has a single integrated system that meets his video security needs.
"Try a demo. The ease of use is clearly one of the biggest things that Verkada has going. Verkada's staff has also been great. It doesn't seem to matter who I have worked with at the company - they are always quick to respond and in a positive way."