Saddleback
How Saddleback Introduced Remote Access and Operational Oversight to its Video Security Operations
John Wager, Head of Technology and People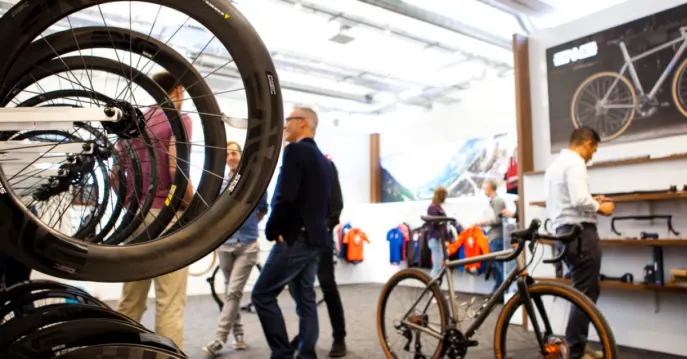 40,000 Square Feet

Warehouse Facility in Bristol, UK

60

Staff Members

24/7

Secure, Remote Access
Background 
Saddleback was founded by Andy and Sarah Wigmore in 2004, with the family business growing into one of the leading names in the UK cycling sector. Today the business has more than 60 employees and distributes some of the industry's best-recognised and most loved brands, including Castelli, Moots Cycles, Sportful, and Wolf Tooth.
John Wager, Head of Technology and People at Saddleback, speaks about why Saddleback needed to improve its security coverage, introducing instant remote access and incident alerts to its warehouse facility.
The Challenge 
Following a period of growth and with ambitions to expand beyond its UK base into Europe, Saddleback acquired a site and built a 40,000-square-foot warehouse in Bristol, UK. The warehouse was equipped with a basic security and CCTV system which, while serving its purpose, didn't tick all of the boxes for Saddleback.
 "What was installed as part of the build was okay, but I didn't have that remote access to the CCTV that I did with the other devices in our infrastructure. It only really allowed us to be reactive and I wanted us to be proactive."
 "If it became apparent there was a problem, it was a case of having to download footage, winding it back, and watching on four-times speed to see if we could pinpoint the incident. The system was digital but it wasn't at all special."
 Why Verkada?
 "Being able to add that remote access was key for me."
 Having only moved into the facility three and a half years previously, John was conscious of the cost of replacing his whole security infrastructure. Verkada's flexible solutions meant he was able to add security cameras in critical areas of the facility that could be viewed remotely by John and other key members of the team.
 "Being able to get sign-off to replace an entire system was going to be very difficult and probably a step too far. What we've been able to do is to start with a couple of cameras and work our way upwards from there. We're up to seven now and we'll continue to work through the building adding licenses in key positions around the facility," says John.
Secure Remote Access
 The addition of cameras that can be remotely accessed has already proven its worth to the business. John has been able to grant access to leading people within Saddleback, who can communicate in real-time through collaborative working applications and group chats.
 John cites a recent example of when he was at home putting one of his children to bed when he received an alert to his phone that somebody was coming through the front gates of the facility.
 "Within five minutes of the alert, one of the owners of the business dropped a message into the group chat to ask if it was one of our security that had triggered the alarm. Between us, we're able to review the footage remotely and confirm that it was a trusted third party with key access.
"Previously, we wouldn't have known they were there and while they're a trusted person, it is reassuring to have that oversight and know what is happening. It took 30 seconds for three of us to see what was happening. There's no messing about with trying to get access through an application or having to use a VPN, which is the kind of thing we really wanted to get away from."
Cloud-based, Plug and Play
 The ease of integrating Verkada's cloud-based technology was highly attractive to Saddleback. The company's network runs off Cisco Meraki, which is completely compatible with Verkada's solutions. 
"I come from a cloud-based background and we've invested a lot of money into Meraki," says John. "Verkada slots straight into it and allows me to manage everything from my phone, which is fantastic. I looked at more than one solution but Verkada came out ahead of everyone else because of the interface and access it enables you to have."
Operational Oversight 
Saddleback was born as and remains a family-run business, and the owners take a personal interest in what is happening at the facility. "If they can access what is happening from their phones, that's a massive thing for them," says John.
"What it also means is that I can assign rights for particular people. The warehouse management team have a TV with a live feed in their office to cover both the packing benches and the Goods-In entrance for deliveries. it means they can monitor warehouse activity more proactively."
"For example, if someone believes they haven't received the correct items in an order, they can quickly determine whether that has happened or not. It's really useful in so many incremental ways that really add up, which is exactly why we got it."
 Next Steps
"Bit by bit, we're starting to remove all of the older infrastructure and migrate our way towards Verkada as a whole."
As part of the company's evolution, Saddleback is making the move toward a bonded warehouse operation. In the UK, operating a bonded warehouse means a business can import goods that can be stored within the country without incurring customs duties and taxes, before being exported outside the UK. Such facilities are subject to stringent measures and oversight from the UK's tax authority, HMRC.
 "It is a big driver for us to go from a low-level takeup of cameras to something more complete because HMRC wants to see exactly what we have, and what is coming in and out of the building," says John.
"We have to be completely sure we can account for every piece of stock in the facility, so the ability to install cameras around it that provides security, can be accessed remotely, and can be shared with HMRC, if required, is fantastic for us."