Stratford School Academy
How Stratford School Academy Creates Safer, Healthier Environments with an All-in-One System
Charles Gardiner-Graham, Head of Estates & Operations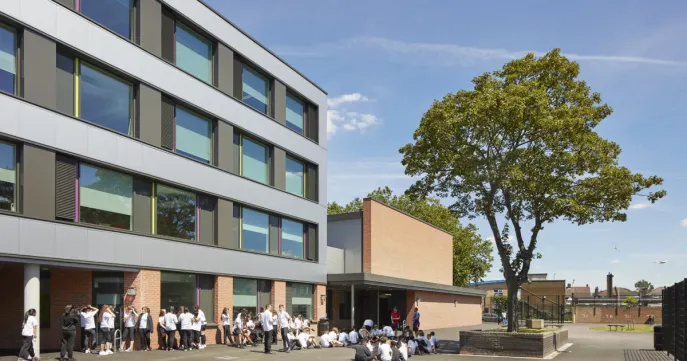 805

investigation hours saved over 3 years

67%

decrease in overall vape events

90%

of vape alerts intercepted
Nestled in the London Borough of Newham, England, Stratford School Academy (SSA) is a secondary school known for its vibrant curriculum and inclusive learning environment. Students leave SSA as highly educated, knowledgeable, resilient, confident, and well-rounded individuals, ready to make a positive contribution in a changing world.
In 2019, Charles Gardiner-Graham joined as the Head of Estates & Operations to lead health and safety compliance, along with facility and information technology (IT) security management. He plays a critical role in guiding, clarifying, and defining the technology academy's infrastructure to provide the very best educational experiences and outcomes for students.
The Evaluation: Smarter Solutions for Safer Schools
Easy to use and maintain

One cloud-based platform

Integrated vape detection
Approximately 1,500 students attend class across two buildings a five-minute walk apart. The distance presents a unique challenge for integrating building technology. Given their age group, there was also an anticipatory need to prevent vaping amongst students.
"When we saw the simplicity of the platform and potential for vape prevention, it was clear that Verkada was the frontrunner."
Why Verkada: All-in-One School Security System
With Verkada, Charles has a building monitoring system that scales easily across the school perimeter.

"We have a single centralised platform to protect staff and students across multiple buildings. Every time we log in, we get the best user experience because of the behind-the-scenes updates."
Whilst a school is much more than just a set of buildings, Charles believes the quality of the estate and its resources have a significant impact on the quality of the educational experience. With evolving features and actionable insights, Verkada enhances learning environments across school grounds – starting from its foundation of health and safety.
Prevent vaping on campus with Air Quality Sensors
Proactive monitoring solutions allow SSA to know what is happening across indoor environments and notify staff about important events as they occur. As youth vaping has risen across the country, Charles is taking preventative action to protect students at SSA with Verkada Air Quality Sensors. Designated staff are alerted if vape emissions are detected so they can respond to incidents immediately. 
"Clicking on the vape alert will take me straight to that sensor and associated camera. We catch approximately 80-90% of incidents that come through email alerts."
Eliminating Gaps in Coverage with Flexible Solutions
Charles worked with Softcat, a certified Verkada partner, to find and install the most optimal solutions across diverse environments. Notably, they were able to cover the entire canteen with one camera – the CF81 Fisheye. The camera supports three viewing modes: Pan-Tilt-Zoom (PTZ), Panoramic, and Four-way split. The latter two modes support People Analytics and Crowd Notifications to assist investigations and accelerate incident response.
"The ease of use is top-tier and the software is user-friendly. Having a solution that maintains itself also frees up IT resources."
An Intuitive Mobile App for Remote Monitoring
Charles gives select school staff the ability to access Verkada devices from a smartphone through the Command Mobile app. The intuitive user interface provides role-based access, push notifications for key events, and the potential for one-tap lockdown with Verkada Access Control.
"Being able to view our entire campus on-the-go is just a lifesaver. We can respond to vape events and share softfootage. Everything is available at our fingertips from a mobile app."
Looking Ahead
Instant Video Verification for Alarm Events
"Instead of having to call out a contractor every time the alarm goes off, Verkada provides visibility through Cameras and notifies us, 'This is what happened, and here is the footage.'"
By simply adding an Alarms license, Charles is able to turn his cameras into a complete alarm solution with professional video monitoring. Trained agents from licensed monitoring stations in the U.K. can review video of any alarm event to dismiss false alarms, ensure priority police response, and take immediate action.
Integrated Guest Software and Access Control
"Instead of contacting the IT department for a visitor report, I can know who is signed in by simply looking at Command, as well as pre-book visitors to facilitate check-in."
Charles is looking to modernise SSA's building operations with Access Control, Workplace, and Intercom. "It's simple to manage building operations in Verkada, rather than having to go across different platforms. Integrating cameras and access control with alarms and guest management just makes sense." 
Ultimately, his goal is to make every aspect of building management simple, secure, and seamless. "We can't wait to see what new features, products, and capabilities become available to us in the future."
---
Join over 3,000 education customers in strengthening school safety, while simplifying ownership. To learn more, attend an upcoming webinar or request a free live demo.