Sun West School Division
How a Canadian School Division Uses Hybrid Cloud Technology to Keep Students and Data Safe
Michael Zummack, Manager of Facilities and Information Technology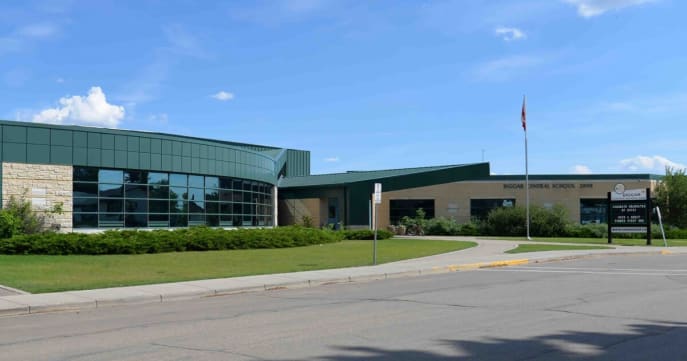 5,000

K-12 students

25,600

square kilometers

800

staff members
Sun West School Division sits at the heart of Saskatchewan, Canada and provides education to over 4,500 students from kindergarten to grade 12. The district covers approximately 25,600 square kilometers and has over 800 staff members committed to providing students with a safe, respectful, and personalized learning environment.
When Michael Zummack, Manager of Facilities and Information Technology, joined Sun West four years ago, he inherited a legacy system consisting of older cameras connected to a newer video management software (VMS) platform. Despite having a multiplex of features, the VMS solution lacked the ease of use, cost predictability, and—most importantly—the ability to meet his standards for data protection.
"Our district goes to great lengths to ensure that an individual's right to privacy is enforced and maintained. All faces are blurred to mask identity, we limit footage access to only authorized individuals, and any disclosure of video data is justified and documented. We needed a solution that: a) is secure by default, b) we can trust not to sell data to third parties, and c) can support having data stored in Canada."
Challenges
Lack of Transparency and Trust in Data Usage

On-Premise Data Storage with No Remote Access

Manual and Costly Security Updates

Unpredictable Maintenance Costs and Camera Replacements

Inconvenient and Hard-to-Use Software System
Solution
Ownership over Video Data and Information Collected

Hybrid Cloud Data Storage with Remote Access

Automated Firmware Updates and Security Enhancements

Upfront, Two-Line Pricing Model

Simple, Intuitive Software
Solution #1: Ownership over Video Data and Information Collected
"We need to have full transparency and power to assess, document, and curb the disclosure of video data outside of our organization. The guarantee of data trust and privacy is non-negotiable."
A primary concern for Zummack was that he had no control over where and how their VMS provider may use their video data. As stated in the provider's privacy policy, the data they collect may be processed, disclosed, and transmitted globally—including to jurisdictions that may not have laws granting privacy protection equivalent to Canada.
"With Verkada, we know our data belongs to us. We have clarity and control over what happens to the information collected in video surveillance, it won't be transferred or sold to any third-party organizations or business partners."
Any video data that Zummack obtains through Verkada belongs to the school district. The footage they collect is used solely for the purpose that surveillance is being undertaken, or for purposes that are permitted by law. The control that Zummack has over data ownership helps guarantee privacy protection and information integrity.
"We have rights over what is shared with and without our knowledge. Rather than uncertainty, I have full transparency and oversight."
Solution #2: Local Storage and Remote Accessibility
"We needed our data to be stored on Canadian soil, in a protected place where we can safeguard it. Our previous system had no plans to build a data center in Canada, and because of privacy protocol, we had no remote access to footage stored in the cloud."
According to guidelines pertaining to overt video surveillance, any recorded images must be stored in a secure location with access limited to only authorized individuals. Since their previous system processed and stored footage globally, its ability to meet this requirement was ambiguous at best. "To ensure our data stays on Canadian grounds, we had to look for another solution."
Verkada's hybrid cloud infrastructure allows video footage to be stored locally onboard the camera itself, compliant with guidelines requiring on-premise accessibility. With storage standards met, Zummack can grant authorized individuals with custom permissions to access footage remotely.
Solution #3: Automated Firmware Updates and Security Enhancements
"To protect our system from vulnerabilities, we needed to manually check for new security patches all the time. We would have frequent costs and delays because the operating system wouldn't be compatible, or we weren't aware an update had been released."
Their previous system relied on a third-party operating system for firmware updates, over which Zummack had limited control. Because their cameras were sourced from different providers, installing the firmware patch on each camera was a manual and time-consuming process. At times, they would face compatibility issues between the operating system and new release, or it would be unclear if their system required an update.
"Security updates are pushed automatically, without us having to jump through any technical loopholes. Keeping our system up-to-date is no longer a task we need to think about, which saves our team significant time and overhead."
Verkada issues automatic software enhancements and firmware updates, ensuring the entire system is safeguarded in real-time with no action or additional cost required. Zummack and his team can simply plug in a new camera, see a green light, and not have to worry about the security of the camera again.
"The best part is that we know we're secure by default. It's a truly plug-and-play system."
Solution #4: Upfront, Two-Line Pricing Model
"Outside of licensing fees, there were unforeseeable costs for replacement servers, replacement cameras, and security updates. Not knowing exactly when these costs would accrue made budgetary forecasting a challenge, especially since we only submit plans once a year."
Maintenance costs were a huge pain point for Zummack, whose previous security system was limited to a one-year warranty. Once coverage ran out, system maintenance and repairs were an unpredictable and frequent point of frustration. When it came time to allocate budget towards facilities management and overhead, anticipating for emergency repairs made Zummack feel as if he was working against a black box.
"With Verkada, I have a clear view of the total cost of ownership. Eliminating unplanned expenses has allowed us to budget more effectively and given us more resources to put toward new initiatives."
Zummack has a transparent pricing model in Verkada that consists of two line items: the camera and the software license. Verkada owns its hardware, firmware, and software end-to-end, so the entire system is protected across the board by a 10-year warranty. Maintenance, updates, replacements, and technical support are all included at no additional cost, which has enabled Zummack to budget more effectively.
Solution #5: Simple, Intuitive Software
"There were a lot of bells and whistles to our old system that made it difficult to use, it was like swatting mosquitoes with a sledgehammer. Extensive training was not only required when we first deployed the cameras, but also every time a new software version was released."
The previous security system consisted of a newer software platform connected to older cameras, which caused compatibility issues and poor user experience for staff members. Many of the system's software features went unused, and Zummack had to hold extensive training sessions for onboarding and navigating new software releases. "Many of the added-value features we were paying for simply weren't necessary, especially when the basic functions weren't being fulfilled. Our school administrators were constantly frustrated that the camera and software system wouldn't speak to each other."
"The software is so easy to use that we haven't heard from staff members since deploying it. When you hear nothing, that's the raving review. It takes 10 minutes to onboard new users, and from there the system is intuitive enough for them to use without assistance or training. "
Verkada's Command platform requires no technical onboarding and is simple enough for anyone to use. Since introducing it, Zummack has empowered school administrators to conveniently and independently find footage by searching through clips by date and time. The time-lapse capability allows clips to be scrolled over quickly, allowing them to navigate quickly in real-time. "Our staff members have been able to learn and use the system on their own with no additional training."
Looking Ahead
In Verkada, Zummack has the transparency and control he needs to safeguard the privacy and protection of surveillance data. Implementing it has also resulted in fewer maintenance fees, less time spent pouring over compliance protocols, and less training needed to onboard administrators. With more resources to put towards ed-tech advancements, he plans to deploy Verkada at more schools in the division within the next year.
If you'd like to learn more about how Verkada's hybrid surveillance solution can help improve student and teacher safety at your school district, request a free trial camera today.