Third Bridge
How a Global Financial Firm Built Workplace Safety Strategies with an Integrated Security Solution
David Dodd, Head of Technology Solutions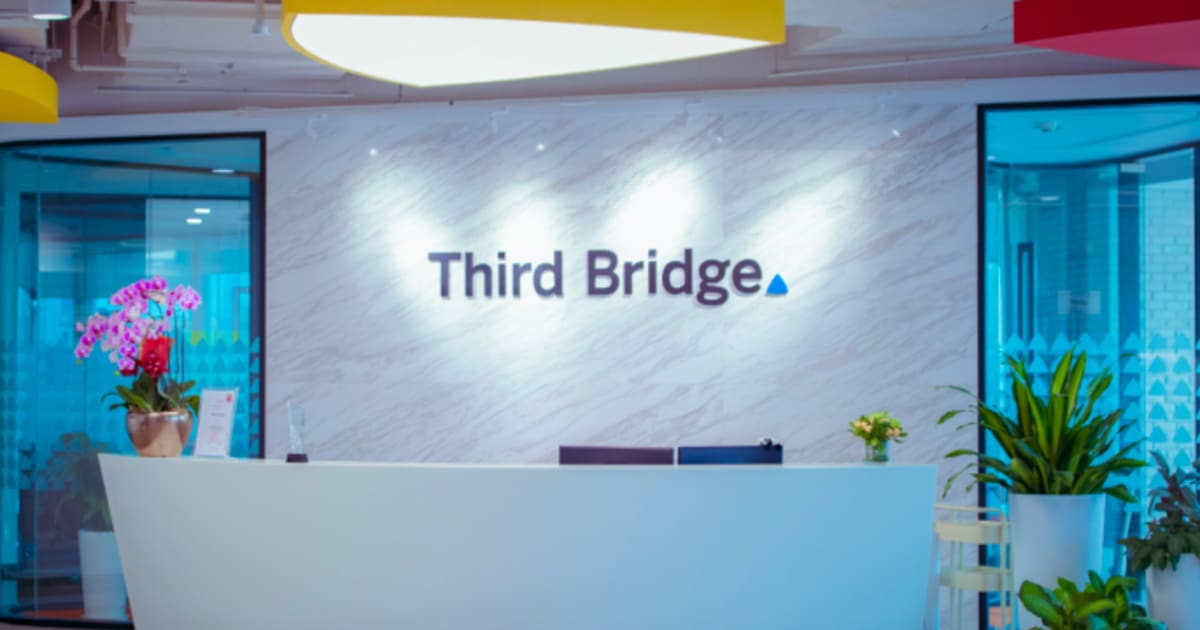 Third Bridge Group has provided research services to private equity and hedge funds since 2007. By offering consultants key insights that emphasize opportunity value, they support teams in driving better investment decisions.
David Dodd, Head of Technology Solutions, oversees global business systems, service and support for seven Third Bridge offices that span across the United Kingdom, United States, China and India.
The Challenge
The legacy CCTV system wasn't accessible outside of the network, so members of the IT team were required to travel onsite to pull footage from monitors kept behind server rooms. System updates were also highly manual and much of the existing software platforms were no longer supported.
Why Verkada?
"You could argue that CCTV is seen (and used) for reassurance for insurance purposes; with Verkada, I don't see it as that. It's been a proactive tool that adds value to the business."
David found Verkada's top-rated mobile app to be hugely attractive, as it provided easy access to cameras across sites from any device. Not only did it centralise management, the intuitive interface made it easy to find, save and share footage to respond to incidents in real-time.
Remote Access Across All Sites
"It's hard to believe what was required of us with the old system. We would sit on stools in a cold server room, reviewing grainy footage on a 14-inch screen with servers whirring away in the background."
With Command, Verkada's management software, David and his team are no longer required to spend hours manually scrubbing through footage to support teams with footage retrieval requests. All cameras are accessible on a centralised dashboard via browser or app, giving his lean IT team the resources they need to support a growing national team.
Integrated Video Security and Access Control Solution
Since the first demo, David was quick to realize that Verkada could offer a strategic approach to workplace safety within the London office. The native integration of video footage and access events allowed for analysis of onsite activity in a meaningful way.
"We started using Verkada's technology as a track-and-trace system. It's been especially helpful during the pandemic, as we're particularly vigilant about who is coming in and out of our buildings. By keying in on door activity, we understand the frequency of site visitors at a high-level. Then we look to space out visits to reduce the likeliness of unnecessary exposure and crowding--we're doing our best to keep the workplace safe at this time."
Intelligent Search Functionality
"On our old cameras, there was no way to filter through footage; you had to scroll through feeds, minute by minute, day by day. With Verkada, we're able to pinpoint most incidents in minutes–the amount of time (and headaches) saved have been immeasurable."
Following a failed investigation–where laptops went missing and no footage was available to aid in the resolution of the theft–David was keen on finding a CCTV solution that'd offer better investigative capabilities.
"The ability to highlight a particular area within a frame and playback only motion events has already cut incident response time in half. I'm not scrubbing through hours of footage, attentively watching to see if something happened within a blink of an eye. These computer vision capabilities produce results in seconds."
Service-based Approach to Security
"My team no longer takes on the responsibility of maintaining and patching vulnerabilities in the system. Verkada's product, and team, really take on the bulk of the work; they've exceeded our expectations in terms of service and support."
Verkada's ability to deliver updates over the air removes the need for manual updates from suppliers or in-house technical staff. The automatic roll out of firmware and software updates mean all Third Bridge sites have the best in security technology, at no additional cost.
"The previous system hadn't been updated in five years, but my team never bothered with an upgrade; it was a low-priority project that'd take a significant amount of time away from urgent tasks. Any small problems that arose were resolved with best efforts. Now with Verkada, we have the service and support of the Verkada team. The 10-year warranty provides additional peace of mind, since we pay a fixed, flat rate upfront."
What's Next?
David intends to introduce server room monitoring for environmental factors with Verkada's newly launched environmental sensor range. Additionally they are rolling out meeting room monitoring for motion, providing real-time notifications when meetings rooms are not supposed to be in use.
---
If you're interested in trying Verkada's CCTV solution for free, claim your 30-day trial camera today!