ToyChamp
How a Growing Toy Chain Scales Security Operations Across International Stores
Guido Thonissen, Information and Communications Technology (ICT) Manager, and Roberto Maniscalco, ICT Support Operator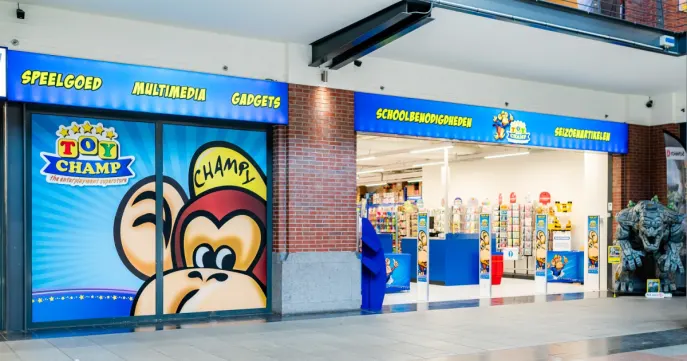 33

stores

10-year

product warranty

Zero

NVRs and DVRs
ToyChamp is one of the fastest-growing toy chains in the BeNeLux, with nine stores in Belgium and 24 in the Netherlands. Since 1989, the family-owned retailer has transformed children's wishes into realities by providing interactive demos with a wide range of toys from the world's most well-loved brands. 
Guido Thonissen (ICT Manager) and Roberto Maniscalco (ICT Support Operator) are responsible for scaling technology software, systems, and operations across the entire organisation.
"During the holidays, we serve around 10,000 customers daily across 33 stores. Each store ranges between 1,400 and 2,000 square meters, so we have a huge ground and scope to cover with an agile team." - Guido
The Challenge
"Standardisation is key to operating at higher efficiency, especially as we open new stores. The legacy NVR system was time-consuming, difficult to use, and not at all scalable." - Guido
Thanks to their focus on customer experience, ToyChamp has seen incredible success and quadrupled their growth in the last few years – so much so that the legacy security camera systems could not keep up. The network video recorders (NVRs) required Guido and Roberto to be physically onsite to access the cameras, which took up to three and a half hours driving from store to store. On top of that, retrieving footage meant connecting through a VPN, downloading the videos, and uploading the files to a computer – which could take up to another hour.
"Instead of logging on various websites, it was important for us to bring all our retail security and operations behind a single platform that we could securely access from anywhere." - Roberto
Why Verkada?
"Our mission is to let children, who grow up in a digitized world, dream in our magical shops. Verkada helps us enhance these in-store experiences, whether it's through data-driven product placement or more efficient security operations." - Guido
Guido and Roberto have effectively reduced footage retrieval time by over 85% and they saved operating costs as well. It now takes seconds – instead of hours – to access footage through the cloud-based Command platform, which connects seamlessly with Verkada Cameras to deliver a software-first experience. Team members can access video analytics, live camera feeds, and historical footage through a simple web browser and mobile app. Hence, they understand everything that's happening across stores without having to be onsite.
"Verkada provides a cloud-based solution that's easy to install, access from anywhere, and use intuitively. Plus, the 10-year warranty is unbeatable." - Roberto
Elevate customer experiences with actionable insights
Within each ToyChamp store are life-size "shop-in-shops" – dedicated areas for partner brands like LEGO®, PLAYMOBIL, Schleich, and Sylvanian. To optimise brand and product placement, Guido looks at Occupancy Trends and Heatmaps from Verkada's edge-based analytics.
"Verkada gives us an understanding of footfall and occupancy trends to inform our operational and sales approach. If we compare the number against what's in the cash register, we can see what the conversion rate is. This allows us to see if a marketing campaign in a particular store or brand [in our shop-in-shop] was a success." - Guido
Guido cross-references data with inventory and point-of-sale information to see when, where, and what toys sell the most. By tracking daily people count, transactions, hotspots, and purchases, the team has actionable data on when to offer promotions, where to place the products, and what to offer customers by region. As a result, Guido empowers the ToyChamp team to improve conversion figures by refining store layouts, product placement, and marketing strategies based on high-traffic areas. Actionable insights are centralised behind an intuitive dashboard, easily accessible and comprehensible for team members to navigate without additional training.
"Our A-Brand supplier, LEGO, is interested in using Verkada's analytics to understand shopping behavior and restructure their section based on insights from heatmaps." - Guido
Reduce total cost of ownership
"We have a 10-year license and 10-year warranty with Verkada, compared to our legacy system which had a five-year max. Over the product lifecycle, we save a lot of money per store. We don't have to worry about fixing recorders, and we get firmware and software updates automatically."- Guido
All Verkada devices come with an industry-leading 10-year warranty to provide him with greater peace of mind on top of a lower cost of ownership. Over-the-air firmware and software updates are deployed automatically to ensure his system stays secure and up-to-date. Unlimited user seats and 24/7 global technical support are also included at no additional expense. In fact, Guido has just two line items (the hardware and software) in a straightforward pricing model.
Simple to install and manage with over 85% time-savings
"Configuration is second to none. We have all our devices on one platform, and Verkada is continuously improving over time with new features and enhancements." - Guido
Guido, Roberto, and their team can manage Verkada devices and secure their stores remotely, with seamless cross-product integrations between cameras and alarms on an easy-to-use platform. They can view sites easily from the Command mobile app or web browser. Alerts are set up for after-hours motion, tampering, and system health, so Roberto is notified immediately through SMS text or email if issues arise.  
"Accessing cameras is as easy as logging into a mobile app, and it takes just 10 minutes to share video feeds or footage." - Roberto
Looking Ahead
From assessing promotional performance to securing stores after-hours, Guido and his team continue to find new ways to improve business and security operations with Verkada
"We plan to open two new stores a year, and Verkada will be at all of them. Verkada makes technology management simple and seamless – we're excited to see what's next." - Guido
---
Join our upcoming webinar to learn how to deploy simple, smart and scalable cloud-based video security at your organisation.