Union Station Homeless Services
How a Leading Non-Profit Modernizes Front-Desk Operations with Verkada Intercom
Kyle Petrie, Director of Operations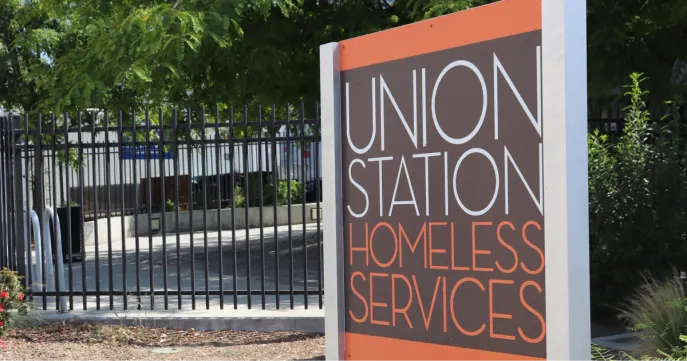 Background
For 50 years, the Union Station Homeless Services has been the leading non-profit agency helping homeless individuals and families rebuild their lives. With dozens of locations across San Gabriel Valley in California, Union Station serves a combined population of 1.5 million across more than 36 cities and communities.
As the Director of Operations, Kyle Petrie manages physical security and building operations across facilities – ranging from office spaces and shelters, to dormitories and transitional housing apartments.
"We have dynamic environments where clients and staff members travel across different locations. Verkada provides a simple solution to streamline communications, ensure their safety and manage building operations from anywhere."
Challenge One: Limited remote access for intercom
Fixed hardware receiver points require receptionists and resident advisors to be stationed at their desks in order to receive intercom calls. However, due to staffing and resource limitations, this was neither practical nor expedient. With the 24/7 nature of the facilities, Kyle needed a way to route calls across multiple people – regardless of whether they're on- or off-premise.
"We have a multi-point to multi-point setup, in which Intercom routes calls to multiple points before granting access to one particular campus."
How Verkada solves it: Respond to video intercom calls from anywhere
"Our receptionist in the administrative building answers most of our Intercom calls. After hours, we have a resident advisor working in a different building who can remotely receive those calls, see who is there and unlock doors – all from a cloud-based platform."
With Verkada Intercom, Kyle enables multiple touchpoints to route calls and grant access across facilities. Visitors can easily contact the staff through video intercom with a press of a button, and calls are directed to several receivers to ensure that someone is always available – no matter the time of day.
Kyle is able to provide staff with flexible call routing and receiver options via:
The Verkada Pass app: From a mobile app, staff can take intercom calls on-the-go and unlock doors in one tap.

The Desk Station app: From an iPad app, staff can stream video, unlock doors and set an "Away" status to be skipped the call sequence.

Command: From a web browser or mobile app, staff can answer calls, unlock doors and trigger custom response flows such as building lockdowns.

Existing phone numbers: From their cell phone, staff can perform redundancy checks and unlock doors from the phone's keypad with dual-tone multi-frequency (DTMF) support.
Regardless of where they are, front desk staff can receive calls, check entrances and ensure proper entry. Likewise for Kyle, every component of the office intercom — adding new receivers, changing call routing logic, viewing intercom footage — can be managed remotely. "If I'm out in the field and I need to check on a facility, I just open Verkada's mobile app and take care of it from my phone."
Challenge Two: On-premise, siloed intercom systems 
"We have a large number of drop-in visitors – ranging from people seeking services and clients receiving services, to donors and volunteers. It is vital that we know who we are talking to."
To help staff make secure entry decisions, Kyle sought to improve their visibility, communication and control over entry points. The legacy camera system could only stream live video in poor quality, with no options for retaining historical recordings that could be accessed later for investigations. There was no integration with the existing intercom system, which meant jumping between disparate solutions in order to check who was at the door. "Plus, video sharing was non-existent."
How Verkada solves it: Seamless, cross-product integrations on one platform
"Intercom dovetails into Command perfectly, and the integration between products is effortless. Having our building operations behind a single pane of glass has been a game-changer, from both a safety and efficiency standpoint. Verkada is a no-brainer – it's just so easy."
Kyle now has an all-in-one solution in which Intercom, Cameras and Access Control work in tandem behind a simple user interface. By deploying a single cloud-based solution, he reduces the cost of overhead and training required of using three different systems. Calling, video recording and AI-powered analytics are performed at the edge; simplifying day-to-day operations for staff members, while providing them with greater insights into building events.
"Visual verification is a requirement for us, and part of our best practices. We're able to achieve this easily with Intercom."
Peace of mind has been the greatest benefit for staff members, who highlight Verkada's ease of use, clarity of image and product quality in making them feel safe. During one incident, a Person of Interest was detected from 100 feet away as they approached the front door. "It was the quality of the Intercom camera that allowed us to respond immediately with our protocols, and ultimately keep the campus secure."
Challenge Three: High overhead and technical requirements
Previous legacy on-premise systems required complex configurations, while offering no native video and poor access control integrations. Despite its limited capabilities, the systems had high infrastructural demands – Kyle needed to maintain digital video recorders (DVRs) and servers, in addition to running dedicated analog cabling.
"Configuration for our previous intercom solution took more than a day, due to complicated multi-point network setups. To make matters worse, support was never available when we needed it."
How Verkada solves it: Simple to install, use and manage
"Setting up Intercom is as easy as installing a Verkada Camera. You just mount it, plug in your ethernet, scan the QR code and take a few minutes to configure the settings. If you send me a device right now, I could have it up and running in 15 minutes."
Kyle scales Verkada with ease, thanks to plug-and-play devices and hybrid cloud architecture. To bring his Intercom and Camera system online, all he needs is a PoE+ connection to the internet.  He is able to monitor and set up devices directly from Command, and reduces maintenance overhead with automatic firmware updates, over-the-air software upgrades and 24/7 technical support.
"I love Verkada's product ecosystem, but the support team is the best. I haven't experienced better support from any similar product or provider."
Looking Ahead
Leveraging Verkada's cloud-based Intercom integration, Kyle has improved communications, physical security and building management across locations. No longer limited to static on-premise systems, he has modernized the front desk experience with scalable solutions that can evolve with their changing needs. 
"Verkada provides the Apple experience where anyone can log into Command and understand how to use it intuitively. With the ease of use, it sets a high bar of expectations when I'm looking for other SaaS solutions in operational areas that are under my responsibility."
After the success of his initial deployment, he plans to expand his Verkada fleet across additional sites. To further enhance health, safety and quality of care for clients, he is also looking into Air Quality Sensors for real-time environmental monitoring
---
To see Verkada in action, attend an upcoming webinar or request a free live demo.