Vancouver Mall
How Vancouver Mall modernized security operations with speed and simplicity
Pete Allen, Facilities Manager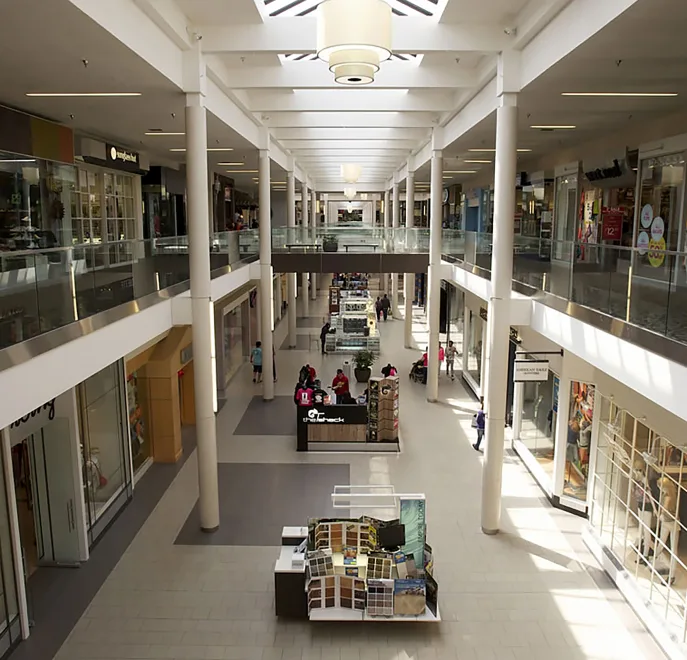 2X

Faster Time to Install

27%

Lower CAPEX

10 Year

Product Warranty
Background
Spend a few minutes with Pete Allen, Facilities Manager at Vancouver Mall, and two things quickly become clear.
First, this is not his first rodeo. With 4 years under his belt on site with Vancouver Mall, and having worked previously as a building engineer at an area hospital, Pete knows what it takes to run a world-class facility.
"We partner effectively with other teams, and support our tenants — that's the key," he says.
Second, it's clear that Pete Allen doesn't shy away from finding new ways to solve problems. With an in-house crew of 3 facilities technicians, he and his team are frequently found chatting with tenants about new ideas — from ways to improve support for in-store promotional events, to how to track foot traffic throughout the day.
"Verkada could not get any more simple or more user friendly."

– Pete Allen, Facilities Manager at Vancouver Mall
Challenge
For a long time, security cameras weren't a priority. Vancouver Mall "ran a tight ship with security," according to Pete, and historically theft and other crimes weren't a chronic problem. Recent developments, however, had prompted a physical security needs assessment.
As part of a $1.1 billion acquisition by Centennial Real Estate, it was recommended that Vancouver Mall invest in closed circuit television (CCTV) to support operations and help speed forensic investigations in the event of a theft or other incident.
It was during their assessment period that Vancouver Mall connected with QOVO Solutions, a full-service system integrator serving enterprise clients across the western United States. QOVO's COO, Matthew Stiger, put a proposal together and partnered with Pete Allen to present their recommendation to a group of executives from Centennial.
Specifically, the proposal addressed the following challenges and requirements:
Limited Bandwidth –** **Faced with bandwidth constraints, Vancouver Mall wanted a system that wouldn't require additional investment in their network
Limited IT Resources – Vancouver Mall had limited in-house IT resources and sought a system that didn't require special technical knowledge to use or manage
Simplicity and Scale – Vancouver Mall sought a system that was truly easy to scale — and wasn't constrained by 16- or 32-channel DVRs like traditional CCTV
Solution
After seeing that Verkada's system would be quick to install, and easy to manage and scale, corporate leadership signed off on the proposal. QOVO's proposal included just three line items and cost came in 27% less expensive than going with traditional CCTV technology.
Verkada cameras (22 indoor, 8 outdoor)

Verkada software license

Installation cost
Verkada and QOVO's solution was selected for a number of reasons.
First, Verkada's technology eliminates network video recorders (NVRs), digital video recorders (DVRs), on-premise servers, and other headaches common to traditional CCTV systems. As a result, QOVO's team installed and configured the Verkada system in just over a week — about half the amount of time quoted by a competing bid.
Second, Verkada's unique system design also made it possible to add cameras incrementally, on an as-needed basis, a benefit that appealed to Vancouver Mall.
Third, Verkada's software is so easy to use that it required no additional training for members of Pete's team — or other mall staff members, such as security and management.
Finally, each Verkada camera on average consumes just 20 kilobits per second of bandwidth, meaning that Vancouver Mall could easily install the cameras it needed for coverage without having to invest additional dollars on upgrading its Internet service.
"Verkada is perfect for any multi-site location looking to scale."

– Garth Gilmour, CEO at QOVO Solutions
Results
Now exclusively using Verkada for video surveillance, Vancouver Mall has strengthened the physical security of its operations for its tenants and guests.
Speedy Investigations
Just 2 weeks after going live with Verkada, Vancouver Mall experienced a slip and fall incident. In under 15 minutes, Pete and his team were able to find and share the footage with management.
Efficient Operations
Verkada enables the facilities team to understand what's going at the mall at all hours of the day, all without having to be on site. From better supporting a tenant's Saturday promotional event to quickly knowing where equipment is, Pete and his team are finding new ways to make their work more efficient and effective.
Lower OPEX
Not only was QOVO's bid with Verkada 27% lower than traditional CCTV, Vancouver Mall's system stood to significantly lower operating costs over the life of the system. Backed by Verkada's 10-year product warranty, and the decision to go with Verkada was a no-brainer.
What's Next
Pete and his team have immediate plans to add 6 to 10 more cameras at the Vancouver Mall faciltity. Having seen Verkada's software and live links of surveillance footage, other groups at Centennial are looking at adding Verkada to their locations as well. And, further out, Vancouver Mall looks forward to incorporating more of Verkada's machine learning into their operations.