Yakima Valley Memorial Hospital
How a hospital uses Verkada products to support a healthier and safer environment
Bob Woody, Information Systems and Applications Analyst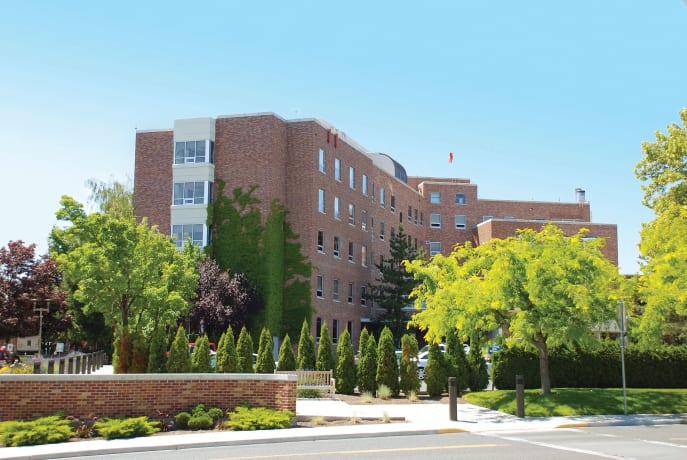 Background
As the sole provider of healthcare services to over 125,000 people in Central Washington's Yakima Valley, Yakima Memorial Hospital provides outstanding health care that ranges from primary care to complex specialty and surgical procedures. Yakima Memorial operates an acute care hospital in Yakima, has 30 patient clinics, administrative locations, and is the busiest community hospital and second busiest emergency room in the state of Washington.
Bob Woody, an Information Systems and Applications Analyst shares how the hospital uses Verkada products to support their security and pharmacy staff. Moreover, Bob provides insight into how the footage and data gathered from Verkada devices helps the hospital take action in a variety of situations.
The Challenge
Yakima Memorial Hospital previously had three DVR systems that were purchased over time.
"We were looking for a camera system that did not have all the internal infrastructure. We did not want DVRS or servers doing all that internal encoding or decoding. We needed high quality, high resolution cameras with enough onboard storage for 30 days."
A key factor that Bob was looking to improve with any future installment was image quality. To support investigations, it was essential to capture details that could help local law enforcement follow up on incidents.
"DVRs were failing and the quality of the systems was terrible. The images were not usable, because you could not tell the difference between a person or a pet. If you saw a vehicle, you could not tell the make or model. You might know the color, but nothing else."
On top of poor image quality, when footage needed to be shared it could not be retrieved.
"Our storage was constantly getting overwritten with DVRs — we couldn't retain or share footage when we needed to."
Bob knew that a hybrid cloud camera system would be the best option for solving these challenges. When evaluating the options available, he specifically looked for a hybrid cloud system that supports advanced AI features, has a quick cycle of product development and innovation, and offers top quality support.
Why Verkada?
Yakima Memorial Healthcare has a total of 185 Verkada cameras installed across 7 separate physical locations, with 81 active users on the Command platform. In addition to hospitals and clinics, they also have cameras installed at their Northstar Lodge Cancer Care Center and Children's Village.
Supporting safety in the emergency department
Maintaining a safe environment for patients and employees is the top priority at Yakima Memorial Hospital. The emergency department sees the most foot traffic, averaging 300-400 patients per day. Situations often arise where individuals show up frustrated or upset, which creates challenges for the security team distributed across the building. For example, when nurses are trying to triage, interactions can become contentious when patients demand to be seen immediately and force themselves to the front of a line. Verkada cameras help alert security teams throughout the hospital premises so that they can respond to situations when colleagues need additional support.
When reviewing doorway incidents, the security team has found that the camera audio feature helps add valuable context into how situations were handled by hospital staff. If the recorded situation needs follow-up, video footage paired with audio helps law enforcement determine appropriate action. The sharing features built in Command enable quick review and response.
"With the features that Verkada allows us, we can share a video without having to dig out a flash drive, or email a video clip that is too big to send via email. All the things that make it difficult to share video information, we can get past with Verkada features that allow us to share footage directly through email or text message"
Most importantly, with the sensor resolution of Verkada cameras Bob can now "...identify specific individuals in specific places", and also has the "...ability to identify vehicles and license plates on outdoor cameras".
Gaining visibility to understaffed areas
"The Verkada cameras are more than 24/7 monitoring devices, they're also a useful tool for streamlining operations and improving patient care when we're understaffed."
Yakima Memorial Hospital also uses Verkada security cameras to provide better patient service and drive efficiency at their pharmacy. The pharmacy is located in the basement, and it gets foot traffic around the clock 24/7. However, late at night around 3am there are not enough staff to wait around to see if a customer arrives to pick up medication.
To solve this problem, Yakima Memorial Hospital installed Verkada cameras in the pharmacy waiting area and paired them with a VX52 viewing station in a staff-only area behind the counter. Pharmacists working off-shifts can look up at the VX52 viewing station and quickly monitor whether someone is waiting to pick up medication, rather than having to stop what they are doing to check the waiting area.
"I have found the VX52 viewing stations to be incredibly helpful, easy to setup, super reliable, and they handle multiple cameras and multi-tiled layouts with ease. Verkada provides a great piece of technology that we didn't know we even needed until we installed it."
Monitoring air quality in the hospital
Seasonal wildfire smoke often affects Central Washington, which leads to unhealthy air quality across the region. According to Bob, "It smelled like a campfire all the time". Bob realized that Verkada SV11 Environmental Sensors could be used to convince the facilities department that additional measures needed to be taken to maintain an environment healthy for both patients and employees within Yakima Memorial Hospital.
"The environmental sensor made it clear that we were maxing out our air quality index and that this was not a safe place to be. Our facilities department ended up bringing in individual air scrubbers and air purifiers and putting them around the hallways of the public areas - because we had data that we did not have before."
The ongoing use of the sensors allows the hospital to track air quality and take necessary measures to ensure clean air throughout the hospital.
Final Takeaway
Bob feels that the installation of Verkada cameras has been "...a huge change and incredible improvement over our old DVR based security systems". Specifically, what sets Verkada apart is the "...ease of use and ability to install Verkada cameras quickly and easily, and move them if the need arises. Most people think of security camera solutions as either being very expensive or very labor intensive. Verkada is neither of those."
The installation of 185 cameras was phase one of a longer term project at Yakima Memorial Hospital. Bob intends to expand their current camera count over time, by rolling out the project to branches, administrative offices, and other locations where it is not feasible to have dedicated security personnel.