Back to Main
Introducing Heatmaps and Bounding Boxes: Cameras as a Sensor
We are excited to introduce Heatmaps and Bounding Boxes as part of the [Command][1] software platform. With these features, your Verkada security camera becomes a sensor that can plot the location and duration of people and vehicles in a frame. Both of these features are layered on top of our History Player, giving users the ability to summarize hours of data quickly and jump to a specific segment of interest.
When combined with People and Vehicle Detection, Heatmaps and Bounding Boxes provide a rapid way of identifying periods of interest from a camera's stream. Heatmaps enable a high-level overview of when and where human activity was detected within the History Player's timeline. Then, a user can quickly scrub through footage using Bounding Boxes and the Motion Bar to pinpoint the precise time of an event. Once identified, users can simply click to view or archive high-definition video of the event.
Heatmaps
With Heatmaps, users can create on-demand visualizations of how their space is being utilized. This feature can be implemented on any Verkada camera over a configurable time period—providing retailers, healthcare providers, school administrators, and hospitality companies (among many others) with insights into space planning, staffing levels, customer behavior or advertisement effectiveness.
Verkada's heat-mapping solution is unique in that it only plots the movement of people and vehicles. By eliminating background motion from lighting or weather changes, Verkada's Heatmaps feature filters out false positives.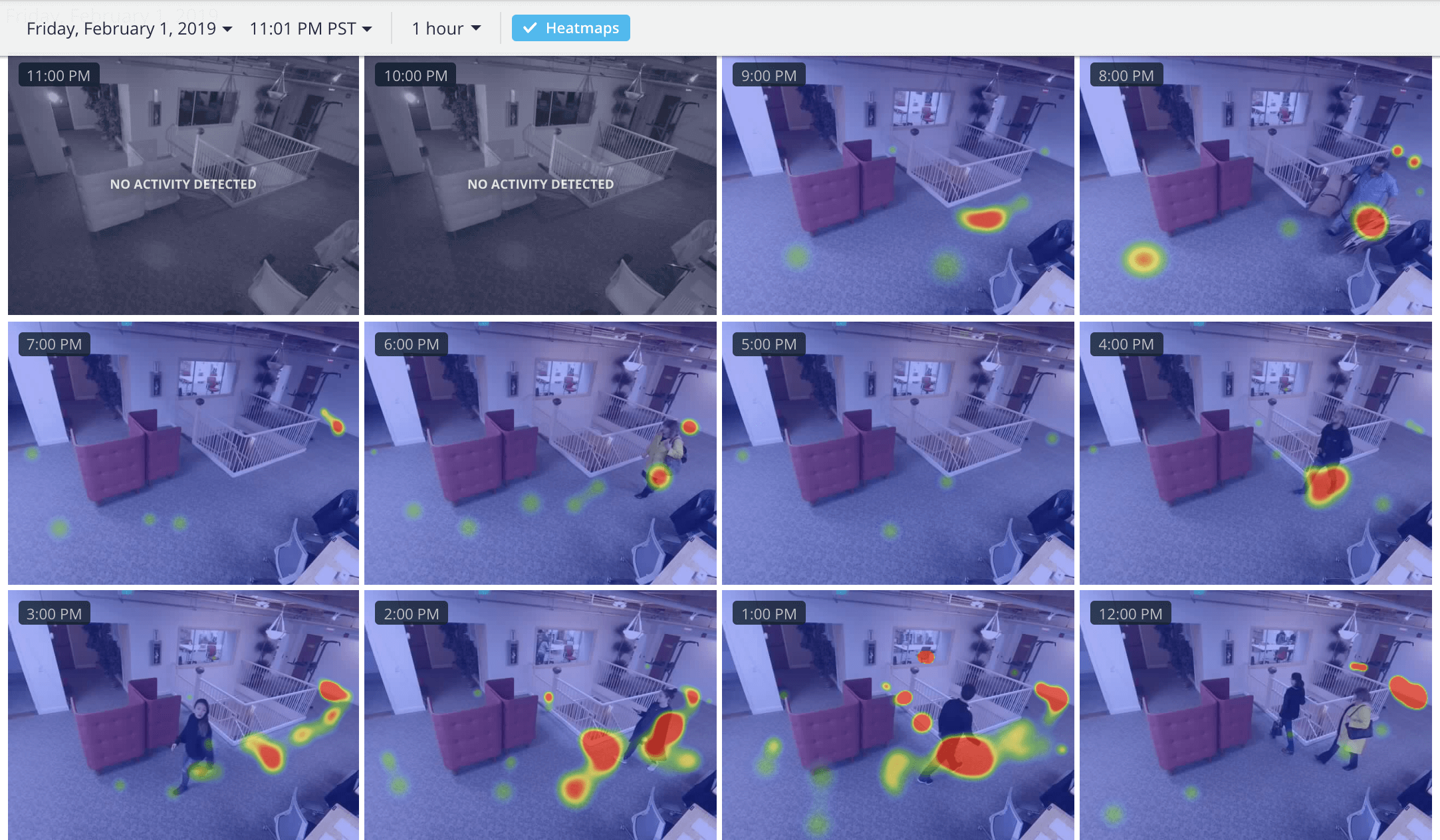 This feature is particularly interesting for users who need to assess staffing levels or consider the layout of their physical space. Examples of how organizations take advantage of it include:
Retailers employing Heatmaps to understand shoppers' behavior and identify the highest-traffic locations in their stores. With that data, they can appropriately place products, create signage and optimize their store layout. Some are modifying cashier or even cleaning schedules based on Heatmaps data.
Users in the restaurant and hospitality industries applying Heatmaps to evaluate staffing levels across different periods of service and to design their reception and bar areas for optimal customer flow.
Bounding Boxes
Last year, Verkada released Vehicle and People Detection. We received so much positive feedback on the feature that we decided to expose how our computer vision algorithm is processing video streams to detect people, vehicles and other objects. In the Command platform, Bounding Boxes show by default. People and vehicles are outlined, making it easy to understand how the vehicle and people counts are generated.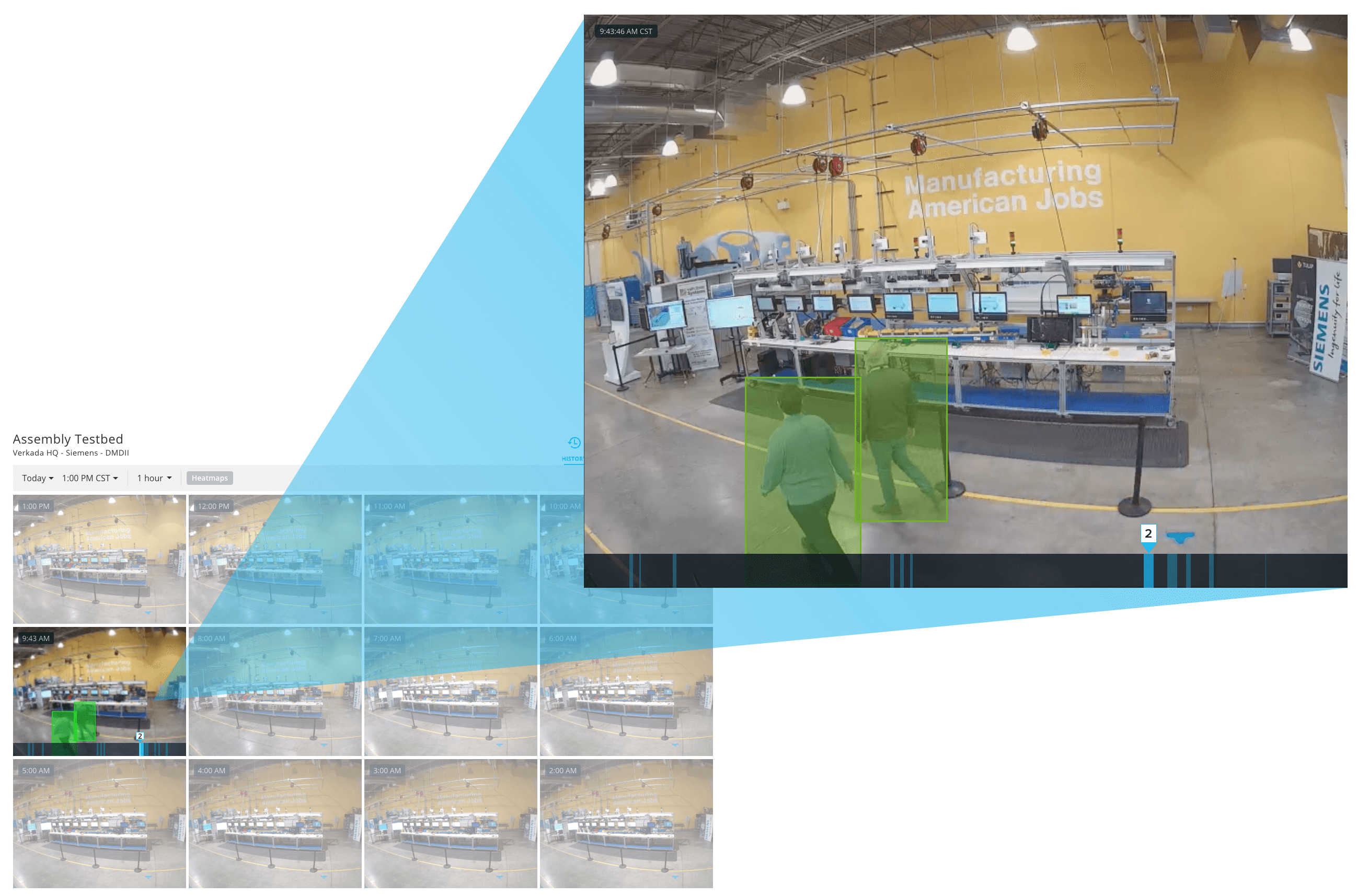 How Do These Features Work?
Verkada's computer vision models analyze the thumbnail images sent to the cloud to identify people or vehicles. When a person or a vehicle is recognized, that location is outlined in the frame with a Bounding Box. Selecting Bounding Boxes from the display shades people in green and vehicles in yellow for easy identification.
Heatmaps are generated from the same source data. Bounding Boxes are summarized and projected onto the ground. When a user selects Heatmaps, the Command software aggregates each person or vehicle detected to calculate the intensity of colour displayed on the thumbnail preview. The colours range from red (where the human activity is most intense), to yellow (medium intensity), to green (least intense). Colours are normalized to allow for comparison across time periods. Heatmaps are generated for a configurable time window—from 20 seconds to 4 hours.
Enabling Heatmaps and Bounding Boxes
If you are a current Verkada customer, you can try out Heatmaps on the History Player page. Select the time period you would like to use and click on Heatmaps. There is no need to enable Bounding Boxes, they are viewable by default in History Player. Step-by-step instructions can also be found in our Knowledge Base .
We're excited to launch the Heatmaps and Bounding Box features for our customers as a way to make it easy to summarize and display the complex visual data that our cameras process. We're eager to hear how you use them to make your locations even more safe, efficient and productive.
—
Want to learn more? Get a 20-Minute Demo and see how Verkada can help your organization modernize its approach to physical security.