Not Just Another Video Management Platform
Connect all of your Verkada physical security devices in a single, cloud-based platform. With point-and click simplicity, it's everything you need to protect at scale.

Scale with Simplicity
Add more devices and sites without complicating the user experience.

Single Pane of Glass Monitoring
Gain actionable insights with information integrated across devices.

Access Anywhere
Remotely access and manage your sites from any browser or device.
Quickly Detect and Respond to Threats
Aggregate data across devices within a centralized platform. Command provides users a complete picture of activity across sites to easily detect threats and expedite response times.

It took over half an hour to isolate and produce footage on our old system, if it recorded at all. With Verkada, I can retrieve anything I need in under five minutes with just my thumb. I'm 100% satisfied with how easy and reliable it is.
Bruce Johnson, IT Director, RSU 13
Effortlessly Manage Sites at Scale
Eliminate complexity with Command's intuitive user interface and intelligent automation. Add devices in minutes, while leveraging granular roles and permissions to manage users at scale.

Command allows me to set access-rights at a really granular level with users and groups, with audit logs for both cameras and users. For ad–hoc access to footage, it takes literally moments to share a live link via email or SMS.
Jason Keen, Global Head of Security Operations, Citrix
Seamless Integration with Existing Tools and Systems
Streamline workflows by integrating with the tools you already use today. Ingest notifications and extract data to third-party tools, such as Slack and PagerDuty.
Here's a solution that doesn't require a NVR or DVR, provides API integrations with workflows like multifactor authentication, and automates manual tasks like system updates so it's easy to support on an enterprise level.
Patrick Allen, Director of Network Services, Dairy Farmers of America (DFA)
Learn more about our integrations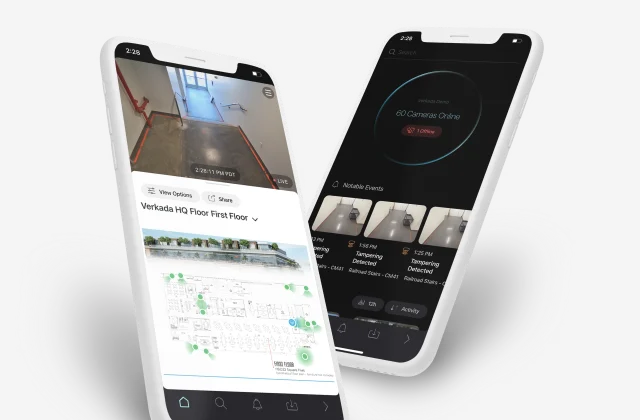 Manage from Anywhere
Access all your Verkada devices and manage physical security on-the-go from our intuitive Command app. No port-forwarding or VPNs required.

There are no secrets to becoming successful with Verkada. The way the system works is effortless—from the way it's installed, to getting it up and running.
John Spirko, Senior Director of Loss Prevention, Equinox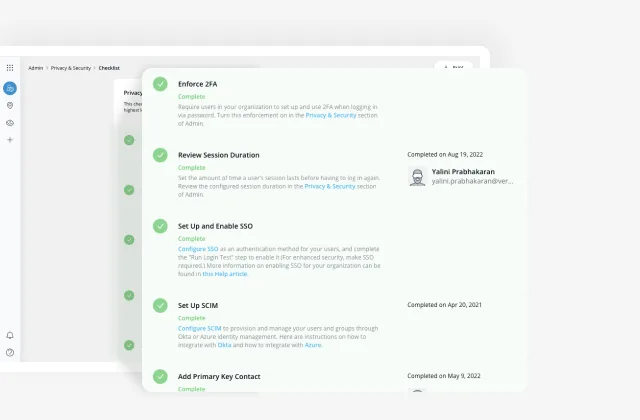 Secure from the Ground Up
Protect data at every stage of its journey. From SSO, granular user permissions, to tools like encryption key management, keep data secure and protect your organization at every layer.

To say that pulling footage is 50 times faster would be a conservative estimate. I can securely access cameras on my tablet or phone from anywhere, and have secure credentials at the front end with the Okta integration.
Dave Ledoux, CIO, Nizhoni Health
Try Verkada For Free
Our 30-day trial includes:
Brand-new Verkada device and accessories
Full access to cloud-based Command software
Free setup, US and UK-based technical support and shipping
Start a Free Trial