Belron International
How an International Corporation Automates Credential Management
Ash Hussain, IT Lead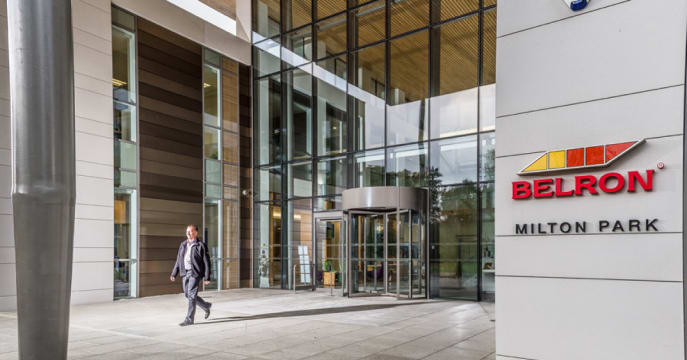 Belron is the world's leading vehicle glass repair and replacement group, operating in 40 countries across 6 continents and is home to 26,000 employees. Belron International Limited (based in Egham, Surrey) provides global support and shares best practices amongst all businesses in the group, which include well-known brands such as Carglass®, Safelite® AutoGlass, Autoglass®, Lebeau®, O'Brien®, Smith&Smith®, and Speedy Glass®.
As the IT Lead, Ash Hussain manages and drives continuous improvement initiatives over enterprise tools, security, and infrastructure. In his evaluation of a new physical security system, he sought a solution that could scale effectively across the organization.
Challenges
Costly, high-maintenance on-premise hardware

Outdated, end-of-life access control system

No integration between cameras and access control
"We needed a new solution to replace our legacy access control and badge printing system, which was over 10 years old. The reason I got into cloud-based access control is because of my Apple device; I have a smart lock at home, and it unlocks the door for me. I thought, 'Why can't we have that in the office building?'"
Why Verkada
End-to-End Credential Management

Modern Access Methods Across Badging & Mobile App 

Native Integration with Video Security and Access Control
"I love automation. What stood out about Verkada was the native integration between video and access control, along with the ease of use and management. You have a badge around your neck or your phone in your pocket, and it just works."
With Verkada, Ash has modernized access control at the Belron headquarters, while providing employees and contractors with a range of flexible access methods. Belron International uses Microsoft's Azure AD to manage user and employee access to cloud-based software products like Belron's company email system. Through Verkada's SCIM integration, Ash is able to pull the user fields from Azure AD into Verkada to automatically map user name, department, start date, title, and more from AAD to Verkada. As Ash says, "We have 575 users currently who sync between Azure AD and Verkada. We have linked them to badge templates so now if an employee is a contractor, their badge shows a red bar signifying 'contractor'. The access levels and permissions of that user are also mapped based on this contractor status. It gives us a fully automated system from beginning to end." 
Automated Profiles and Badges with Verkada's SCIM Integration 
Ash utilizes Verkada's cloud-based badge design and printing, as well as access control's native integration with video security (including LPR cameras) to enhance security and ease of use for end-users. 
Customizable, End-to-End Credential Management with Badge Printing
"We manage all our credentials in one place: design, issue, print. Adding to the convenience, we integrate with Azure AD to automate user provisioning. Our security guard doesn't have to worry about spelling names or issuing access levels; we can ensure data and access permissions are safe and accurate."
Ash easily templatizes, administers, and prints badges directly from Verkada's cloud-based Command software platform. Unlimited user profiles, SCIM integrations, badge design, and printing are offered with any Verkada Access Control license, removing hidden costs for a straightforward total cost of ownership.
He leverages existing profiles through existing Azure AD integrations to automate the process of manually on/offboarding users. In doing so, he has enhanced ease of use while removing the security vulnerabilities associated with time delays and lost cards. "The Command dashboard is highly-responsive. If I decommission a user, their access is gone instantly." 
Modern Access Methods Across Badging & Mobile App 
"Verkada raised our access control into the 21st century. If you leave your badge at home, you just use your phone. Our security guard can unlock doors from anywhere."
Ash makes it convenient for employees to gain access to designated areas with a range of secure access methods, including physical keycards and the Verkada Pass app. Any mobile device with the Pass app installed can be used as a digital keycard to unlock doors remotely, or via Bluetooth. Employees and contractors have custom badges (differentiated by a green or red line) with levels of access depending on roles. "Only my team can access the IT room, while all employees and contractors have access to the stairwell." 
Native Integration with Video Security and Access Control
"Verkada's CCTV and access control are all-in-one, so we can streamline security operations and quickly verify door events."
With natively integrated access control and cameras, any door event is instantly paired with corresponding video footage. It takes seconds to investigate incidents, enabling a greater level of security for badging needs. Ash is able to tag and sort video clips along with proactive alerts for meaningful events (such as tailgating or door held/forced open events).
Looking Ahead: Centralizing Video Security, Access Control, and Visitor Management
Ash also plans to leverage Verkada's edge-based video analytics on cameras to open up new use cases:
"The cameras installed on the main gate are LPR; as soon as an employee drives up, the camera detects their license plate, and the gate automatically opens."
He is also looking into integrating Verkada Guest for visitor management.