Canada Goose
How a Leading Luxury Retailer Strengthened Global Security Operations
With Devon King, Senior Manager of Security Operations, and Michael Young, Lead, Physical Security Planning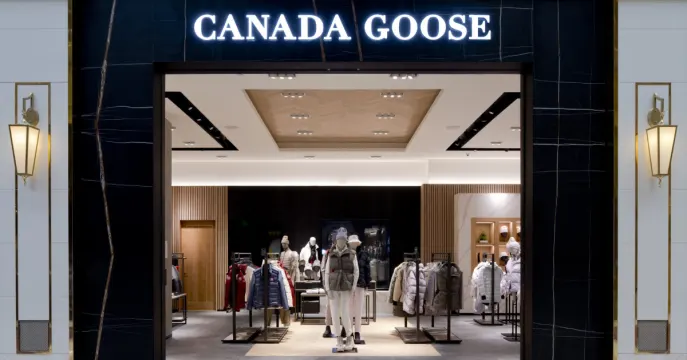 1 hour saved

per investigation

10 year

product warranty

Minutes

to configure alarms
Headquartered and founded in Toronto in 1957, Canada Goose is one of the world's leading lifestyle brands and manufacturers of luxury performance apparel. Today, the company operates stores internationally but continues to keep production of its core down-filled products at home in Canada, reflecting its commitment to uncompromised craftsmanship and relentless innovation.
As the Senior Manager of Security Operations at Canada Goose, Devon King oversees the security procedures and technology for stores across North America, EMEA, and Asia-Pacific. He leads an agile team that includes Michael Young, Lead, Physical Security Planning, to implement processes that scale with the organization as it aims to double its brick-and-mortar presence over the next five years.
The Challenge: Expanding global security operations
As Canada Goose opens new stores around the world, Devon and his team are working towards a scalable, sustainable and simplified approach to physical security that supports an expanding global footprint. They had three key objectives to solve:
Reducing operational inefficiencies associated with disparate, legacy security systems.

Scaling global security operations with cloud-managed technology to drive more value across business initiatives.

Accelerating incident response time for proactive asset protection and loss prevention.
Why Verkada: Modern technology that scales with ease
Key result: One hour saved per investigation
"On average, we save an hour per investigation. Given everything is integrated behind a user-friendly software platform, we can find what we need easily." - Devon
Devon has effectively streamlined and scaled global security operations through Verkada's:
Ease of use: Security systems are centralized to an intuitive dashboard on the cloud-based Command software platform.

Efficiency and quality: Simple-to-install, durable hardware is built with a 10-year warranty and integrates seamlessly behind a single pane of glass.

Product innovation: The latest technological enhancements are delivered through automatic updates and an expanding product suite.
The time saved on investigations has increased efficiency across his team, enabling them to strengthen security and drive additional value in more areas of the business.
"I'm able to work smart, and simplify my workflow to save a lot of time." - Michael
1. Ease of use
One system to centralize global security operations
"When collating data between cameras, doors, sensor and alarm events, it's easy to get a full picture of what's happening anywhere around the world. The user interface is well-designed and the centralized reporting helps speed up investigations." - Devon
Devon chose Verkada for its current capabilities, as well as its future potential. With a focus on leading-edge technology and continuous innovation, Verkada keeps Canada Goose at the forefront of physical security technology with a diversified product portfolio that includes: security cameras, access control, air quality sensors, alarms with professional monitoring, mailroom and Helix point of sale (POS) integrations. 
"We save a lot of time with the intuitive UI, and consolidate all the different processes in one place instead of going to four different systems." - Michael
Comprehensive coverage with natively integrated solutions
"Verkada is easy to install and program to fit our needs. I love that granularity, from custom alarm settings to POS integrations through Helix." - Devon
The security department oversees the planning, installation and development of security systems across global sites. When Devon had the opportunity to deploy the Verkada Multisensor at their new pop up store in Aspen, he installed the plug-and-play camera with a single PoE++ port – no servers, NVRs or DVRs were needed. Four varifocal sensors are independently arranged to provide comprehensive 20MP coverage, while 2.5x optical zoom magnifies key details.
"Each device we purchase has an impact on the supporting hardware that's needed, whether its cabling or ports on a switch. Multisensor allows us to expand our coverage with four independent Verkada cameras operating on a single PoE cable, so we have incredible visibility without the infrastructure." - Devon
Custom configurations to enhance intrusion detection
"Whether a door is forced open for access control or after hours motion from cameras, we can get granular information about what activates an alarm."  - Devon
Any Verkada product (camera, air quality sensor, access control unit, or intrusion sensor) activity can be easily configured as a trigger event to trip the alarm. For Devon, this means no additional intrusion sensor hardware or alarm panel is required but can be added to increase the coverage of his Verkada ecosystem. By adding 24/7 professional video monitoring to his Verkada devices, sites are secured by remote security guards who take action through pre-configured response flows, video-verify intrusion events in real time, and can dispatch police if there is a visible threat.
"It's a huge win having the ability to configure all our devices from a cloud-based platform. I can make backend changes across global sites, no matter where I'm located."  - Devon
It takes seconds for Devon to configure devices and settings directly from Command, Verkada's web-based management platform. With a drag-and-drop rules engine, he can easily set up and make changes to his contact list, monitoring rules, and workflows at any site from anywhere in the world. Programming is straightforward and intuitive, eliminating the need for service calls to conduct simple changes.
2. Efficiency and quality
Actionable insights on an intuitive platform
"I have all our physical security systems available to me on my phone at the click of a button. That's liberating to me, and increases our capacity to support our retail and manufacturing teams." - Devon
Through the cloud-based Command software platform, Devon and his team can manage physical security from any web browser or mobile device – from devices and videos, to users and credentials. 
Through smart search features – such as Timelapse – Devon also eliminates the need to manually sift through footage across multiple cameras, saving significant time in theft investigations. The ability to receive real-time alerts, then parse video out to law enforcement in a timely manner has also been hugely beneficial. From Command, he and his team can share footage or live video with stakeholders through a simple email, SMS text or direct link.
"Being able to share a link through a web browser or phone to police has helped us to start investigations more quickly facilitating successful recovery of product." - Devon
Asset protection with an integrated sensor network
Outside of merchandise, Devon also protects critical assets in IT rooms with Air Quality Sensors. He proactively monitors environmental conditions to catch and prevent critical issues – such as air conditioning failure or a possible fire –  before damage can occur.
"We have greater peace of mind because we're alerted the moment that temperature or humidity in IT or stock rooms increase past a certain threshold. This helps mitigate an emergency before it can escalate." - Devon
Any environmental disturbance generates an alert, providing Devon and his team with an early warning detection. They are able to set custom thresholds across different variables to trigger an investigation as soon as there's an anomaly. "The ability to get data constantly from the sensor helps us to be more proactive with our response." 
3. Product Innovation
Continuously improving technology
"I was impressed with new capabilities that were delivered over-the-air since my initial purchase. It's a constant stream of innovation; I'm always interested to see what new capabilities come with each update" - Devon
Verkada's enterprise-grade security hardware is built with a software-first mentality on an evolving technology stack. Powerful new features and security enhancements are introduced through automatic updates – with no additional cost or action required from Devon and his team. A testament to the hardware quality and durability, his investment is protected by an industry-leading 10-year warranty and a 24/7 support team on standby to assist at a moment's notice. 
"The product innovation is what I like most about Verkada, on top of the ease of use and efficiency. They listen; if there's an issue, the update comes the next day, or it's in the works and goes into development." - Michael 
Simplify investigations with video search and integrations
Devon is also exploring additional ways to shorten investigation time with Helix, Verkada's video search and integration platform. Rather than matching the time on the receipt with the time on the camera systems, Helix enables Devon to quickly bring up relevant footage for transactions and further reinforce loss prevention strategies.
"The ability to populate POS transactions makes loss prevention investigations faster and easier. Any variance at the end of the day is typically significant due to the cost of our merchandise. When we can search for and review clips of transactions from one platform, we save time that can now go towards other areas of the business." - Devon
Looking ahead: Global expansion
As Devon and his team continue to open stores across global markets, he is finding ways to improve operational efficiency with Verkada, as well as value and business outcomes across teams and stakeholders. One use case includes providing retail operations with heatmaps data to identify where people are spending the most time in-store. 
"We are continuing to explore what's possible. The technology we have today will continue to evolve based on our feedback, and we're excited to see how it comes to life." - Devon
---
Interested in learning more? Request a free trial or a live demo.