Imperial County Office of Education
How Imperial County Office of Education Protects 37,000 Students with Verkada
Luis Alejandro Wong, Chief Technology Officer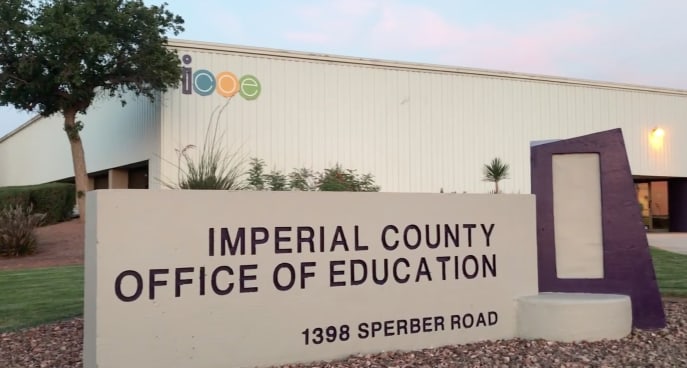 37,000

students

16

school districts

500

employees
For over 100 years, [The Imperial County of Education](https://www.icoe.org/) (ICOE) has worked to improve the quality of life in Imperial County, CA by providing educational services to about 37,000 students and professional development to teachers in Imperial County. With approximately 500 staff members, the institution offers a variety of programmes that range from childcare and special education, to community court schools and vocational training.
Luis Wong, Chief Technology Officer, oversees technology implementation across the entire organization, including system management and end-user enablement. He supports both students and staff members across 70 locations, across the  16 school districts. "The size of our sites range from single classrooms to multi-building daycare centres."
The Challenge: Inefficient Systems
Wong's previous access control system consisted of legacy management software installed on end-of-life hardware. Video security was disjointed from access control, and as schools began requesting help with their cameras, Wong knew it would not be scalable.
"We had an IP camera system at one of our schools that needed a lot of support; from rebooting the server and helping users connect, to updating the system and maintaining storage. I was nervous when I saw other technology teams needed full-time staff just to manage their video surveillance systems. That's when I found Verkada."
Why Verkada: Door-to-Door Security on One Integrated Platform
Given ICOE's large employee base, it was important for Wong to have a cloud-managed system that's secure, scalable, and intuitive for staff to use. With Verkada, ICOE standardized physical security across the organization to one easy-to-use, cloud-based system. ICOE now has a solution that provides:
To help Wong secure more doors, Verkada supports cloud-to-cloud integration with Allegion Schlage's wireless locks family. This allows ICOE to cost-effectively expand access control to doors that were previously off-limits, including older or concrete buildings. "Installing the wireless locks was a straightforward process; the hardware required no additional cabling and it took just minutes to configure in Verkada Command."
"The wireless locks integration allows us to bring more doors into Verkada's physical security platform, including classrooms in historic or concrete buildings. This gives us more visibility and granular control - including lockdown capability - over interior doors so we can better protect our staff and students."
A School Security System that Learns
Over-the-air software and firmware upgrades are deployed automatically, so Wong is equipped with physical security technology that will help keep schools safe both today and tomorrow. Protected by a 10-year hardware warranty, he will be able to experience the evolution of the product line firsthand.
"We see incremental improvements and software-driven features being added all the time through automatic system updates."
Cloud-Managed with Secure Remote Access
With Verkada's hybrid cloud architecture, Wong has reduced management overhead and eliminated the need for external servers or storage. His access control, video, and environmental data is securely encrypted and stored in the cloud as well as on the devices themselves. As a result, he can manage physical security across all school sites from anywhere, on any device through a mobile or web-based browser via Command . 
"If a principal needs to look at a camera, they can do it straight from their phone or computer. The same goes if they need to unlock doors or initiate a lockdown event. Having all our physical security exist in one place makes it simple to detect and respond to incidents quickly."
Natively Integrated Access Control with Video Security and Alarms
"Cameras and access control are natively integrated, so we can easily view video footage alongside any door event. This makes it easier and faster to investigate and resolve incidents across our sites."
Access control, video security, environmental sensors, alarms, and environmental sensors are all natively integrated on one cloud-based management platform. Designated staff at each site have the ability to view access events alongside associated footage, so they can quickly retrieve evidence on when an incident occurred, who was involved, and where it took place. Any access control, camera, or sensor event can also be configured to trigger an alarm, then video verified with a virtual guard to prevent false-positives.
Centralized Lockdown in Seconds
"Verkada gives us the tools we need to efficiently respond to emergencies, from sharing live videos to quickly locking down classrooms."
In the event of an emergency, designated administrators can initiate a one-tap lockdown from their mobile device via the Verkada Pass app, or any web browser via Command. Once a lockdown event is initiated, access to selected doors is restricted to only authorized user groups. This prevents malicious actors from gaining entry, while still allowing first responders to access. Live video or motion plotting floor plans can also be shared with response teams, enabling them to have 'eyes on the ground' as incidents are occurring.
Simplifying User Provisioning with SCIM and SSO Integrations
To automate user provisioning, Verkada integrates with leading SSO and SCIM providers. "User permissions are synced to Azure Active Directory so if HR terminates an employee, their badge is deactivated and access will be revoked." By automating employee on/offboarding, he prevents unauthorized access and increases security across the organization.
Besides security, convenience for end-users was also a key consideration. "Verkada integrates with SSO so users can sign into Command with their organization account, without having to worry about different usernames and passwords. It keeps it simple for them."
Streamlining Credential Management with Verkada Pass
"We've streamlined credential management to one badge and the Verkada Pass app, which employees can use as a backup if they forget their badge. Plus, we eliminated the hidden cost of re-keying physical locks when keys get lost." 
To further increase security and ease of use, any mobile device can be leveraged as a digital keycard with the Verkada Pass app. With the Pass app, employees can unlock doors that are controlled by Verkada through a mobile app supported on iOS and Android .
Data Centre Monitoring
With the SV11, Wong is able to detect and monitor for sudden environmental changes that could damage data centre equipment. "Temperature is tightly controlled in our data centre. By looking at the graphs, we can tell if our cooling units are having issues right before they actually break down."
Leveraging real-time SMS alerts, he is immediately notified if conditions surpass or drop below a pre-set threshold for variables like temperature, humidity, and air quality. "One of our cooling units didn't come back up after a power outage. Luckily, we received an alert from the SV11 that the temperature rose above our pre-set threshold. Through that, we discovered both AC units were down and fixed them before any issues arose."
What's Next?
Wong hopes to fully replace the legacy door access system with Verkada, fill in gaps in coverage with video security, and deploy environmental sensors for more use cases such as vape detection. "Our districts have been concerned about student vaping, the SV11 could help keep our students safe and healthy."
As new credential technologies emerge, he is also looking forward to system upgrades that incorporate new offerings. "We have a 10-year hardware warranty on all devices, so we're excited to see how the system grows and evolves."