Kedleston Group
How Kedleston Group upgraded security at 16 special education sites across the UK
Chris Kennedy, Development and Estates Manager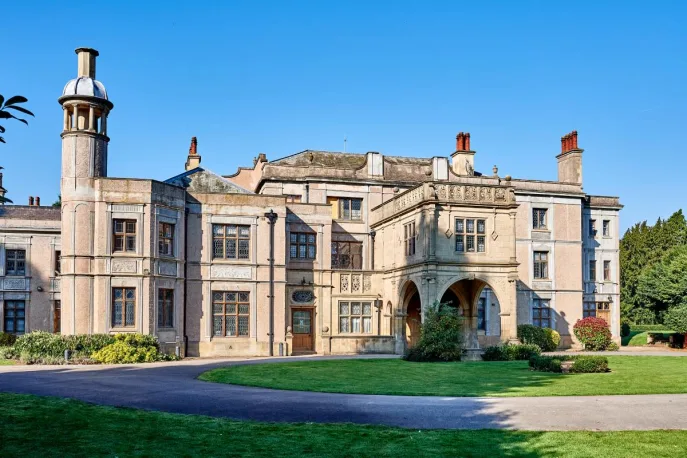 16 schools and homes

across the UK

500+ children

educated and cared for

90 Verkada cameras

across its estate
Kedleston Group was formed over 15 years ago to provide high-quality school and care environments to children with behavioral and autistic challenges. Today, Kedleston has 16 sites within its portfolio, 12 of which have been developed as completely new facilities.
Chris Kennedy, Estates Manager for Kedleston Group, speaks about why the organisation needed to upgrade its CCTV system and how Verkada's technology has made the process a smooth one.
The Challenge
Kedleston has schools and housing all over the country, some of which it has acquired and some that have been built from scratch. As a result, the organisation had a disparate and outdated CCTV system that could prove unreliable. Some sites had very little CCTV coverage at all.
"When we had a situation where an incident occurred that needed to be reviewed and where we had cameras, it would be a case of trying to record something from a hard drive," Chris says. "We'd then realise that a camera wasn't working, something had been put in front of it, or it was pointing in the wrong direction. There was also some footage that was really difficult to make out, it was very hit and miss."
Why Verkada?
"Verkada is completely different from anything else in the CCTV market. You have so much versatility and control compared to a wired system."
Having grown frustrated with Kedleston's previous CCTV coverage, Chris and the organisation's Health & Safety Manager decided to search the market for a system that could match the demands of an estate stretched over the length of the UK.
"Straight away, there were a number of things that really appealed to us," says Chris. "The quality of the imaging really stood out to us, as well as being able to scale what we were doing.
"It doesn't matter if we have one camera or 100, we're able to just plug and play and get that remote access immediately. There are so many features and the more you experiment and use it, you really appreciate how versatile it is."
Benefit 1: Ease of Use
"We can review an incident and get a snapshot at the click of a button."
As with any school or house with multiple children with behavioral challenges, Chris and his team have to investigate incidents from time to time. Verkada's platform has the ease of use and image quality that was previously lacking, allowing Kedleston staff to review incidents.
"If a school has an incident where a child has been hurt, a burglary or there is some concern about the wellbeing of a staff member, the Head of each school has the ability to review the relevant footage and take a snapshot of anything that is relevant.
"The footage is really clear, watermarked and date stamped, so we can supply it to the police if necessary and make it legally admissible as evidence."
The recognition features of the Verkada platform are also being tapped into by Chris and his team.
"The image quality means we can run number plate recognition or People Analytics. Where we have had safeguarding concerns in relation to suspicious vehicles or persons loitering near one of our settings we have been able to run face recognition and numberplate analytics to keep track of such activities. In certain cases, this has prompted us to take action alongside the police"
Benefit 2: Simple to Install
"When we bought our first batch of Verkada cameras and installed them, I was just gobsmacked at how easy it was to install them."
Once Chris had decided to use Verkada's cameras and cloud-based platform, he and his small team decided a new Kedleston school with a substantial perimeter would be the perfect testing ground for equipment to prove its worth.
"We installed RJ45 plugs in every room, in the ceilings, and at points outside. I showed the site manager how easy it was: plug it in and the light comes on then find the serial number, put it in and there's your camera. He was able to angle them properly using his mobile. There's none of that nonsense with needing engineers; we are able to do it ourselves.
"I was at a school a few weeks ago to help the Site Manager put the cameras in and he was saying 'Oh, it's going to be so difficult', but within minutes he was talking about how easy it was to set up. That's brilliant because it means the schools can oversee that set-up and get the cameras in the spots they want them."
Benefit 3: Scalability
"The beauty of the Verkada system is you can run one camera or 450 cameras in the same way."
As an organisation with 16 sites, the ability to scale Kedleston Group's camera infrastructure incrementally was highly attractive, according to Chris.
"We have gone from the first installation to 90-100 cameras across the group. Our group is as far as Cumbria in the north and down as far as Windlesham in Surrey in the south. It means, if we need to, I can give any of the senior team, or whoever it is, eyes on a school if we need it.
"What is also worth mentioning is that there is no data risk because all of the footage is secure. If there is an issue with one camera, then it's just a case of replacing it, rather than having to meddle with a whole system. However, all of our cameras have fired up first time – 90-100 cameras and we've not had a faulty one yet."
Next Steps
"Now we're on board, it would be stupid to go anywhere else."
Chris says that the provision of Verkada's CCTV platform is now an integral part of new facility planning.
"From two years ago, all the schools we build, we include data points in every single room for the cameras. We also install external data points and as soon as we are online we get the cameras put in. We're putting in cabling as part of our builds so we're ready to roll with the technology."