Pausa Bar & Cookery
Thriving Restaurant Deploys Cloud Based Cameras to Increase Storage Capacity and Improve Site Visibility
Steve Ugur, Co-owner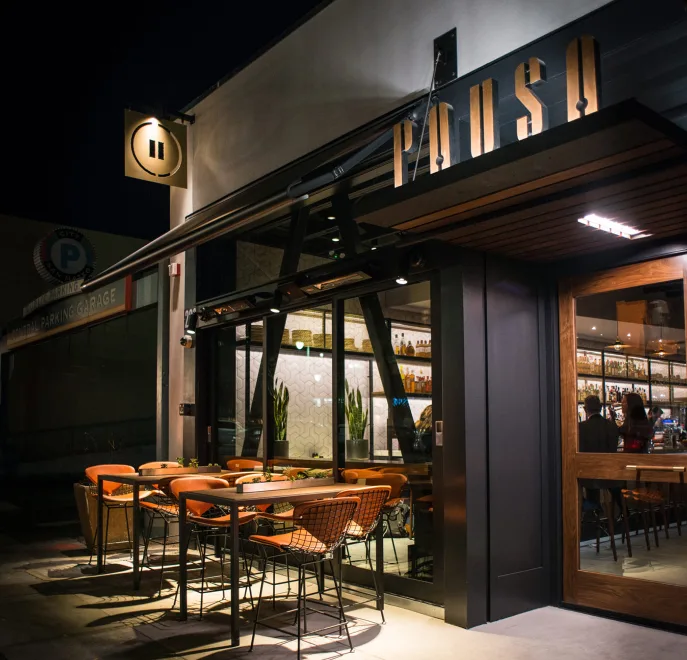 Pausa Bar & Cookery, a recipient of the Michelin Bib Gourmand award, is a thriving restaurant in San Mateo, California offering fresh and authentic Italian fare made daily from scratch. When owners Steve Ugur and Andrea Giuliani first opened the restaurant in 2017, their vision was to create a space for guests to take a break from life and enjoy a luxurious dining experience. 
With this mission, Steve wanted to implement a video security solution that would easily facilitate the business and staff to maintain the best standards across food, drink, service, and atmosphere. 
Why Verkada?
The previous surveillance system Pausa had in place consisted of IP cameras connected to a local DVR. While the system provided coverage across the entire restaurant — from the main dining area, to the kitchen, to the outdoor patio — it came with a set of challenges that the existing infrastructure could not resolve. 
These limitations prompted Steve to find a solution that not only addressed the challenges but reduced overall management overhead associated with surveillance monitoring.
Challenge
Limited Storage Capacity on DVR
"Any footage of minor and major incidents– whether a patron left a personal belonging on the patio, or there were issues with inventory management– was lost after 3 days unless we manually downloaded the clip and archived it on a hard drive."
Solution
Onboard Storage & Cloud Archiving
With onboard storage built into each device, Verkada's solution eliminates storage limitations associated with the previous DVR system. Verkada's distributed storage model stores a minimum of 30 days of footage locally, and cloud archiving provides Steve's team with the ability to save critical clips indefinitely. 
Challenge
Finding Footage Effectively
"We don't have exact times of when things happen, so we had no other option but to playback recordings–fast forwarding and rewinding through it–while watching the footage closely. It was a tedious, manual process that wasted a lot of time and wasn't always effective."
Solution
Smart Search Functionalities
With time, date, object and motion-based search, Steve is able to locate the footage he needs in a matter of moments. "Creating motion grids to identify incidents has been a particularly helpful feature. We select an area of interest, and Verkada pulls up clips and thumbnails of all activity that occurred, making it quick and easy to find what we're looking for."
Challenge
Hidden Costs and Challenges
"We hired installers to implement the previous system for us, but it wasn't something that was up and running overnight. The process of getting the system set up ended up being more complex, and expensive, than what we originally scoped out for the project."
Solution
Upfront, Transparent Pricing
With an upfront pricing model that consists of two line items: the camera and the software license, there are no additional costs that stakeholders need to account for. Automatic software and firmware updates, security enhancements, US-based technical support, and additional user seats, come at no additional cost as a part of the software license.
Final Takeaway
"The ability to visually monitor everything that happens in a restaurant is critical. With Verkada, we're able to effectively manage every part of our business in a really simple way. This solution was a no brainer for us, and the impact it made on our day-to-day operations was immediate. We saw the value of the solution almost immediately."